I'm unhealthily scrolling through a trail of instagram snaps when bamm…out of nowhere,  I see this body transformation photo pop onto my screen.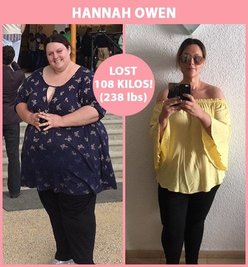 Not gonna lie the results looked incredible. I see #skinnycoffeeclub at the bottom of the screen. I have already done a review on Fat fuel coffee so this coffee got my attention right away.  
Since I love investigating new supplements and weight loss products on the market I thought
let's…investigate this coffee and why not compare it to another I have seen on Insta called Bootea.
Is Skinny coffee club and Bootea any good? Here is my research on the two and my honest thoughts.
If your in a rush, the quick summary is that I don't recommend either beverage. Instead the best alternative is Baetea from amazon as it is less of a laxative.
Who are Skinny coffee club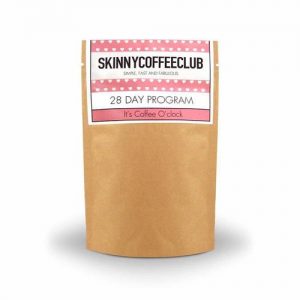 Check Customer Reviews and Price On Amazon
Skinny Coffee Club is a 28 day weight loss program that comes with a special kind of coffee. It has special ingredients with weight loss inducing capabilities.
Skinny Coffee Club claims to give you the following benefits:
Increased energy levels

 Improved skin
Improved sleep quality
Increase in your metabolism
Anti-bloating
Increase stamina
Enhanced immunity
Long term weight loss
What does buying skinny coffee Club Original come with?
Skinny coffee club comes with the following:
Weight loss program

Eating plan and workout guide

Skinny coffee
The weight loss program is essentially a large pamphlet that contains days in the week laid out with breakfast, lunch and dinner recipes. It also includes the workouts to do during the week which you can reference from the exercise plan.
I believe very few people will actually follow the weight loss program to the t. Everyone has different schedules and meals they enjoy. However, it does help provide guidance for the type of exercises you should be doing and the type of healthy foods you should eat.
Is the exercise guide any good??
The workouts are built around HIT (High Intensity Training) and LIT(Low Intensity Training). HIT stands for high intensity interval training. This is where you train hard in short sprints of time and try and keep the intensity as high as possible for the duration of the workout.
It helps to have gym membership. I always recommend signing up to a gym if your serious about working out as its much more motivating.  However, most of the exercises can be done at home.
Some of the exercises include:
Push ups

Jump squats

Rowing machine workout

Lunges

Bicycle sit ups
You can get a taste of the exercise program by downloading it from their site:
https://cdn.shopify.com/s/files/1/0910/4824/files/Skinny_Coffee_Club_-_Exercise_Plan.pdf
LIT (Low Intensity Training), are workouts and exercises that are low in intensity and sustained for the duration of the workout. This includes exercises like the below:
Jogging

Rowing machine

Fast paced walking
Throughout the week Skinny Coffee Club also include other workouts like jogging or yoga in which they direct to a couple you tube videos.
In my opinion the workout guide is good if you are a complete beginner. It is simply laid out and easy to understand what exercises to do.
However, your not buying Skinny Coffee Club for the workout guide so do not expect it to be really detailed with every exercise laid out with exact reps, form and a detailed explanation. If you are looking for a great workout guide then I recommend the bikini body workout.
Eating Guide any good?
Skinny coffee club comes in a big poster like eating plan which details the meals to have throughout the week. You need to reference the eating guide to see the how to cook each meal.
Eating guide is nicely laid out for plan throughout the week with Sunday being a cheat day.  The advice given is not anything new but it doesn't need to be. For example, the guide contains advice like avoid eating sugars and carbs.
It also recommends including foods that are more healthy like proteins vegetables. This is all quite obvious stuff.
There is a breakfast, lunch, and dinner recipes. Majority of the recipes on the 28 day plan look quite tasty. Take the salmon benedict for breakfast which includes salmon and egg together, yumm!
The chicken, bacon and avocado salad or the creamy chicken tortilla soup also very practical meals that I can imagine myself preparing for a quick post workout or evening meal.
One thing to note is that the food program is limited in terms of vegan options. However, it still contains some good plant based recipes like pesto butter bean salad and cajun cauliflower bowl among a few others.
Simple recipes that include protein and vegetables with minimal carbs

Not too long to prepare. Vary from 10-30 minutes

Limited vegan recipes
Bottom line: If your buying skinny coffee, your mainly buying for the coffee and not the workout or eating guide. However, the guide is simple with quick and simple recipes to prepare in a easy to understand fashion with instructions and time to cook.
The advice is nothing new but it doesn't need to be. Dieting to lose weight is actually quite simple and all you need is to operate at a calorie deficit and eat healthy clean foods.
Skinny Coffee Ingredients
The ingredients in skinny coffee are nothing to fear. Judging by their product page there is no unhealthy ingredients. All of the ingredients are herbal and ancient ingredients that have been around for years.
Skinny coffee comes with the following ingredients:
Ground coffee

Ground coffee bean extract

Green tea extract

Garcinia cambogia

Siberian ginseng powder

Spirulina powder
All these ingredients are known for helping increase metabolism, anti oxidant and lose weight in one form or another. If you go down to your local health store you likely to find all these ingredients in one form or another in capsule or powdered form.
Pros
All good ingredients known for metabolic effects

Comes with eating plan and exercise plan.

Strong instagram following for motivation
Cons
No veggie options for the meal plan

Skinny coffee does not meet all the benefits it claims. Sleep longer, anti-oxidant etc…best way to sleep longer

Slightly expensive all for a coffee

Skinny coffee alone will not help you lose weight

Effects are minuscule compared to good diet and eating.

Fake pics before and after pics that are sponsored
How to take skinny coffee club
It is recommended you take skinny coffee first thing in the morning and 20 minutes before your breakfast.
Pour one teaspoon into a mug of hot water. After the coffee has brewed for a couple minutes then add a coffee plunger to fully mix contents and your good to drink.
It is recommended you take skinny coffee without milk and sugar. Milk contains dairy and can be fattening. However, if you cannot bare the taste then you can add stevia or coconut or almond milk as an alternative.
Remember not to take skinny coffee if you are breast feeding, pregnant or on oral contraception. If you are on the pill the laxative effect of the coffee will make the pill ineffective.
What others are saying
It's hard to weed through the reviews that are genuine and not fake. Most are sponsored posts by skinny coffee club.
Overall, I would say the sentiment is neutral. For example, looking at reviews I found common themes below:
Tastes like regular coffee but not as strong.

Occasional cramps and going to the toilet

Will make you feel more energized

Did not lose weight
Taste and Texture
The taste is dependent on your taste buds. Generally, overall skinny coffee club tastes like coffee. If you like to sweeten the taste you can always add stevia or almond milk, coconut milk instead of the water.
My Opinion
SCC will not magically help you lose weight. I feel the inflated hype from the sponsored transformation photos can be misleading. I was nearly suckered in but I knew from experience that simply consuming a coffee every morning is not going to give you some of the results that were advertised.
What will definitely help you lose weight and is scientifically proven is exerciser and diet.
You may lose a couple kg of Skinny coffee club but to see a life changing transformation is highly unlikely.
Overall, I would save money on buying skinny coffee club and go for my alternative listed below.
You can use it as a secondary tool to use weight, however, the impact solely on its own will be very minimal, if nothing at all.
Who are Bootea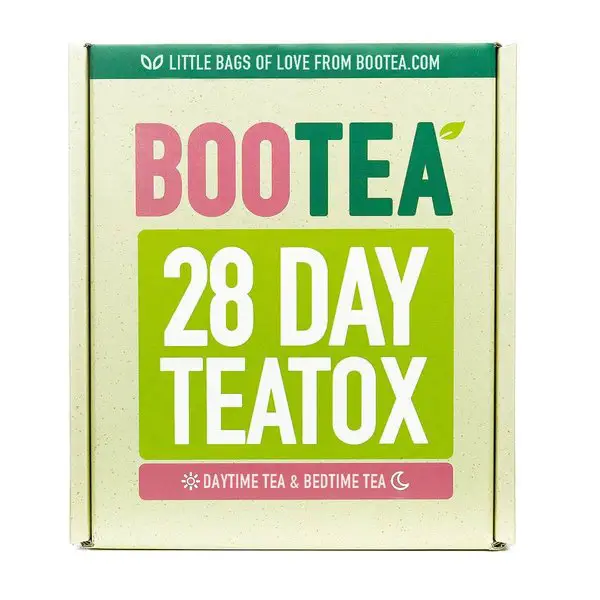 Check Customer Reviews and Price On Amazon
Bootea are a company from the UK who have a special type of tea. The tea is a slimming, detox, and weight loss tea designed to help you meet your health and fitness goals.
The tea comes as a 14 day teatox or a 28 day teatox. With the 28 day teatox you can take the tea every morning and night for 28 days.
The 28 day teatox comes with the following:
28 days of daytime tea(to take in the morning)

14 days of bedtime tea (to take before you go to sleep)
What I like more about Bootea over slim coffee club is there more transparent about the results for customers. Unlike slim coffee club they are open about the fact you need a healthy diet to lose weight and exercise.
Drinking Bootea on your own is not magically going to cause you to lose weight. Bootea are specifically clear in their assertion that the product is NOT a "miracle pill" or "magic formula." From that angle they gain my trust and respect considering there all too many supplements and products that make false promises.  
Ingredients
Bootea is filled with 100% natural flavorings and no preservatives.
Bootea daytime pack comes with following ingredients:
Chinese Oolong tea
Gotu Kola
Nettle Leaf
Dandelion Leaf
Siberian Ginseng
Dandelion Leaf
Fennel Seeds
Lemongrass
Ginger
Yerba Mate
Chinese Oolong Tea
Bootea bedtime cleanse ingredients:
Peppermint Leaf

Psyllium Seeds

Fenugreek Seeds

Liquorice Root

Burdock Root

Hawthorn Leaf

Desiccated Coconut
What strikes me about these ingredients is that they are all natural, and herbal remedies that have been around for ages. I'm sure there is nothing unhealthy in these ingredients. For example take chinese oolong tea. As a traditional chinese tea, oolong tea has been around for decades and contains caffeine which sharpens senses, energy and alertness.
My mum used to day anything with ginger is good for the body. The ginger root in Boo Tea has a number of benefits namely it can relieve nausea,inflammation,aid digestion and be a great cold and flu relief.  
However, mixed upon these ingredients is ingredients with strong laxative effects. This could mean you will be going to the toilet frequently to flush your system out. For example, fennel seeds, nettle leaves are natural laxatives found in the day time Boo tea.   
The night time tea also contains ingredients are laxatives. For example, burdock root and liquorice route and senna leaves. The downside to this is that you could be going to the toilet more than you would like to flush out your system. Occasional stomach cramps are also a common theme I saw in other reviews.
Pros
Affordable price

Both daytime and night time teas included in 28 day program.

Honest branding. States they are not a magic pill or miracle weight loss cure.
Cons
laxative effect. Potentially can cause unsettled stomach and trips to the bathroom.

Tea flushing out your system rather than tea increasing metabolism.

Important to read info on product…oral contraceptive pill effects can be mitigated.

Slightly expensive just for a laxative. ..expensive for a tea.
Important…Hidden info!!
If you do not want to get pregnant best avoid having Bootea when you are on oral contraception. According to one person on netmums Bootea had some unexpected consequences for one women who found out she was pregnant.
This is stated on the product but its in fine print and not immediately obvious.  So if you are planning on not getting pregnant and are regularly at it with your hubby in the morning than best not have Bootea.
The tea gets rid of the oral contraceptive effect. I believe this down to the pill not being absorbed properly however, it is good to check.
What others are saying
Remember this is just a tea. As the company rightfully state its no magic cure for weight loss. Majority reviews that I have read say the tea is more a laxative tea over anything else. You will occasionally get the stomach cramps and make trips to the bathroom.
In a way the tea works by flushing out your system. Is this healthy? I do not know. I don't think so.
Taste and Texture
Majority enjoy the taste. Its not particularly sweet but can be easily sipped and drunk down.
Alternative
The best alternatives to Bootea and Skinny coffee club are below:
These teas have no laxative effect and and work tremendously well to increase metabolism.
My Opinion
If I had to choose one, I would go for Bootea. This simply down to their more honest branding and herbal ingredients.
However, there are better slimming teas and coffees than Skinny Coffee Club and Bootea.
Due to the laxative effects of both drinks,  I recommend Baetea instead as it is less of a laxative and can really help with bloating and detoxing the body.
Consequently, you can be sure to avoid the horrible stomach pains and urges to go to the toilet.
To be clear, there is nothing wrong with both Skinny Coffee Club and Bootea. Both drinks contain healthy and natural ingredients that have been around a long time. However, they are not worth the money in my opinion. Majority of people complain of not losing weight and that's because these slimming drinks on their own will not magically shed the pounds. 
You may lose a minimal amount through going to the toilet frequently but even then its not exactly a healthy way of losing weight.
Likewise, don't be fooled by the marketing hype. In the case of Skinny coffee club they post sponsored before and after photos of the magical transformations that happened in a short period of time. Bootea is more honest in their branding stating bootea is not a magic pill and should not replace a good diet and exercise, which makes me trust them more.
In my opinion they are essentially remedies with natural laxative ingredients that have a lot of branding and marketing behind them to hype them up. Slimming drinks can be used but not as a primary way of losing weight. Use it as a secondary tool along with a solid workout/exercise routine and diet. 
Ohhh…and don't forget to read the labels and not have these drinks when on the contraceptive pill. Your in for a surprise otherwise!
Good luck!