Who wins the contest with Thrive vs Isagenix. I'll compare ingredients, ease of use, and health score to come to my conclusion.
Company information
Thrive: The Thrive line of products is part of a direct sales company known as Le-Vel, founded by co-CEO's Jason Camper and Paul Gravette. Le-Vel prides itself on their innovative infrastructure based on cloud technology, which allows for streamlined shipping, sales, and other processes. Le-Vel's philosophy is to provide premium items for consumers seeking a better lifestyle.
Isagenix: Similar to Le-Vel, Isagenix is a direct sales company. Formed in 2002, Isagenix provides life-changing wellness products without sacrificing quality. Isagenix is committed to the physical transformation of their customers.
Thrive Mix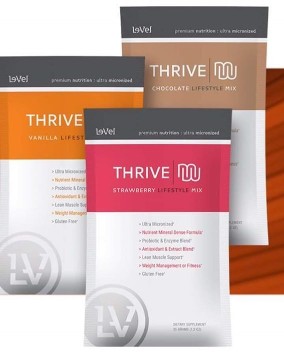 See Price On Amazon
Protein source
Thrive Mix contains a blend of three types of protein: soy, pea, and whey.
Vitamins and nutrients
One packet (35 g) of Thrive Mix contains 110 kcal, with approximately 30% from carbohydrates (9 g), 15% from fat (2 g), and 55% from protein (15 g). Thrive Mix also contains 2 g sugar and 5 g dietary fibre. Vitamin and mineral composition vary slightly across different flavours, but Thrive Mix provides approximately 35 to 50 percent of the reference intake for an average adult (based on a 2000-kcal diet) for most vitamins and minerals.
Cost effectiveness
Since Le-Vel is a direct sales company. You must be connected with one of their promoters in order to create an account to purchase Thrive from their website. Le-Vel does not provide any product pricing information to unregistered visitors on their site.
Occasionally, you might be able to find Thrive Mix available on a website such as eBay if you don't want to go through a Le-Vel promoter. Currently, there is one listing available, with 4 containers selling for $160. This breaks down to $40 per 16-serving container, or $2.50 per serving.
Ingredients
Since Thrive Mix contains whey protein, it is not vegan, but it is vegetarian-friendly. Ingredients vary slightly across different flavours, but the vanilla flavour contains maltodextrin, protein blend (soy, pea, and whey concentrate), cellulose, sunflower oil, natural flavours, xanthan gum, sucralose, Magnasweet™ (natural flavor), and stevia leaf extract. Thrive Mix also contains a proprietary blend containing ingredients such as enzymes, probiotics, antioxidants, and plant extracts. This blend contains garcinia fruit extract, oat fiber, natural caffeine (from black tea), Lactobacillus acidophilus, rice bran, amylase 5000, bromelain 600GDU, cardamom seed extract, cellulase 1000, ginger root, lipase 1000, papain 6000, protease 1000, protease 5000, and cinnamon bark extract. Potential allergens noted on the label include milk and soy. Thrive Mix is gluten-free.
With a sugar content of just 2 g per serving, Thrive Mix provides a reasonable amount of sugar for a meal replacement shake providing 110 kcal. Sweeteners found in the powder include sucralose, Magnasweet™, and stevia leaf extract. Magnasweet™ is a flavoring agent comprised of monoammonium glycyrrhizinate and ammonium glycyrrhizinate, derived from licorice root.
Whether or not you find sucralose and other artificial sweeteners to be natural or unnatural is completely up to you. Clinical research has found that artificial sweeteners such as sucralose do not pose any danger to human health when consumed in reasonable amounts. However, if you personally do not care for sucralose or similar sweeteners, this product may not be a good fit for you.
Ease of use
Thrive Mix is quite easy to use. Similar to other meal replacement shakes, simply mix the powder with liquid and blend, either using a shaker bottle or blender.
Flavours
Thrive Mix is currently available in four flavours – vanilla, chocolate, strawberry, and apple pie.
Quick review
Pros:
Vegetarian
Good macronutrient profile
Nice variety of flavours
Gluten-free
Cons:
Somewhat difficult to obtain the product due to its direct sales nature
The ingredient Magnasweet™ is relatively unknown, and some people might shy away from it
IsaLean

See Price On Amazon
Protein source
Isalean contains whey protein concentrate
Vitamins and nutrients
1 serving (60 g) of IsaLean Shake provides 240 kcal. The macronutrient breakdown for IsaLean is 40% carbohydrates (24 g), 20% fat (5 g), and 40% protein (24 g). IsaLean contains 11 g sugar and 8 g fibre per serving. Vitamin and mineral composition vary slightly across different flavours, but IsaLean Shake provides approximately 35 to 80 percent of the reference intake for an average adult (based on a 2000-kcal diet) for most vitamins and minerals.
Cost effectiveness
Although Isagenix is a direct sales company like Le-Vel, you can view pricing information and purchase Isagenix products on their website. IsaLean Shake can be purchased in a 14-serving canister for $53.27, coming to $3.81 per serving. You can also find many listings for IsaLean on sites such as Amazon, which can be useful for people who do not wish to purchase through an Isagenix promoter.
Ingredients
Like Thrive, IsaLean Shake contains whey protein, so it is vegetarian but not vegan. Ingredients in the French vanilla flavour include whey protein concentrate, milk protein concentrate, low-heat nonfat dry milk, isomaltooligosaccharide powder, fructose, sunflower oil powder, natural flavors, olive oil powder, flaxseed powder, xanthan gum, tapioca maltodextrin, medium chain triglyceride (MCT) oil powder, cinnamon powder, Ionic Alfalfa™, magnesium oxide, tricalcium phosphate, potassium citrate, magnesium citrate, apple juice powder, sea salt, enzyme blend, silicon dioxide, yucca root powder, vitamin C (ascorbic acid), magnesium stearate, psyllium seed powder, biotin, selenium amino acid chelate, Lactobacillus acidophilus, vitamin E succinate, copper amino acid chelate, vitamin A (beta carotene), stevia leaf extract, zinc oxide, manganese amino acid chelate, iodine amino acid chelate, niacinamide, d-calcium pantothenate, vitamin D3 (cholecalciferol), chromium amino acid chelate, niacin, molybdenum amino acid chelate, vitamin B6 (pyridoxine hydrochloride), vitamin B12 (cyanocobalamin), vitamin B2 (riboflavin), vitamin B1 (thiamin hydrochloride), and folate (folic acid).
Milk is the only potential allergen listed on the label, but IsaLean also has a dairy-free version, which may be appropriate for some allergen-sensitive customers.
At 11 g sugar per 240-kcal shake, IsaLean Shake may be a little high in sugar for your preference. IsaLean is sweetened with fructose and stevia leaf extract, and it is a personal decision whether or not you choose to consume such sweeteners.
Ease of use
Just like most meal replacement powders, the only prep work needed to prepare IsaLean Shake is mixing liquid with the powder, either with a shaker cup or blender.
Flavours
IsaLean Shake is available in Creamy Dutch Chocolate, Creamy French Vanilla, Strawberry Cream, Chocolate Mint, and Peach Mango. IsaLean Shake also comes in two dairy-free flavours (Rich Chocolate and Vanilla Chai) and one kosher flavor (Natural Creamy Vanilla).
Quick review
Pros:
Dairy-free and kosher versions available
Vegetarian
Available on Amazon
Cons:
More expensive compared to Thrive
Ingredients list is much more extensive and appears more chemically-based than Thrive
Final Verdict
The Winner: Thrive
Both meal replacement shakes are great options for someone with a busy lifestyle trying to keep their weight under control. If you're looking for an easy-to-prepare shake with a variety of flavours available, both IsaLean Shake and Thrive Mix might be just what you're looking for.
In the end, Thrive Mix edged out IsaLean Shake due to a few factors:
Considerably lower sugar content (0.018 g/kcal) compared to IsaLean Shake (0.046 g/kcal)
Multiple protein sources (soy, pea, and whey) compared to just whey for IsaLean Shake
Thrive is less expensive even if purchased from a third-party site such as eBay
Gluten-free
Another Option?
One nutritious alternative that I fully endorse is:
Garden of Life Raw Organic Meal Replacement Shake.
This organic, non-GMO shake is made from real, raw foods, and contains 20 grams of clean plant protein. It's vegan, gluten-free, dairy-free, soy-free, and packed with probiotics and enzymes to promote digestive health.
Of course, this is just one person's opinion, and it is certainly not the end-all-be-all of meal replacement reviews. We encourage you to consider the information provided here and make your own informed decision about which might be the best option for you.
Related Posts:
Summary
Author Rating





Product Name