Bacon is a great addition to any Keto diet. However, some brands are more Keto-friendly than others.
Identifying the best bacon to eat on Keto is just about impossible. Even top-tier brand names have their detractors. But I can tell you about some brands that earn high marks from people on a Keto diet. These brands use the right ingredients and shun the wrong ones to provide you with bacon that will make a healthy addition to your diet.
How to Identify Non-Keto-Friendly Bacon
Before I list the healthiest bacon for Keto below, I'd like to go over some ingredients to watch out for when choosing bacon online or at the store. Knowing what to watch out for can help you avoid bad brands.
Sulfates
Sulfates are one of the top chemicals to avoid when choosing bacon. This chemical gives bacon an attractive color and helps preserve it; unfortunately, it can also cause serious health problems such as low blood pressure, stomach pain, and diarrhea.
Nitrates
Nitrates have been linked with stomach cancer. It's typically found in cured bacons, so stick with uncured bacon to avoid this harmful chemical.
Sorbates
Potassium sorbate and sodium sorbate are typically used to prevent mold growth. Unfortunately, these chemicals also cause DNA damage. They're particularly bad for your immune system.
Sugar
Sadly, sugar is added to just about everything these days. It's typically found in low-fat bacon. When fat is removed from bacon, sugar is added to make up for the loss in taste. Avoid low or reduced-fat bacon options; the extra fat in bacon is Keto-friendly and a far better alternative to sugar and/or artificial sweeteners.
As you probably already know, sugar goes under hundreds of different names. There are so many sweeteners on the market that it's difficult if not impossible to keep up with them all. Most people know that high fructose corn syrup is bad, but what about cane sugar, molasses, and honey?
The short answer is there is no such thing as "keto-friendly" sweeteners. The best bacons on this list are totally sugar-free. However, I have to admit that some sugars are "less bad" for your keto diet than others. Towards the bottom of the list, you'll find some bacon options with limited amounts of sugar. These are on the list because the good points (i.e., the fact they are totally free of artificial ingredients) outweigh the minimal amount of sugar added for taste.
Now that you know which ingredients to avoid and why, it's time to check out some of the best keto-approved bacon brands.
1. Original Sugar-Free Naked Bacon
Naked Bacon prides itself in creating natural, wholesome bacon. Sugar, gluten, and nitrates have no place in the company's lineup. The only ingredients in this package are pork, water, spices, and sea salt. The company keeps its spice recipe a secret but assures buyers that the spice lineup doesn't contain nitrates. If you're concerned that you might be allergic to a spice included in the recipe, you can write the company and Naked Bacon will tell you if the ingredient you're worried about has been included in one of its products.
Naked Bacon has a whopping 7 grams of protein per serving, putting it far ahead of most of the competition. It also has 246 mg of sodium. As an added benefit, buyers have given the brand high marks for a wholesome, delicious product.
If spicy food is your thing, Naked Bacon also makes Chipotle-flavored and Jalapeno-flavored bacon varieties. Unlike other brand names, the company keeps the protein and sodium content the same across the board. You'll get the same keto-friendly nutrients no matter what flavor your buy.
Talk about easy shopping! If you'd rather avoid having to spend hours at the store poring over bacon ingredients (or worse yet, buying what you think is a keto-friendly bacon and then discovering that it's the "right" brand name but the wrong "type") then Naked Bacon is sure to please.
2. Applegate's Organic Uncured Sunday Bacon
Applegate is a favorite with many people on the keto diet, and it's not hard to see why. Applegate doesn't cut corners when creating top-tier bacon varieties. The Uncured Sunday Bacon has 6 grams of protein per serving and 310 milligrams of sodium, which is perfect because the Keto diet calls for above-average sodium consumption. The nutrition information is the same for the company's Organic No Sugar Uncured Bacon; however, it's not identical for all bacon varieties. Applegate's Organic Uncured Turkey Bacon, for instance, has only 5 grams of protein and 150 mg per serving, making it a less-than-stellar options for the Keto diet. All of the above bacon varieties are sugar-free.
As an added benefit, the animals used in Applegate products are raised without hormones and antibiotics. They also consume a 100% vegetarian diet. All Applegate products are nitrate and phosphate-free, and contain no artificial ingredients and preservatives.
3. Pederson's Farms Uncured Hickory Smoked Beef Bacon
Pederson's Farms puts a premium on proper animal care, and it shows in the company's products. All animals are fed a fully vegetarian, antibiotic-free diet. Pederson's Farms bacon varieties are gluten, nitrate and MSG free. There are also organic varieties to pick from if you're concerned about the widespread (mis)use of pesticides and harmful chemicals on vegetation.
Having said that, it's important to note that some of Pederson's Farms' bacon varieties are more Keto-friendly than others. The Uncured Hickory Smoked Beef Bacon is your best bet because it has 250mg of sodium, 6 grams of protein, and less than 1 gram per serving. Don't confuse this brand with the Hickory Smoked Uncured Bacon, (made using pork and not beef) which contains only 2 grams of protein per serving.
If pork bacon is your thing, the company's Pork Shoulder bacon is your next best option. It's sugar-free and has 5 grams of protein and 230 mg of sodium per serving. The turkey bacon has the same amount of protein as the Pork Shoulder bacon but less sodium at 180 grams per serving.
4. Wellshire Farms Uncured Beef Bacon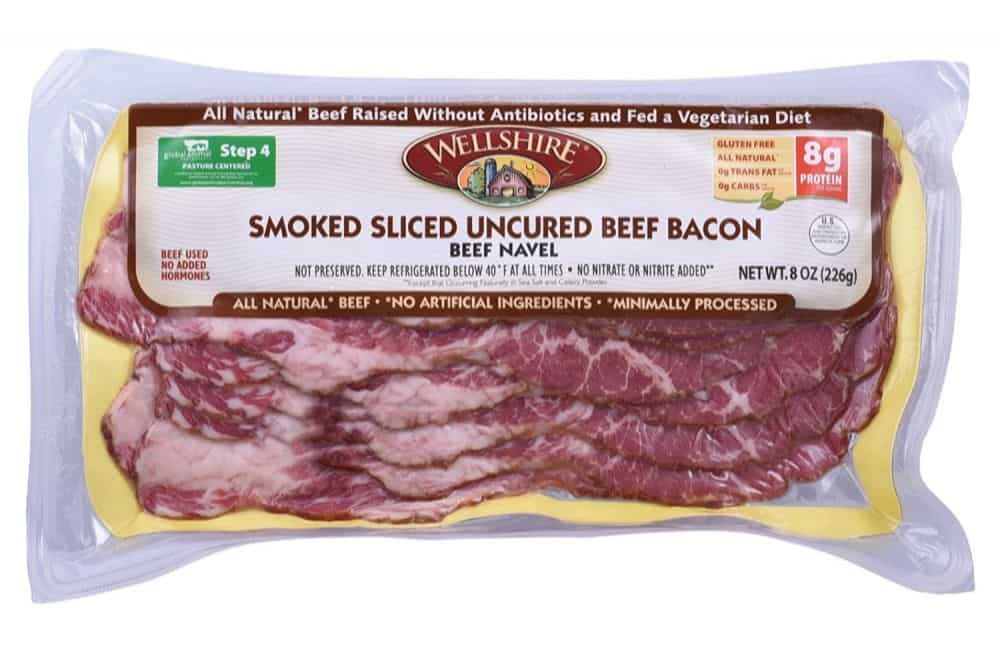 If you're looking for bacon that packs a nutritional punch, then Wellshire Farms Uncured Beef Bacon is sure to suit your tastes. With a whopping 8 grams of protein and 280 milligrams of sodium per serving, this bacon is one of the most keto-friendly options on the market. The only reason I'm ranking it in fourth place on the list is that the company uses a minimal amount of natural sweeteners (cane sugar and molasses) in this product. The company lists 0 grams of sugar in the nutrition information box, which means that there is less than .5 grams of sugar per serving. It's not much but it does make a difference.
It's worth noting that Wellshire has a plethora of bacon options to pick from, and they're all listed as being Keto-friendly. However, the nutrition information varies depending on which pack you pick, so read the ingredients list carefully while shopping.
The company's Uncured Canadian Bacon is a good second choice as it has 11 grams of protein and 500 mg of sodium, but be aware that it has a higher sugar content than the Uncured Beef Bacon. The Organic Sugar Free Turkey Bacon is another good option with 6 grams of protein and 200 mg of sodium and is the only Wellshire bacon option to not use sugar. Other bacon flavors from the company have varying amounts of sweetener.
Wellshire gets high marks for putting a premium on natural, organic farming. The company's animals are treated humanely and provided plenty of outdoor and indoor space. All animals have a 100% vegetarian diet; growth hormones and antibiotics are never used. All bacon is nitrate and preservative-free to ensure you're getting a fully natural, healthy product.
5. Hormel Natural Choice Cherrywood Smoked Uncured Bacon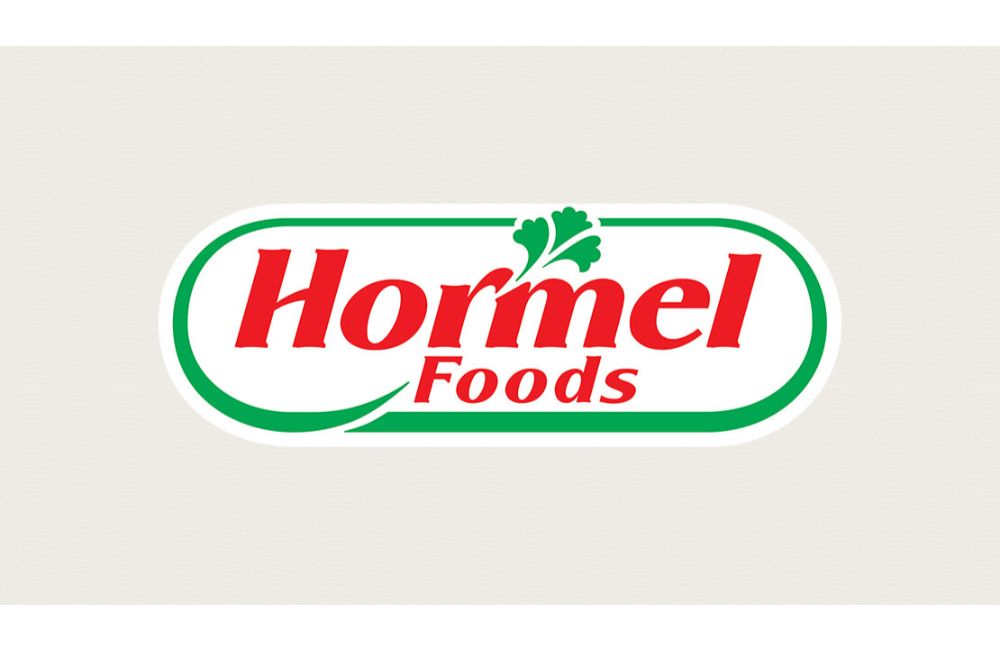 Hormel, Applegate's parent company, maybe an international food conglomerate, but it hasn't forgotten about meeting the needs of those who don't care for mass-produced foods. The company's Natural Choice Cherrywood Smoked Uncured Bacon is a great keto-friendly option for those with a limited budget. It's nitrate-free, gluten-free, contains no artificial ingredients or preservatives, and is only minimally processed.
Hormel Natural Choice Cherrywood Smoked Uncured Bacon offers 6 grams of protein and 380 mg of sodium per serving. The only sweetener used in the recipe is Turbinado sugar. It's not ideal, of course, and the best keto-approved bacon brands are the ones that are 100% sugar-free. However, it is worth noting that Turbinado sugar has a lower carb count than most other natural sweeteners on the market, including honey, molasses, and agave syrup.
Bear in mind that this is the only Hormel bacon product I'm recommending on the list. Hormel makes many types of bacon and not all of them are Keto-friendly. In fact, many of them contain artificial preservatives and additives you'll want to avoid at all costs.
6. 365 Everyday Value Uncured Smokehouse Bacon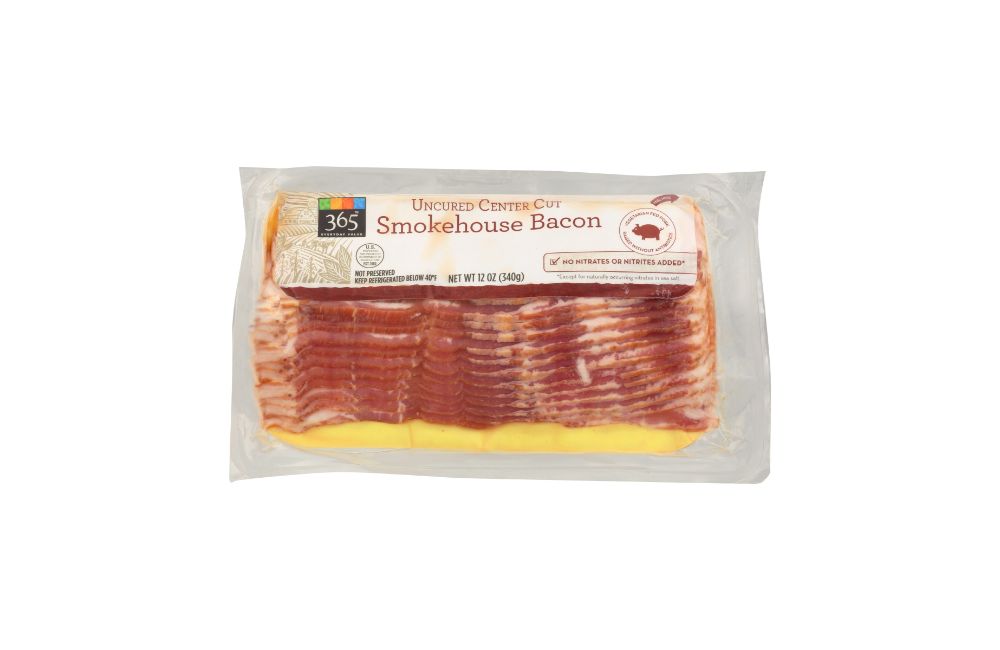 365 Everyday Value is Whole Foods' private brand name. It's been heavily criticized over the years for creating an "industrialized organic" product line that makes it difficult if not impossible for small organic farms to compete. Moreover, some of its soaps and yogurts are of questionable quality. Even so, the company's Uncured Smokehouse Bacon is a reliable keto-friendly bacon option to consider. It does contain sweetener (evaporated cane sugar) but no artificial ingredients, preservatives, or nitrates.
365 Everyday Value Uncured Smokehouse Bacon offers a decent 4 grams of protein and 270 mg of sodium per serving. It's not the best option out there but at least you're getting a product that's pretty healthy, natural, and mostly keto-friendly.
7. Nature's Rancher No Sugar Added Hickory Smoked Bacon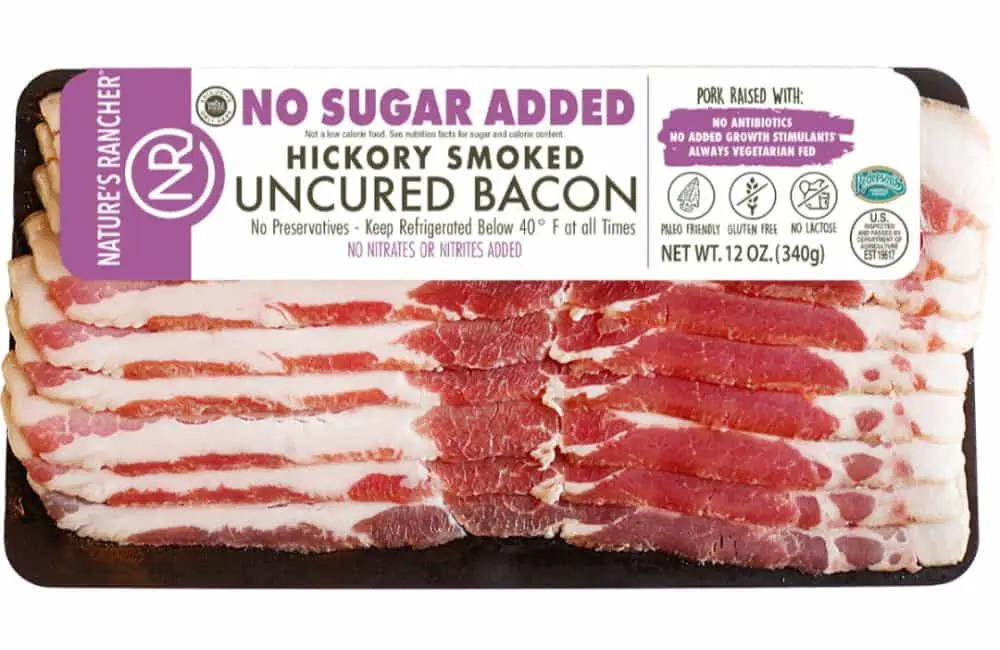 Nature's Rancher only works with farms that raise antibiotic-free and hormone-free animals. Furthermore, all its products are free from preservatives, additives, and nitrates.
Unfortunately, most of Nature's Rancher's bacon products have sugar added. The company's No Sugar Added Hickory Smoked Bacon is an exception to the rule, however. The only ingredients are pork, water, salt, vinegar, cultured celery powder. This tasty bacon has 3 grams of protein and 270 grams of sodium per serving.
How To Identify and Find the Best Bacon for Keto
What is the best bacon for keto?
It's impossible to say for sure. If you look online, you'll likely find different opinions on the subject. Some people consider taste, flavor, and texture when rating products.
Even people on a keto diet appreciate great food, so it's not necessarily a bad idea to take these points into account. However, on my list I'm rating products based solely on their ingredient list.
Experts recommend that people on a Keto diet consume anywhere from 2,000 mg to 4,000 mg of sodium a day. That's why I put a premium on finding bacon with a decent amount of sodium.
However, bear in mind that you'll still need to watch your sodium intake so you don't overdo. If you're getting a lot of sodium from other sources, stick with the keto-friendly bacon options on the list that have a low sodium content.
Bear in mind that some of these bacon options are easier to find than others. I was shocked to discover that Applegate bacon isn't listed on Amazon. However, it (along with most of the bacon options listed in this article) can be found for sale at Whole Foods.
365 Everyday Value Uncured Smokehouse Bacon is only found for sale at Whole Foods while brands such as Hormel and Pederson's Farms are listed on Amazon and other major grocery retail sites.
Naturally, some brand names are more expensive than others. Top-tier, fully natural products tend to be costlier than bacon stuffed with a plethora of chemicals and additives. However, you don't necessarily have to buy the most expensive bacon on the list to get a high-quality product. I deliberately listed a few relatively affordable keto-friendly bacon options because you shouldn't have to be rich to enjoy the many benefits a Keto diet can offer.
You might be Interested In:
10 Best Vegan Protein Powders For Keto Diet
The Best Keto Friendly Meal Replacement Shakes