Some of the biggest complaints we all have about protein powders are that they're "too gritty," "too chalky" or "taste like dirt." That gritty or grainy texture feels even worse if you have sensitive teeth. If you down one for breakfast that's too gritty, it can feel like you tripped and fell on the beach with your mouth open. Mmmm! Sand!
Grittiness comes from some plant-based proteins that are used to make these powders. Certain veggies have a lot more fiber in them than whey protein, and no matter how finely they're powdered, they're still going to create a gritty, dirt-flavored shake. What's the solution? Is there a non-grainy protein powder out there? Search no more. Here are some totally non-scientific, anecdotal recommendations on non-gritty protein powders in no particular order.
1. Aloha Organic Protein Powder
As the name suggests, you're going to get a lot of "island" flavor in this one. The Aloha brand is a non-gritty vegan protein powder that derives its protein from all-organic sources: Pea, brown rice, hemp seed and pumpkin seed. It's a paleo- and keto-friendly blend with no soy or dairy products in it. One of the ingredients they use is monk fruit, which gives an interesting tropical flavor to go with the coconut sugar. It's a perfect vegan choice for a morning protein shake or a smoothie, and you can even bake cookies with it if you're into that.
Caution: If you mix Aloha powder with straight water, it's going to be a bit on the gritty side. For better results, mix it with milk or a milk alternative like almond milk or oat milk.
2. PLIX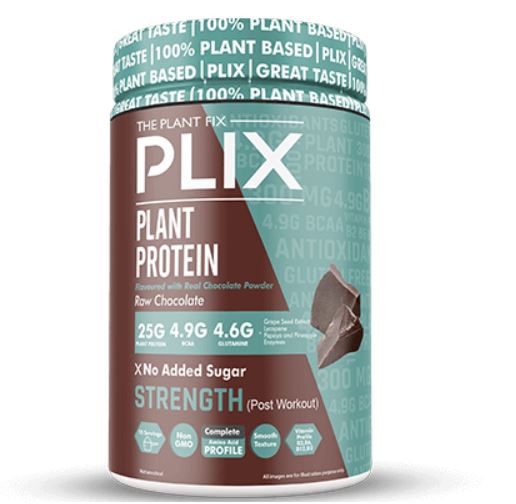 "Plant Fix" (PLIX) is a vegan powder that gets its protein from pea protein isolate and brown rice. Other ingredients include grape seed extract, pineapple extract and papaya extract, so this one includes plenty of antioxidants as well as post-workout electrolytes. On the downside, one ingredient you should know about is the cocoa powder. It's organic, but if the chocolate flavor of most protein powders is not your thing, you might want to pass on this one.
3. Moon Juice Adaptogenic Protein
This is one of my personal favorites out of all the non-gritty vegan protein powder variations. Just be warned: If you're not a fan of mushroom, this one is not for you. It's a brown rice plant-based protein that is biofermented. I love this one because it's packed with immune boosting, cancer-fighting reishi mushrooms, brain-boosting ashwagandha (Indian ginseng) and cordyceps for liver and kidney health. It dissolves nicely with no grit or lumps.
Note: The cordyceps mushrooms in this are lab-grown and don't come from high-altitude caterpillar larvae (yuck!) in the mountains of China. If it bothers you that this is not a "natural" product, you should probably skip this protein powder.
It uses just a little bit of stevia for sweeteners. If the flavor is still a bit too much for you, it can always be blended with some bananas or strawberries to tamp down its "mushroominess." (Mushroominess is a word, right?)
4. Welleco Super Elixir Nourishing Protein
If you're looking for some probiotics along with your protein powder, this Australian one from Welleco should fit the bill! It uses an interesting blend of fruit powders to go with its pea and sprouted brown rice protein sources. The fruit powder extracts include pomegranate, papaya, rosehip and grape seed extract. It also has some dandelion leaf extract for an anti-inflammatory boost.
This is another chocolate-flavored powder, as it contains Indonesian cocoa. It dissolves nicely, though, for a smooth and non-gritty protein powder. Nice packaging, too!
5. Naked Whey Protein
This one is not a vegan protein powder, but it is definitely non-grainy. You can buy chocolate or vanilla varieties if you want some added flavor, but the base Naked Whey Protein contains one ingredient and one only: Whey protein.
The whey is sourced from California dairy farms and cold-processed to prevent any contamination from heavy metals, chemicals or anything else. You will definitely want to mix it with some other fruits or vegetables for a bit of flavor — but I like the fact that this brand puts you in control of any added ingredients!
6. Majka Green Vanilla Nourishing Lactation Protein Powder
In addition to having a really long name, this protein powder is specifically geared toward nursing mothers. It is smooth, non-gritty and vegan. My wife used it when she was nursing our youngest little one, and she says it definitely helped boost milk supply. She swears by it, so… I'm just going to have to take her word for it on that point.
The proteins in this one are derived from coconut, pea and chia seeds. The neatest thing about this protein powder is that it also serves as an all-in-one postnatal vitamin source. If you're a nursing mom, this one gives you protein and full servings of vitamins, combined with great-tasting fruits and vegetables.
7. Plant Protein + Gut Food
This completely vegan protein powder is made by The Nue Co. It definitely has the fanciest packaging out of all the protein powders on the market. In addition to plant-based proteins, it includes a 20-million spore probiotic for gut health. The Nue Co says this powder is great for people with IBS.
The protein boost from this one is just high enough that it can be used for a post-workout drink for muscle recovery (12 grams of protein, the same as about two eggs). The proteins are derived from pea, brown rice and hemp. The flavor of Plant Protein + Gut Food is not the best you will find straight out of the bottle, however. It's smooth and non-gritty, but you will want to blend it with something for a better tasting result.
8. Anthony's Premium Pea Protein
Remember how Naked Whey Protein (above) has only one ingredient? Anthony's Premium Pea Protein is the totally vegan equivalent! This non-grainy protein powder has one ingredient on the label and one only: Pea protein isolate.
With only one ingredient, this one puts you in control in terms of additional flavoring. (Word to the wise: You're going to want to mix something tasty like fruits with this powder.) Anthony's Premium Pea Protein can be adapted to fit with a lot of different types of diets.
9. Raw Organic Protein & Greens Powder (Garden of Life)
We use a lot of Garden of Life vegan vitamin products in my household (especially the gummies for kids), and their Raw Organic Protein & Greens Powder has a lot of reasons to cheer for it as well. It's definitely one of the "greenest" protein powders on the market, with protein derived from pea and brown rice, as well as spinach, kale, broccoli, alfalfa grass, three kinds of beans, carrots and beets.
Garden of Life is also gluten-free, vegan and kosher, and they managed to pack a bunch of probiotics in it as well. It's one of the only non gritty vegan protein powder types that you can just mix in a straight glass of water and drink, without having to grind up a banana or something else in it. And at 20 grams of protein, it's also great for a post-workout muscle recovery.
10. Genius Vegan Protein
This powder from The Genius Brand™ looks like an ingredient for a rich chocolate dessert, but that's just from the blend of cocoa powder and pumpkin seed protein. Genius ditches the brown rice protein for more pumpkin seed, and also adds pea protein isolate.
This powder tastes great and it dissolves really well, even in a straight glass of water. No grit, no chalk and it doesn't taste like dirt. Now… here's the downside. If you're really into knowing what all the ingredients are in your vegan products, you should know about a proprietary trademarked ingredient in this powder called Velositol.
The Genius Brand™ bills Velositol as a proprietary protein synthesizer, meaning helps your body synthesize the proteins better. That's all well and good, but this is not a product you'll find in nature and the FDA hasn't evaluated any of the claims about this ingredient. If that doesn't bother you, then by all means, try it out. I'm not a huge fan of chocolate and I love the taste of this one.
However, if you're concerned about knowing every single ingredient for your diet, I'd recommend doing your own additional research on Velositol before deciding whether this vegan protein powder is right for you.
11. Orgain Organic Plant-Based Protein Powder
This one has an astonishing 29,000 ratings on Amazon. No matter how much of a non-conformist you might be, you have to admit this one tastes great and has a lot going for it. It has a really creamy, non-gritty, non-chalk texture to it and it's certified completely organic.
Its protein should sound familiar by now if you've read the list this far: Pea, brown rice and chia. This powder is so versatile that you can actually use it as a creamer for your morning coffee. (You think I'm joking, but go on: Try it!)
Orgain offers this protein powder in chocolate, vanilla, peanut butter or just plain old "nothing" flavors (Note to self: add banana). It's also free of everything: Soy free, gluten free, dairy free, lactose free, sugar free, carrageenan free (Full disclosure: I have no idea what a carrageenan is, but it's oddly reassuring this protein powder doesn't have it), artificial ingredient free, and it's even kosher.
12. Ora So Lean & So Clean
A lot of the ingredients in Ora's organic protein powder probably sound familiar by this point. Pea protein: Check! Rice protein: Check! Hemp protein: Check! Sacha inchi: Wait… what?
Wow! A unique ingredient! Sacha inchi is an abundant, protein-packed sub-tropical nut from South America. (Avoid this one if you have a nut allergy.) When it's fully ripened, sacha inchi contains 27 percent protein and the rest is healthy essential fatty acids like omega-3, omega-6 and omega-9.
Fruits in this blend include cranberry, blueberry, blackberry, pomegranate, strawberries, applies and monk fruit. Additional proteins are derived from broccoli, kale and Jerusalem artichoke. The fact that it doesn't mix up with any grit or grain or lumps just adds to the value of this amazing vegan protein powder. Tastes great!
13. Naturade Vegan Smart
While this actually an all-in-one nutritional shake, it's packed with 20 grams of non-GMO plant-based protein. So… it makes this list, and it also dissolves better than many of the other products above. The proteins in this non-gritty vegan product come from pea, hemp and chia, and also from potato and chlorella.
The texture is just perfect in this non-grainy protein powder. It mixes up really well with water, milk or a milk substitute. If there is one area to criticize this powder, it's the fact that the vanilla flavor is a little bit too sweet for some people.
Why Do Protein Shakes Taste So Bad?
How to Make Vanilla Protein Shakes Taste Better