Best Protein Powder That Is Not Sweet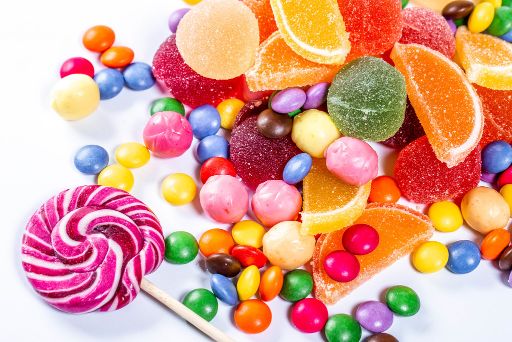 My protein shake is too sweet!
You've probably heard it all before.
However, protein powder that's sweet is also usually loaded with sugar and artificial ingredients.
The more healthy shakes include stevia, which is a natural sweetener. Nonetheless, stevia is over 200 times sweeter than sugar.
So, I did some research to figure out the best protein powders that aren't so sweet!
That's why I focused mainly on shakes that were unflavored.
When they're unflavored, they're in raw form, so you can be certain they don't taste sweet.
Keep in mind: Unflavored doesn't always mean it tastes bad.
I made it a point to pick powders that taste great, are clean, and don't have a lot of sugar.
So, let's go over some of the best not too sweet protein powder.
KOS Organic Plant-Based Protein Powder
Why did I pick KOS?
The top reason has to be the amazing taste.
A lot of people have mentioned that it tastes delicious and mixes well.
Even better is that it doesn't leave a nasty after-taste after you're done drinking it.
All of its ingredients are 100% organic and vegan, meaning it's perfectly clean!
You'll also like that it's loaded with fiber.
That means no bloating and a GI tract that runs as smoothly as possible.
The best part is, the protein comes from several sources like flaxseed and pea protein.
Key Findings
Any sweetness you taste with this protein powder isn't from sugar.
First off, it does contain stevia, which can be over 200 times sweeter than sugar.
Even though it's sweeter, it doesn't ramp up your blood sugar levels like sugar usually does.
Plus, no extra calories.
Some extra sweetness also comes from the organic monk fruit.
It's just as sweet as stevia and also has plenty of antioxidants in it.
Nutritional Content
170 calories
20 grams of protein
6 grams of fat (though apparently healthy fats)
No cholesterol
190 milligrams of sodium (no need for this)
2 grams of fiber
Overall, the nutritional value is pretty decent.
It's pretty standard for protein powders, flavored or not.
If you really want to boost your protein intake, you're going to have to drink a lot!
Anthony's Premium Pea Protein
Why did I pick Anthony's?
This is my top pick for unflavored protein powders.
What I like most is that it comes from pea protein, meaning absolutely no animal products.
It's super easy to mix in with shakes and other foods and doesn't ruin the taste.
It also doesn't taste as horrible as some pea protein powders do.
What I like best is that it's literally just pea protein isolate.
There are no other ingredients and it's absolutely pure and clean.
You honestly can't go wrong with this all-natural unflavored powder.
Key Findings
Since there's nothing other than pea protein, there is no flavor or sweetness.
So, drinking it straight might be a little gross at first.
I would recommend adding some extra sweeteners or flavoring to help you chug it down.
Plus, it's really easy to mix (though a blender might make it easier).
The lack of sweetness and flavor makes it perfect for making other foods.
You can use it to make all-natural healthy protein bars or snacks.
Nutritional Content
35 calories
8 grams of protein (which is low)
No cholesterol
60 milligrams of sodium
No fiber or added sugars
3 milligrams of iron (about 10% of your daily intake)
Even though this product is healthy, it's pretty low in protein.
It's going to take at least three scoops to make this powder worth it after an intense workout.
But, the fact that there's no sugar or cholesterol makes up for that.
Jocko RAW Mölk – Unflavored Whey Isolate Protein Powder
Why did I pick Jocko RAW Mölk?
For this unflavored whey protein powder, you're going to like how much protein there is.
And also, absolutely no added sugar in any sense.
I first want to point out that it's loaded with all types of amino acids.
This can really help with your workout and recovery period afterward.
It comes in five flavors too, if unflavored isn't your style.
Even better is the digestive health benefits like enzymes and prebiotics.
So, your muscles and your digestive system will be thanking you.
Key Findings
What's neat is the number of protein sources used, which is four.
This formula includes casein, egg, isolate, and whey protein for an all-around solid recovery.
Since there's no flavor, it's time to get creative.
The company suggests mixing it with water, milk, or another beverage.
Since it's unflavored, you can mix it with literally anything.
And so far, there haven't been too many complaints about flavor, so you're in the clear.
Nutritional Content
110 calories
22 grams of protein
61 milligrams of cholesterol (yikes)
11% of your daily calcium intake
2 grams of fat
This is definitely a cool supplement when you're looking to cut calories.
But, the 61 milligrams of cholesterol (20% of your daily intake) is a bit concerning.
Go easy on this protein powder, especially if you have high cholesterol.
Isopure Zero Carb Unflavored 100% Whey Protein Isolate
Why did I pick Isopure?
As it turns out, there really are some zero-carb, unflavored protein powders out there!
All this product contains is whey protein isolate and soy lecithin.
Seriously, all you're getting is protein, nothing else.
Plus, I love that it's gluten-free and lactose-free, making it perfect for just about anyone.
What I like even more is that it's not grainy and mixes quite well.
Key Findings
There might be no flavor, but you can definitely use this powder to make some other foods.
It's keto-friendly, so keto-friendly pancakes might just be in your future.
In all honesty, you can use it to replace flour in just about any circumstance.
Just be aware that there might be a slight flavor, but it's nothing too crazy or noticeable.
Nutritional Content
100 calories
25 grams of protein
160 milligrams of sodium
No added sugar
6% of your daily intake of calcium
I'm shocked at how protein-dense a low-calorie powder can be.
100 calories for 25 grams of protein is insanely low and really impressive.
Plus, the no added sugar practically guarantees no added sweetness.
ProMix Nutrition Grass-Fed Whey Protein
Why did I pick ProMix?
First off, I just want to point out that it comes in four flavors and one unflavored variety.
It's extremely highly-rated and people really seem to love the taste.
What I love even more is that it comes from grass-fed cows, so it's all-natural!
It'll 100% increase your gains and improve your overall strength.
Key Findings
All sweetness or flavoring is completely natural with this powder.
Instead of the ultra-sweet stevia, it actually uses cane sugar instead.
So, it's not as sweet as regular or artificial sweeteners, but it's still good.
Plus, the flavoring comes from all-natural sources, which is even better.
Nutritional Content
135 calories
25 grams of protein
45 milligrams of cholesterol (uh oh)
2 grams of fat
10% of your daily intake of calcium
Even though the cholesterol is a bit high, it's nothing to write home about
You're really getting a high protein powder for very few calories.
You can't go wrong.
Why I Chose Unflavored Protein (and Why You Should Too!)
The reason I love unflavored protein is that I can make it taste how I want.
Plus, a lot of sweetened and flavored protein powders taste….not so great.
So, let's talk about why unflavored protein powder is the best.
Why Unflavored Protein is Best
Yes, you will have to take some time to add your own ingredients. That's definitely true.
But, you can also make it so much better.
You can add a sweetener you like based on how sweet you like your protein shakes
They're known for having a lot more protein in every serving
You can add it to other foods like soup or even oatmeal
They don't have extra ingredients to enhance their flavoring
Honestly, I think it's the best choice if you're tired of the same old shake every day.
You can literally try out a new recipe after every single workout.
The True Taste of Unflavored Protein
Before you bite the bullet, I want to make sure that you know what you're getting yourself into.
So, let's talk about what unflavored protein powder really tastes like.
Just because it's unflavored doesn't mean it doesn't have a taste at all.
It might taste a little bit like milk.
That's probably because whey protein actually comes straight from milk!
There's also a chance it might be a little chalky.
That's why I think it's so important to add some sweeteners or flavoring here and there.
MY advice when picking shakes that are not sweet
Unsweetened protein powders are best for your health and nutrition.
They're also really easy on the wallet.
But, you might not know what to do when protein powder is too sweet.
How do you make it taste better?
How do you force yourself to drink something with no flavor?
Let's go over some simple ways to add some healthy sweetness.
Erythritol
You might be thinking, "What in the world is erythritol?"
Erythritol is actually a sugar substitute, so it's not real sugar.
It has almost zero calories (BONUS!!) and has between 65 and 70% of the sweetness of sugar.
That means the sweetness won't be overwhelming.
Plus, it won't impact your blood sugar levels like regular sugar does.
That means it's a great choice for diabetics.
Just buy a bag of erythritol and add a teaspoon or so to your protein shakes.
Avocado
You don't have to make a protein shake sweet to make it taste good.
So, why not try adding some avocado?
All you're going to need is about half an avocado to make this work.
Take some water (or milk), avocado, and unflavored protein powder and pop it in the blender.
Let it churn until it's smooth and creamy.
You can even try adding some almond butter or cacao powder to switch it up.
Plus, you'll be getting some extra fiber and nutrients into your diet.
Berries
What makes berries a great choice is that they add sweetness and flavor.
And to top it all off, you have the choice between literally every berry.
You can add strawberries, blueberries, or raspberries on their own.
Or, why not take a mix of different berries and try out new flavors?
Just remember that all berries aren't the same sweetness level.
Milk
Just the sound of water and unflavored protein powder might make you nauseous.
Milk is a great alternative to water.
First off, it'll make your drink a little thicker, so more like a smoothie or shake.
It'll definitely add some flavoring at the same time.
What I think is even cooler is that you don't have to use just cow's milk
Almond milk or coconut milk are both great alternatives and pretty healthy too.
Cacao Powder
You like chocolate protein powders, but they're just too sweet and chocolatey.
So, why not make your own chocolate protein shakes?
Cacao powder is a perfect choice.
It definitely tastes like rich chocolate, but it's also not sweet at all.
It's like making a chocolate protein shake and taking the sweetness away.
As a bonus, cacao powder can lower your blood pressure and improve your mood.
It's a win-win.
Flavor Drops
Wouldn't it be great if you could add some flavor to protein powder without adding sweetness at the same time?
That's where flavor drops come in.
These come in small 50 or 100 milliliter bottles.
Just squeeze in a few drops and mix it with your protein powder and water (or milk).
They don't add any unnecessary calories, sugar, carbs, or fat.
What's even better is the flavor options.
You have toffee, lemon, blueberry, and practically every other flavor you can think of.
Hey, you might as well stock up on a few and have a different drink every day, right?
My Favorite Unflavored Whey Protein
I definitely stand by Anthony's Premium Pea Protein.
It's 100% the best whey protein & not too sweet.
It's gluten-free and has no GMOs, so you know it's healthy!
And even better?
You can add it to shakes, yogurt, oatmeal, or just about anything else.
The only downside is that you're going to have to add a lot to really boost your protein intake.
Other than that?
It's the perfect vegan and keto-friendly choice.
My Favorite Flavored Protein That Is Not Too Sweet
I've got to go with KOS Organic Plant-Based Protein Powder.
It's probably the best protein powder that is not sweet.
First, the ingredients are 100% organic and produce a great chocolate flavor that you won't be able to resist.
It comes from pure plant protein, so it's definitely a cleaner option too.
Last but not least, it's a pretty good price for an all-organic protein powder.
I would definitely recommend this to anyone who likes chocolate powder that isn't too sweet.
My Advice: Go for unsweetened protein powder.
Unsweetened protein powders sound a little gross, I know!
But, you can easily make your own recipes and make them taste better.
Add any ingredients you'd like to make it taste the way you like it.
And then you don't have to deal with the nasty flavors of some protein powders.
Summing It Up
Protein powders are definitely great for bulking up and seeing some more muscle.
But, they also tend to taste a little gross and are far too sweet.
Unsweetened or even unflavored protein powders are 100% the way to go.
They don't have extra calories, fat, carbs, or sugars like a lot of protein out there.
They basically get right to the point!
Just remember to do your research to find the best non-sweet protein powder.
Similar- articles
How To Cut The Sweetness Of Protein Powder?