Introduction
So you want a protein powder without heavy metals? Heavy metals have been a concern for a while now.
And I don't mean parents' angst over what their kids are listening to.
Heavy metals occur naturally in the environment and are present in the foods we eat. They cause little harm within safe levels. We'll discuss this later.
By the end of this article, you will understand more about heavy metals and find out which is the best protein powder without heavy metals for you.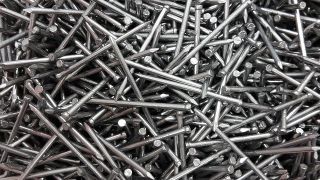 List of Potential Metals
Arsenic
Cadmium
Chromium
Lead
Mercury
Nickel
Zinc
Why Are Heavy Metals Bad?
The short answer is that heavy metals can build up in the body over time and cause health problems.
The biggest risk of heavy metal toxicity is working with metal every day and eating food grown in soil contaminated by mines or these types of factories.
Research has shown that excessive levels can lead to less serious issues such as headaches and minor digestive troubles.
They can cause a depletion of essential nutrients and weaken our immune systems too.
But more serious conditions include cancer, heart problems, serious digestive conditions and issues with brain function.
These toxins are stored in our fat and bones. In particular, lead and cadmium can lead to bone fractures.
However, healthy soil also contains heavy metals that make it into the foods we eat. This is not generally an area of concern, but it's good to minimize heavy metal intake.
What Can You do in Addition to Limiting Heavy Metal Intake?
It takes many years for this to become a problem, if at all, if you are eating a healthy diet. Exercising regularly may also be beneficial as some metals are released via sweat.
Some foods even help your body to naturally detox of these metals:
Garlic
Green tea
Curry Tomatoes
Cilantro
Probiotics
Lemon water
Spirulina
Chlorella
Wild blueberries
Barley Grass Juice
Atlantic dulse
Vitamin C
Staying well-hydrated is also important.
How Much Metal is Too Much?
These are the permissible levels of metals in foods in micrograms per gram (μg/g):
Arsenic (As): –
Cadmium (Cd): 0.10
Cobalt (Co): 50.00
Chromium (Cr): –
Copper (Cu): 73.00
Iron (Fe): 425.00
Manganese (Mn): 500.00
Nickel (Ni): 67.00
Lead (Pb) 0.30
Selenium (Se) –
Zinc (Zn): 100
What Does Research Say About Protein Powders?
Many of you may have seen Clean Label or heard of them. Their aim is for product labels to fully inform the customer of what they are eating or using.
Their focus is on including levels of pesticides, plasticizers such as BPA, and heavy metals in the information given to customers.
Given that scientists have started linking these substances to health issues, we can all see the need for this kind of transparency.
They conducted tests on the most popular protein powders to check for heavy metals and other contaminants.
According to their video, they found the following:
75% of protein powders had detectable levels of lead
Nearly 33% exceeded established safety limits
55% had detectable levels of BPA
Certified Organic products averaged twice as much heavy metals
On average, plant-based products were the most contaminated
On average, egg and whey-based products were the cleanest
Another valid point that Clean Label makes is that people often have multiple servings per day. So while the heavy metals in one serving is fine, two or three servings may be too much.
What are Other Scientists and the Industry Saying?
Some have their doubts about the rating system used by Clean Label. Particularly scientists.
Subjective Rating?
The rating system appears to be more subjective as opposed to scientific. The ratings for the protein powders allocated the majority of the points for heavy metals.
Did Money Get in the Way?
There is also the case of them now selling certified products online. As we've seen, money has made some people manipulate information on reports.
I'm not saying that this is what Clean Label is doing, but it's something to keep in mind.
There are also questions about who funded the studies. This again has had a big influence on scientific testing on some products.
Generally, the most trusted scientific reports are those that not only are transparent about funding, but where the funders one really stands to profit either way.
Scare Tactics?
Using language such as "detectable levels" is also very vague. This is clearly using scare tactics.
The simple truth is that there are detectable levels of heavy metals in all the plant foods we eat. This is something that the plant-based protein companies are aware of and point out.
It's only a problem if the levels exceed the allowable limits set by organizations like the WHO (World Health Organization).
These are limits are between 20-50 times higher than those set by the Prop 65 laws set in California.
The bottom line is that Clean Label is at least creating awareness and fighting for the right of consumers. But looking at multiple reputable sources for information is the best way to go.
Plant-Based Protein Powder Without Heavy Metals?
If you are vegan or prefer a plant-based protein powder, there is no reason to switch to animal products.
Just to note the options below may have a low amount of metals. It's difficult to find vegan protein powder without heavy metals.
Here are the best picks:
Ora Organic Vegan Protein
Ora Organic Vegan Protein comes in three flavors, vanilla, chai vanilla, and chocolate. Many people enjoy the taste whether mixing it with water, plant milk, or fruit.
Ora Organic says that each serving gives you two servings of greens due to their greens and superfood blend.
There is only 1g of sugar. Ora Organic uses monk fruit extract and stevia to sweeten the shakes. A blend of five enzymes will make this protein powder much easier to digest.
Heavy Metals
Ora Organic prides themselves on having little to no heavy metals in their protein powder. They even have a handy guide on how to choose a clean protein powder.
Ora Organic tests every batch for heavy metals and microbiological activity. They will happily provide you with the test results if you contact them.
Protein Content
The vanilla and vanilla chai flavors will give you 21g of protein per serving. The chocolate flavor will give you 22g of protein per serving.
This protein powder uses a blend of pea, rice, cranberry, hemp, and sacha inchi protein.
The combination of all these plant protein sources gives you all the necessary amino acids. Amino acids are the building blocks of protein.
Things I Like
Ora Organic is transparent about their test results
The addition of greens and superfoods bump up the nutrition
The sugar content is low
Organic
Sunwarrior
The cleanest protein powder in the Sunwarrior range when it comes to heavy metals is their Sunwarrior Warrior Blend.
It's available in berry, chocolate, mocha, vanilla, and natural flavor. The flavored varieties are sweetened with stevia. The natural flavor contains no added sugar or any sweetener.
Eat This, Not That, has the Warrior Blend listed as one of the best protein powders for smoothies.
The sodium content is rather high for the 1,5 scoop serving size, however. If you are on the DASH diet, it's best to go with a different shake or use only a single scoop.
Heavy Metals
Sunwarrior states that they are Prop65 compliant.
They test for heavy metals and only allow batches that test below the allowable levels set by the EU (European Union), WHO, and the FDA (Food and Drug Administration).
Sunwarrior is willing to provide test results if you get in touch with them.
Protein Content
The protein content differs by flavor:
Berry: 16g
Chocolate: 17g
Mocha: 24g (per 1,5 scoop serving)
Natural: 19g
Vanilla: 18g
The Warrior Blend is made from a blend of yellow split pea protein, hemp protein, and goji berry.
Things I Like
They are willing to provide test results
There is no added sugar
The ingredients are simple
Contains MCT (Medium Chain Triglycerides)
Organic
Pure Food Plant-Based Protein
Pure Food Plant-Based Protein Powder comes in two flavors, chocolate, and vanilla. It's sweetened with stevia and has less than a gram of sugar per serving.
Lucuma powder is another ingredient that adds sweetness. It's also a source of fiber and antioxidants.
The powder also contains probiotics for better digestive health. Mesquite helps to keep blood sugar levels under control.
Heavy Metals
 Some of the heavy metals are over the limits posed by Prop65, most notably lead. However, they are under the limit set by other organizations.
 You can find the latest heavy metal levels on their site.
Protein
Pure Food uses a blend of pea, brown rice, and hemp protein. Each serving will give you 20g of protein.
Things I Like 
They freely disclose heavy metal levels without needing to be asked
It has a low sugar content
The sodium content is low
It contains probiotics which may assist your body to detox from heavy metals
Organic
Naked Pea Protein
Naked Pea Protein consists of just one ingredient. Pea protein.
Pea protein is one of the easiest forms of protein to digest. So it's great for anyone with digestive troubles.
Heavy Metals
Body Nutrition ranks it at number 3 on its list of the best vegan protein powders.
One of the biggest reasons for that is that Naked Nutrition freely displays their heavy metal test results.
Protein
Each serving will give you 27g of protein.
Things I Like 
They display their heavy metal test results on their product page
Easy to digest
Low sugar content
Nutiva Hemp Protein
Organic Nutiva Hemp Protein consists of cold-pressed hemp. Nutiva is aware of the arsenic content in rice protein.
This is why they went for hemp protein. In addition to being a complete source of protein, hemp is also a good source of omega 3 fatty acids.
Heavy Metal Tested?
Nutiva does test their protein powder for heavy metals. They are willing to provide the test results upon request.
Protein
A serving will give you 15g of protein.
Things I Like
They are willing to give you the heavy metal test results upon request
It's easy to digest
The sugar content is low
Organic
Vivo Life Perform
Vivo Life Perform comes in Madagascan vanilla, salted maca caramel, raw cacao, banana and cinnamon, and acai and blueberry flavor.
It's sweetened with stevia. It also includes reishi mushroom, an adaptogen that may boost the immune system, fight fatigue, and reduce anxiety. Turmeric reduces inflammation.
Digestive enzymes make this already easy to digest protein powder even easier to digest.
Heavy Metals
Vivo Life test each batch for heavy metals. Likewise, Vivo life's ingredients are tested at the source. Meaning before the ingredients even enter the manufacturing facility they are tested for contaminants and heavy metals.
You can download the test results from their site under the heavy metals section.
Protein
This powder consists of a blend of bio-fermented yellow pea protein, cold-pressed hemp protein, spirulina, and chlorella. Each serving will give you 25g of protein.
Things I Like
The heavy metal test results are available for download
It's easy to digest
It may lower inflammation
It's high in antioxidants
Organic
Whey Protein Powder Without Heavy Metals
If you really want protein powder with little to no heavy metals, go for whey protein or egg protein.
The level of heavy metals is lower in animal products since like us, their bodies detox the heavy metals. Sometimes processing may remove almost all the residual heavy metal content.
Here are my top picks:
Naked Whey
Naked Whey Protein contains only whey protein.
The whey protein is cold processed so as not to denature the protein giving you a superior protein supplement.
Heavy Metals
As with their pea protein, the test results for the whey protein is available on their product page.
Protein
Naked whey is made up of grass-fed whey protein and is hormone-free. Each serving will give you 25g of protein.
Things I Like
The heavy metal test results are freely displayed on their website
The whey protein is cold processed
The whey protein is derived from grass-fed cows
The sugar content is low
John's Killer Protein
John's Killer Protein has a variety of grass-fed or grass and oat-fed whey protein options. They also have whey and casein protein blends available.
The Native Blend contains only whey protein with no other added ingredients. The whey is cold processed, so you get undenatured protein.
Heavy Metals
Johns Killer Protein tests each brand for heavy metals. You can see all the lab results here.
Protein
The Native Blend protein is derived from grass-fed cows that have never been treated with growth hormones. Each serving gives you 20g of protein.
Things I Like
You can easily find the results for their heavy metal tests
The protein is cold processed
It's derived from grass-fed cows
Low sugar content
Pure Protein Powder
Pure Protein 100% Whey comes in rich chocolate or vanilla cream flavor. The additives aren't harmful, they just help the powder to mix more easily.
It's sweetened with sucralose so the sugar content is low at 2g.
Artificial sweeteners may negatively impact your gut health and possibly raise your blood sugar levels. So steer clear if you notice these issues.
Heavy Metals
Pure Protein 100% Whey Vanilla Cream was in the top five safest protein supplements when it came to heavy metals in the Clean Labels test.
Protein
This protein powder consists of an ultrafiltered whey protein concentrate and microfiltered whey protein isolate blend. Each serving contains 25g of protein.
Things I Like
They are one of the top five safest protein powders as per the Clean Label test
Low sugar content
Body Fortress
Body Fortress Super Advanced Whey Protein comes in banana crème, chocolate, chocolate peanut butter, cinnamon swirl, cookies n cream, strawberry, and vanilla flavor.
It's sweetened with sucralose. The only other ingredient that is questionable is soy lecithin. Steer clear if you have a soy allergy.
Heavy Metals
The vanilla flavor was also in the top five safest after Clean Label conducted heavy metal tests.
Protein
Body Fortress Whey is a blend of whey protein isolate and concentrate. Each serving gives you 30g of protein.
Things I Like
Body Fortress Vanilla was in the top five safest when it came to heavy metals
Low in sugar
How Can I Find Out if a Protein Powder Has Heavy Metals??
Do you want a protein powder without lead?
The simplest way is to get hold of the lab results either on their website or by asking them.
If they refuse to supply you with the lab results, it's not to say that they have unsafe heavy metal levels. But why hide the lab results? Move on to a more transparent brand.
Generally, rice protein tends to have higher arsenic levels than other plants. So to be safe, choose pea or hemp protein over rice if whey, casein or egg is not an option.
Alternatively, Make Your Own Vegan Protein Shake
The main benefit of a homemade protein powder is that it's more affordable and you can control what goes into it.
The highest vegan protein sources include lentils, millet, quinoa, peas, chickpeas, and beans. Seeds are also high in protein.
Create a protein powder by finely grinding together:
1 cup of lentils
1/2 cup of quinoa
Or:
1,5 cups of yellow split peas
¼ cup of hemp seeds
You can toast the grains and legumes before grinding them up if you struggle to digest them raw. You can also make smoothies that include nuts, flax, chia or hemp seeds for a protein boost.
The Bottom Line
The above picks give you options for either the best vegan and whey protein powder without heavy metals. Hopefully, they are as close as you can get too heavy metal-free protein powders.
It's pretty hard to escape heavy metals. But you can minimize your intake by selecting virtually metal-free protein powders.