Adding Collagen to my diet has really made a difference to my skin and is keeping those wrinkles at bay! However, I am getting bored with the same drink day in and day out. After doing some research and experimenting, I have found a number of fun and exciting ways to incorporate Collagen into my morning drink. I can't wait to share them with you.
Here are some great ideas on how to make collagen at home. You also get the added health benefit of the other natural ingredients in the recipes. And, they are so tasty!
Collagen drink to detox your body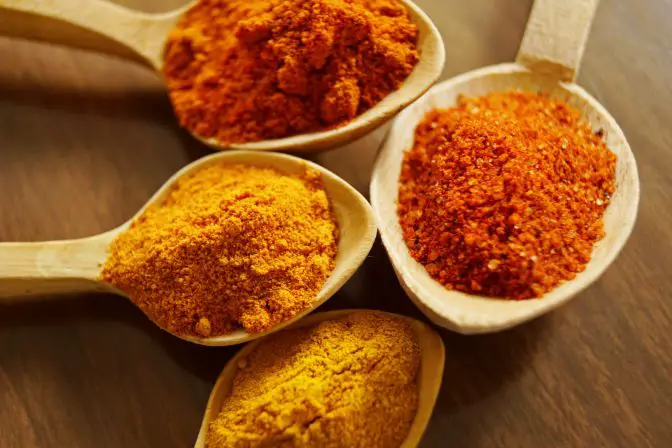 Every now and then I like to have a detox drink to clean out my system. So what about combining it with your Collagen boost? This recipe gives you the benefit of natural detox ingredients and tastes good. It contains cardamom which has diuretic properties. This helps to remove water that builds up in your body and encourages detoxing.
The recipe also includes turmeric which is well known for detoxing. Turmeric is also known to have anti-inflammatory and antioxidants that help to ward off illness and disease. Here is the easy-to-make recipe.
Collagen drink for ice-coffee lovers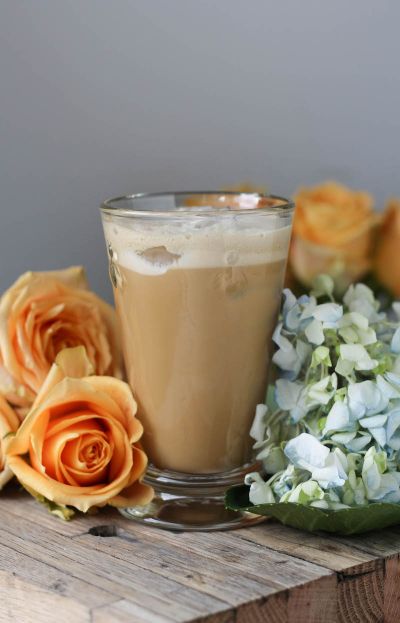 Source: paleomg.com
Iced coffee is my favorite summer day drink. Relaxing on the patio, chatting to a friend, and enjoying the sunshine! This is a great cooling smoothie, sweet and decadent with a rich taste of coffee. And, it includes your daily Collagen boost.
The recipe uses full-fat coconut milk and maple syrup, so it is not ideal for those on diet. But, you can perhaps treat yourself to one every now and then. This recipe has two steps. You need to make the cream and the coffee components separately and then mix them together. Follow the full recipe over at paleomg.com.
Cool down with a Collagen Margarita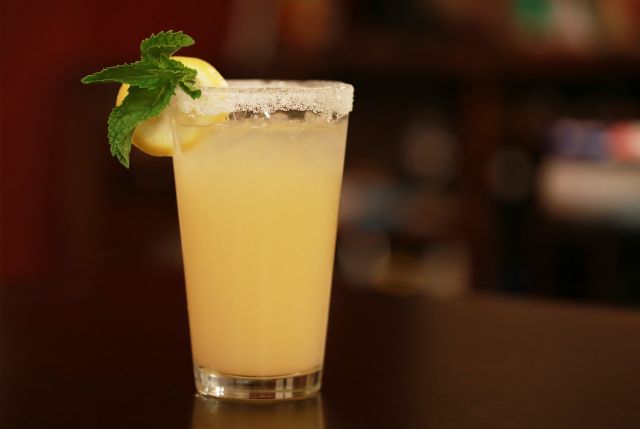 I totally enjoy an ice-cold margarita on a hot weekend. So I thought – why not combine it with my Collagen boost? Here is a fun recipe to make a refreshing authentic Margarita. It contains tequila, soda water, and a dash of jalapeño for a spicy finish to perk you up. Ideal to sip at the poolside or on the beach.
The recipe makes 2 drinks – perfect for a romantic picnic for two in the country. Get the full recipe here.
Healthy green juice Collagen drink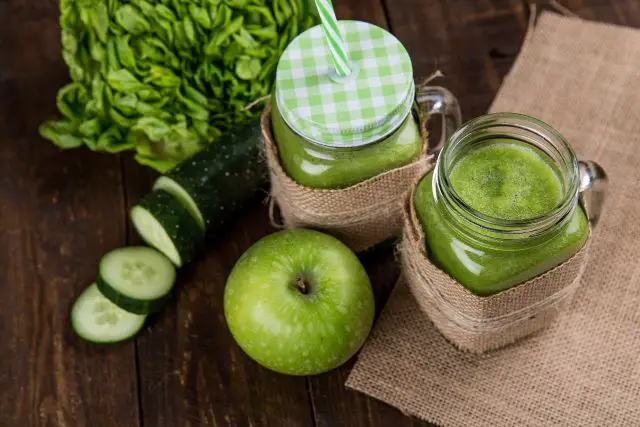 Green leafy veggies provide some of the most nutritious ingredients you can find. Whipping up a green juice makes a super healthy drink packed full of antioxidants, nutrients, and vitamins.
I found this very easy recipe that uses celery, cucumber, parsley, and mint. It is refreshing and simple to make. It also has a good amount of lime, which sends a shiver down your spine and boosts your immunity system. Find the details of the recipe over at Bulletproof.com (opens new tab).
Collagen Drink For Chocoholics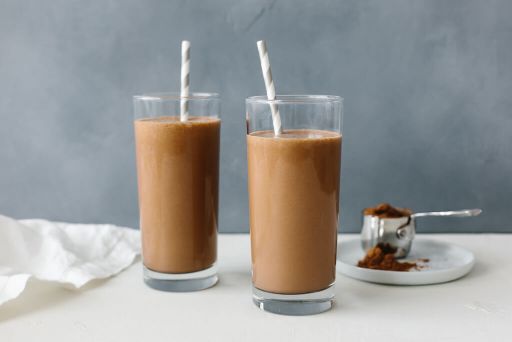 Source: downshiftology.com
If you love chocolate as much as I do, what is better than a thick smoothie made with dark cacao and almond milk? This is the ultimate decadent drink and I often use it to replace a dessert after dinner. It is so comforting and fun – just watch those calories if you are trying to lose weight.
This recipe uses banana, coconut milk, almond butter, cacao powder and your collagen powder. If you are following a Paleo diet, almond butter is perfect. If not, you can exchange it for peanut butter to add to the rich taste. Want your drink to be even more decadent? Add in a few squares of dark chocolate. Get the full recipe here.
Vitamin-rich Collagen drink
Eating fresh fruit in the morning is the best way to start your day. They offer loads of vitamins and essential nutrients. Combining your fresh fruit into a juice and adding in your Collagen powder is a great idea to boost your health and your energy levels. This easy recipe uses apples, oranges, carrots, cucumbers, and spinach.
These are ingredients that most people have handy on the kitchen counter or in the fridge. All you need is a juicer and you are ready to make 2 glasses. Find the full recipe from mindbodygreen.com.
Matcha Collagen latte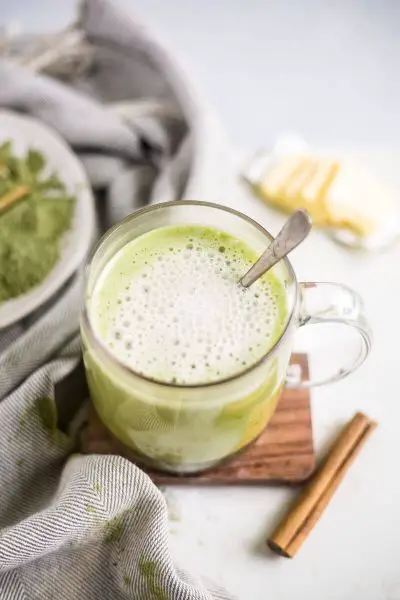 Source: whatmollymade.com
Matcha is the new super-food. This trendy organic tea from Japan is picked in the early morning. The young leaves are stone ground with granite wheels to produce a smooth, fine powder. Matcha has a slightly bitter flavor with a sweet aftertaste. When it is whisked, the top layer becomes a creamy, frothy delight.
The correct way to whisk is using a bamboo whisk, but a metal version will also do the trick. Matcha has many health benefits. It helps in the prevention of diabetes, cancers, and Alzheimer's. Matcha gives you a wonderful overall sense of well-being. Why not add your Collagen to a Matcha tea drink?
Morning coffee with Collagen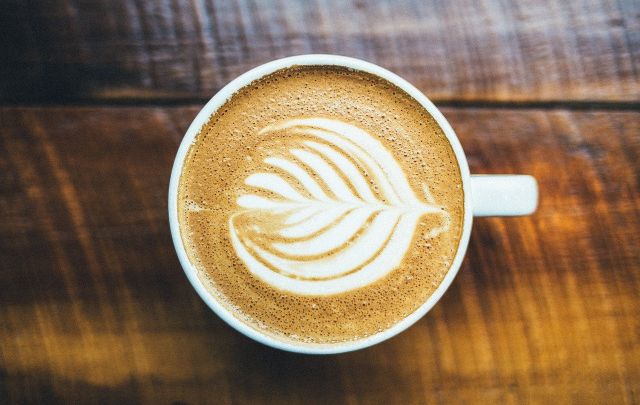 If you are like me and cannot get going without your cup of morning coffee, you can add your Collagen powder to the coffee. It works just fine and gives you your daily dose while you sip your steaming mug of wake-me-up. Simply brew up your special blend, add your Collagen powder, creamer, sweetener, and enjoy.
If you are following a Keto diet plan, use Keto Coffee Creamer and add natural stevia in place of sugar. Stevia has no calories and is about 200 times sweeter than sugar, so use sparingly.
Exotic tropical fruit Collagen Smoothie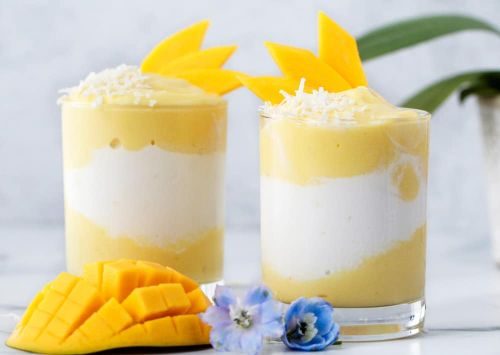 Source: peanutbutterandfitness.com
The flavors of coconut, pineapple and mango take you on a mind-trip to a tropical island. Relax under a palm tree that sways gently in the breeze. Enjoy the stunning views of endless white sandy beaches and crystal clear blue seas. This delicious smoothie has two exotic layers and is made with mango, banana, pineapple, and creamy coconut milk.
The visual look is delightful, with a bright yellow mango layer and a creamy white coconut layer. It is your instant island get-away. Find the recipe here.
My hearty carrot ginger Collagen soup for a winter's night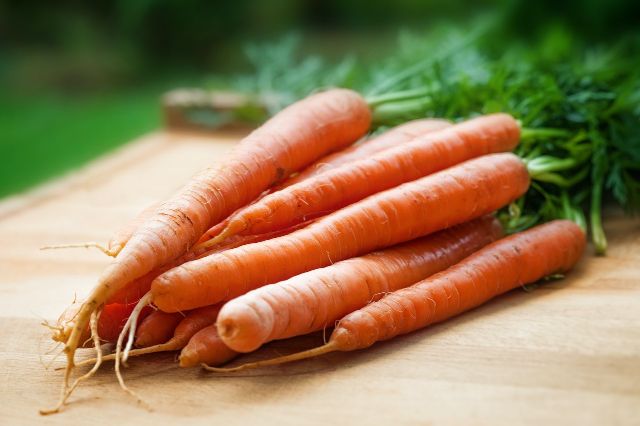 I always thought that Collagen powder had to be mixed into a cold drink. But making a hot, comforting soup for a cold winter's night makes me feel really good. Nothing beats a steaming mug or bowl of carrot soup with a hint of ginger. It is nutritious, delicious and leaves you feeling warm and cozy.
After some experimenting, I have perfected an easy recipe for a delicious carrot and ginger soup. My family loves it, including the kids. And, I can add my dose of collagen separately. You can also freeze the soup and warm it in a jiffy when needed. I often take some along to the office for lunch and simply heat in a microwave.
This is my all-time favorite DIY collagen drink and I have detailed the recipe below and the steps to follow. Enjoy!
Ingredients Needed
2 heaped cups chopped carrots
1 cup chopped onions
3 garlic cloves smashed
3 to 4 cups vegetable broth or stock
1 tablespoon extra-virgin olive oil
1½ teaspoons grated fresh ginger
Salt and black pepper
1 tablespoon apple cider vinegar
1 teaspoon maple syrup – this is optional
Prep Instructions
You need
Medium size cooking pot
Blender
Grater
Sharp chopping knife and chopping board
1) Wash, peel and chop the carrots finely until you can fill 2 heaped cups
2) Chop the onions finely until you can fill 1 cup
3) Prepare your vegetable broth or stock as per the instructions on the packet, you need 3 to 4 cups
4) Smash the garlic cloves and set aside
5) Peel and grate the ginger and set aside
Cooking Instructions
You are now ready to make the soup
1) Heat the olive oil in a large pot over medium heat
2) Add the onions and season with a generous pinch of salt and pepper
3) Cook until soft, stirring occasionally for about 8 to 10 minutes
4) Add in the smashed garlic cloves
5) Add in the chopped carrots and cook for about 8 minutes, stirring occasionally
6) Stir in the ginger
7) Add the apple cider vinegar and stir
8) Add 3 to 4 cups of broth, depending on your desired consistency, stir
9) Reduce to a simmer and cook until the carrots are soft, this should take about 30 minutes
10) Allow the mixture to cool slightly
11) Pour into a blender and blend on low speed until smooth
12) Taste and season as desired
13) To sweeten, you can add maple syrup
14) Now I separate my serving from the rest and stir in my collagen powder
Serve the soup piping hot in bowls or mugs. To make it even more decadent, add a drizzle of coconut milk or thick cream. This soup is great with fresh crusty bread or hot buttery garlic rolls.