Today we are going to discuss what protein powders are better for those with sensitive stomachs. Some protein powders are better than others simply because they have different ingredients. Keep in mind that there are a few different types of protein powders that you can purchase.  You can purchase Whey Isolate, Whey Concentrate, Milk Protein, and Plant Proteins.
However, going with plant-based proteins and whey isolate proteins are going to be better for those who have sensitive stomachs. Plant-based proteins and whey isolate proteins do not contain any lactose which is generally what is going to upset a person's stomach.
How to Choose a Protein Powder for You?
If you have a sensitive stomach, you may be wary about trying some protein powders.
However, with all that being said, people may be concerned after they read the label and find they cannot even have the powder for one reason or another. Some people cannot have protein powders because the powder contains eggs, casein, soy, or lactose. This may be an allergen for some people.
Plus, some powders contain artificial sugars and ingredients that want to be avoided. Keep in mind that there are protein powders out there that do not have all this junk in them. Most protein powders are going to appear to be the same but each powder has a few select factors that are going to make it better than the next.
You should find out what type of protein is featured in the powder you are looking at.
Next, see what type of flavors, as well as sweeteners, are being used. What is the price per serving and is it worth it to you? Lastly, look at any added ingredients to see if they are good for you or not.
Generally, for sensitive stomachs I would pick protein powders that meet the below criteria:
Low Sugar
Whey Isolate or Plant-based protein (Try to stick to plant-based protein powders)
No artificial ingredients
No Lactose
Avoid protein powders with animal products (egg, whey protein, milk protein)
If you have really bad stomach problems, try unflavoured versions of your favourite protein powder.
Now let us dive into our top five list of protein powders for a sensitive stomach. Many people who experience sensitivities from protein powders are going to experience bloating, gas, and cramping. However, it is not the ingredients per se, it is your sensitivities. You may not notice the lactose issues before drinking protein powder but when you drink it, it may cause upset stomachs because of the concentration of lactose in the powder.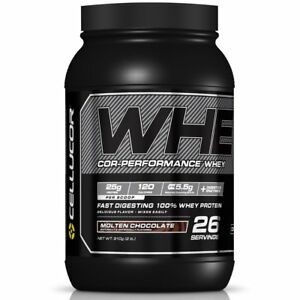 See Price On Amazon
The protein powder in Cellular is from Whey Isolate. It will provide protein to help maintain muscle and replenish the body of nutrients after you are done working out.
Plus, it allows you to enjoy something sweet without feeling guilty about it. This protein powder is going to have minimal fat and carbohydrates because you do not need them to be supplemented into your diet.
Overview:
Taste: 8.5/10
Cost Per Serving:  0.99 cents
Protein: 24 Grams/Serving
Sugar: 3 Grams/Serving
Sodium: 160 milligrams/Serving
Top Features:
Cellucor Whey Protein Isolate features many different flavors that people love. They feature flavors such as cinnamon swirl, molten chocolate, whipped vanilla, strawberry milkshake, peanut butter marshmallow, and cookies n cream.
Insight:
This protein powder can easily be digested because there are no added supplements. All supplements used in this powder are natural and safe to be consumed. There are no banned substances in this powder. Cellular uses BCAAs that occur naturally to help with easier digestion on the stomach.
The shake mixes easily with water and can be made into other foods such as milkshakes, smoothies, and even be cooked into foods. Some of the flavors such as cookies n cream have chunks of cookie in them to make it better tasting.
Cellucor's protein powder has low-fat and low carbohydrate counts to allow you to get the maximum benefits out of the powder. You do not need to supplement any fat or carbs into your diet because you generally get them enough in your daily eating. This is why you do not need extra and why they are not in this powder as heavily as some others.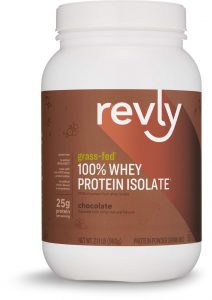 See Price On Amazon
Overview:
Taste: 10/10
Cost Per Serving: $1.10
Protein: 25 Grams/Serving
Sugar:  1 Gram/Serving
Sodium: 130 milligrams/Serving
 Top Features:
Revly does not use any additives in their products which makes it a great option for those who have sensitive stomachs. Revly also avoids adding excess or extra carbohydrates and fats into a protein supplement.
 Insight:
Revly uses a blend of 100 percent whey protein powder. It is going to blend into all the foods and beverages you may use it with. It contains a high amount of protein in a single scoop. The ingredients make it easier to digest because it uses ingredients from only grass-fed cows. The powder also has no added sugars, artificial colors, artificial flavors, or soy products.
This powder comes in two flavors, chocolate, and vanilla. The vanilla flavor is going to be sweetened with the naturally occurring stevia leaf extract. Plus, the product is gluten-free, soy-free, and does not have any GMO's.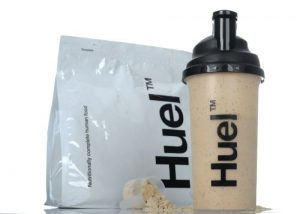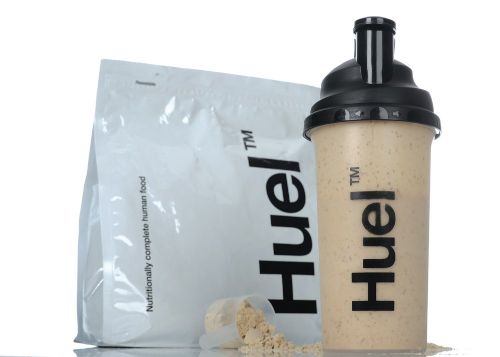 See Price On Amazon
Overview:
Taste: 7/10
Cost Per Serving:  $2.67
Protein: 29.6 Grams/Serving
Top Features:
Huel uses a powder that is very high in protein and low in sugar. Plus, it is made out of natural ingredients and is 100 percent vegan. This is better for not only you but the environment and animals as well.
 Insight:
This powder can be digested easier than some others because it has a low Glycemic Index or GI of only 27. Plus, it uses natural ingredients that makes it able to be suitable for vegans or vegetarians. There is no soy in this product. It has a higher amount of carbohydrates but has fiber as well. It is made out of
Brown Rice Protein
Ultra-Fine Oats
Flaxseed
Pea Protein
Sunflower Lecithin
MCTs from Coconuts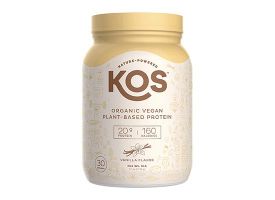 See Price On Amazon
Overview:
Taste: 10/10
Cost Per Serving: $1.38
Protein: 20 Grams/Serving
Sugar: Uses Organic Stevia
Sodium: Uses Himalayan Pink Salt
 Top Features:
This specific blend of protein powder contains all-natural ingredients. The powder is vegan and is a plant-based powder.
The highlight that this non-bloating protein powder has, is the fact its' dairy-free.
 Insight:
KOS uses all-natural ingredients which helps the digestive process. It also uses five different proteins which include, flaxseed, pumpkin seed, chia seed, quinoa, and pea. These ingredients are going to be gluten, soy, as well as dairy-free. The protein has many healthy fibers and naturally occurring digestive enzymes to help you digest it easier.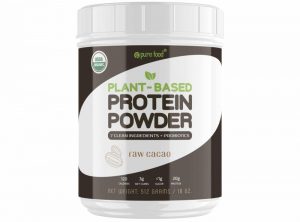 See Price On Amazon
Overview:
Taste: 9/10
Cost Per Serving:  $1.18
Protein:  10 Grams/Serving
Sugar: Les than 1 Gram/Serving
Sodium: 77 mg/Serving
 Top Features:
Pure Food is a plant-based protein powder that uses only organic plant protein. Plus, it features probiotics which will help promote healthy digestion and a healthy gut.
 Insight:
 This powder is easy to mix into shakes, food, and other items. It is not chunky and does not leave a bad aftertaste. Pure Food also uses only natural organic ingredients and helps prevent gas and bloating. It has probiotics from plants that help promote digestion and helps avoid stomach irritations.
The protein is vegan and is made from brown rice, hemp, and pea. It helps with muscle gain and weight loss.
Plant or Whey Isolate for Sensitive Stomachs?
A lot of people ask if they should have whey isolate or plant protein powder. This is not a simple answer, however. Each of these powders has different proteins and are going to be different for each individual. To get a better understanding of what is the right choice for you, we should take a deeper look into the categories and find what you need.
Whey Isolate
Most whey isolate powders are going to be fat-free or nearly fat-free. For those who are looking to lose weight or eliminate fat from their diets, this is a great option for you. It is also a great option for those who are sensitive to lactose. Also, keep in mind that this powder is going to generally taste better than its brother whey concentrate. However, it is important to note that the isolate powder will be thinner when mixed because it does not have fat.
Whey protein can be made out of either isolate or a whey protein. Some even have a mixture of both. When any other product is combined with a whey protein it is going to be called a protein blend. This is something that should be kept in your mind because it should always be checked. The products name may be misleading in that aspect so always ensure that you check the nutrition label.
Plant Proteins
Plant proteins are a popular option for those who are vegetarian or vegan. Most plant proteins are going to contain soy, pea, and/or rice proteins. Soy, as well as hemp, are going to be a great option because they are also going to provide your body with the eight amino acids it needs. Plant proteins are often considered if a person has a lactose issue and cannot have the whey proteins. Most proteins from a plant powder are coming from natural ingredients.
You will see that soy is one of the most often used ingredients because it provides you with heart benefits, antioxidants, and it is useful in many other ways. It can be used for women going through menopause. However, when it comes to taste, soy is not at the top of the list.
If a person is looking to be better in general with their health, plant-based proteins are a better choice. Often, these proteins are going to have fewer fillers and sweeteners than other powders. Plus, it can be used by any person on almost any diet. In the end, there are less unnatural ingredients that help make it healthier and easier on the stomach.
How to Avoid an Upset Stomach from Protein Shakes
Do Not Drink Immediately After Working Out
First of all, you need to avoid drinking your protein powder directly after a workout. Yes, it is necessary for the best recovery, but you do not need to drink it immediately after you are done working out. If you drink a shake too soon it is going to upset your stomach no matter what protein you are using. This also makes it harder for you to absorb the necessary nutrients.
You should wait about thirty minutes after working out to drink your shake. This allows the body to relax and get out of the fight or flight mode. The body will then be in a rest and digest mode once it has cooled down a little bit. This means your body is ready to absorb the nutrients in a shake. This allows you to take a shower and cool down, as well as relax, before making your shake.
Does My Protein Powder Have Artificial Ingredients?
Your protein powder may taste good, but at what cost? Your stomach. The artificial sweeteners and sugar alcohols are going to be handing out in the intestines because the body cannot absorb or digest them well. This is where they ferment and make your stomach upset. These artificial ingredients can cause diarrhoea, bloating, gas, and cramping. Plus, Inulin, a natural carbohydrate that is found in fruit is often in many powders. This is a serious reason why you may suffer from an upset stomach.
You should avoid products that are going to have artificial sweeteners and inulin. Splenda, saccharin, and aspartame are all artificial sweeteners to avoid. You should also avoid any sugar alcohols as well. These sugar alcohols include xylitol, sorbitol, marital, and erythritol. All the powders on this list do not contain any of these ingredients so you do not have to worry.
You are Using Too Much Powder
One scoop is good but three is better! Well, that is not the case. Protein is hard to digest and because of that reason, when you have too much it can cause a person to have indigestion. You are also getting more carbohydrates that turn into sugar when you add more scoops. This is what may lead a person to be nauseous because the blood sugar is going to spike and drop.
You should be consuming between 20 and 25 grams of protein after a workout. If you are a man you should have about 30 to 35 grams of protein. You can use avocado, coconut milk/oil, or a nut butter to help slow down the rate in which the carbohydrates are absorbed. This helps avoid cravings and nausea.
You are Drinking Too Fast
When you work out you get hungry which may lead you to chug your protein shake. However, this can make the stomach upset and bring on the nasty side effects. Plus, if you drink your shake too quickly you can be promoting overeating and swallowing excess air. Both of these can cause an upset stomach.
You should have a snack that is light before working out so that you are not as hungry when you finish. This should help you not speed eat.
My Number One Recommendation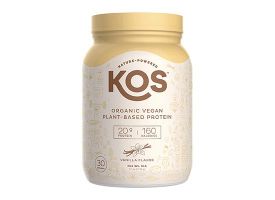 See Price On Amazon
KOS Organic Plant-Based Protein Powder is the number one on the list. This is because it blends well with the foods and has an amazing taste. It also has plenty of protein per serving plus it is dairy-free. It also has all-natural ingredients which helps promote a healthy stomach and avoids the gas and bloating that would normally occur with other powders.  KOS also is a plant-based powder which means it has many digestive enzymes which help the stomach not be as sensitive to the ingredients.
Plus, it is a vegan supplement that anyone can use.  KOS uses five different plant-based proteins which also helps the digestive process because each protein digests at a different rate which allows the stomach to work more efficiently. Not to mention, this also allows the body to be able to absorb all the ingredients better.