Rushed mornings, busy afternoons, tired in the evenings? A meal replacement shake starts to sound awfully good if this is what your life is like most of the time.
I especially understand if you're a night owl that has to wake up early and get to work. Been there, done that, I wouldn't recommend it.
But life happens and we all gotta do what we gotta do.
Shakes are a blessing at that point, especially if you can drink them during your commute or sitting at your desk.
Whether you want to replace just one meal, two, or all three main meals, a healthy nutritional shake that gives you all the nutrients you need is important.
You also don't want to be consuming nasty ingredients or have a shake that triggers your allergies or leaves you regretting your liquid meal due to digestive woes.
Today, it's Queal vs Huel. Both of these shakes are from Europe, with Queal being manufactured in the Netherlands and Huel in England respectively.
Let's see what these two brands offer in terms of their shakes and whether they're worth all the hype.
What is Queal Steady?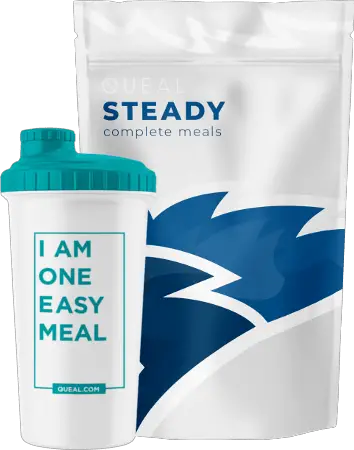 Queal Steady is a meal replacement shake, although Queal as a brand also sells snack bars, ready oats, nootropics, and shakers too. Queal stands for quick meal.
This brand's mission is to provide nutritious food while limiting the impact on the environment and promoting conscious food choices.
The company started in the Netherlands in 2014, as there weren't really meal replacement shakes available in Europe at the time, or at least, they weren't as popular as in the US.
Queal has grown to become an international brand, although they do still operate out of the Netherlands.
They have three types of steady shakes, Standard, Athletic, and Vegan. Each of these shakes comes in a variety of flavors.
I've indicated in brackets which Steady range has which flavors:
Awesome Apple Pie (Standard, Athletic)
Cool Chocolate (Standard, Athletic)
Funky Forest Fruit (Standard, Athletic)
Morning Macchiato (Standard)
Super Strawberry (Standard, Athletic)
Smooth Vanilla (Standard, Athletic)
Banana Mania (Standard, Athletic, Vegan)
Chocolate Hazel Happiness (Standard, Athletic, Vegan)
Cookies and Cream (Standard, Athletic, Vegan)
Marvelous Mochaccino (Vegan)
Fabulous Fig (Standard) -limited edition at the time of writing
Orange Creamsicle (Standard) -limited edition at the time of writing
What's the Difference Between the Standard, Athletic, and Vegan Ranges?
I'll state the obvious in that the vegan range will have no animal products, whatsoever. But what other differences are there, if any?
Here is the summarized nutritional info they give. It's not complete, but rest assured that you will get 27 vitamins and minerals in all of the shakes.
Your macro nutrients will look like this per five scoop serving:
Standard:
700 Kcal
80.4g of carbs
35.2g of protein
24.3g of fat
11.7g of fiber
The macro split is 47% carbs, 32% fats, 21% protein.
Athletic:
767 Kcal
75.2g of carbs
49.5g of protein
27.2g of fat
13.3g of fiber
The macro split is 40% carbs, 33% fats, 27% protein.
Vegan:
700 Kcal
81.2g of carbs
30.9g of protein
25.6g of fat
11.9g of fiber
The macro split is 48% carbs, 34% fats, 18% protein.
If you're starting to nervously sweat looking at the calorie content, don't worry. You just put fewer scoops in and adjust the amount of water you use.
The calorie content is based on a 2100 calorie diet in three solid meals. No snacks. For many women, 2100 calories may be a bit high if you were to have three shakes a day.
You can check how much you need based on your goals here, whether you're losing weight, need to pick up weight, or want to maintain your weight.
A Look at the Other Ingredients
The difference in ingredients is the type of protein used.
The standard and athletic ranges use oat flour, soy flour, and whey protein. The vegan range uses oat flour, soy flour, rice protein, and pea protein.
The other main ingredients include sunflower and flaxseed oil for the fats, added vitamins, and minerals.
Another notable ingredient is isomaltulose. Yes, it's true that isomaltulose is a form of sugar. But it doesn't raise insulin levels like table sugar.
In fact, it's beneficial as a source of slow-releasing energy, which all of us can use. But it's especially good for athletes and those who like to exercise.
These shakes are sweetened with sucralose. Unfortunately, this is an artificial sweetener. For years, people rejoiced at having something sweet without actually eating sugar thanks to these sweeteners.
But in recent years, research has shown that artificial sweeteners, including sucralose, may have a negative impact on the gut microbiome.
In other words, your healthy, happy bacteria may find themselves overwhelmed with bad bacteria. This results in things like bloating, extra flatulence, indigestion, etc. Not so great.
But, if you find that this shake works well with you, there is at least some comfort in the fact that sucralose is added in very small quantities as it's 320 to 1000 times sweeter than sugar.
Not sure why the ratio varies so much, but hey, this is what the scientists say.
Despite this, the sugar content is still quite high. On average, it's 25.3g for the standard range. To give you an idea, a teaspoon of sugar is around 4g. There's just over 6 teaspoons of sugar.
The sugar content is slightly lower in the vegan (22.9g) and athletic (21.1g) range.
What is Huel Gluten-Free V3.0?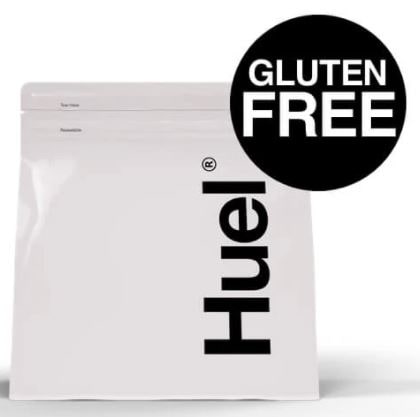 Huel Gluten-Free V3.0 is also a meal replacement shake.
This brand also sells hot savory meal replacements, ready-to-drink shakes, nutrition bars, and protein shakes along with t-shirts and shakers too.
Huel stands for Human + Fuel. Their mission is to supply liquid food that is nutritious, kind to animals and the environment, and is affordable.
The company started in 2015 in a garage. Since then, it's grown exponentially to become a brand recognized internationally.
The Huel Gluten-Free V3.0 shakes are all vegan-friendly which takes care of allergies such as eggs and milk, they're gluten-free as the name suggests, and come in a few different flavors:
Vanilla
Chocolate
Original
Banana
Caffè Latte
Salted Caramel
Unflavored & Unsweetened
A Quick Look at the Macros and the Macro Split
You're looking at an average of:
400 Kcal
30g of protein
46g of carbs
13g of fat
7g of fiber
The macro split is:
37% carbs
30% protein
30% fat
A Look at the Ingredients
Huel uses oats, pea protein, ground flaxseed, and brown rice protein as the source of their plant-based protein.
Along with the flaxseed, the fat is also provided by sunflower oil powder, and MCT powder.
Medium-chain triglycerides have been shown to have a beneficial impact on body composition and may improve exercise performance too.
To boost the antioxidant content, acerola cherry powder and kombucha tea powder have been added too.
27 vitamins and minerals have been added, as well as antioxidants.
While there may be some benefit to added antioxidants that have been created in a lab or extracted from food, there are concerns about whether they actually cause more harm than good.
For this reason, I am not in favor of using products containing them.
For gut health, there are some prebiotics and probiotics added. Speaking of gut health, to sweeten the shakes, sucralose has been added.
If you have an issue with corn starch, that is the only other ingredient that is questionable.
How are Queal and Huel Different?
As mentioned before, Queal has three different ranges within their Steady range: Standard, Athletic, and Vegan. Huel only has one range within their Gluten-Free V3.0 range. It's entirely plant-based.
Huel contains MCT oil, acerola cherry powder, kombucha tea powder, and pre and probiotics, all of which Queal doesn't.
Queal contains rosemary extract, although it looks to be very little judging by its position on the ingredients list. This may be important if you are pregnant and enjoy rosemary in other meals.
I only mention this because medicinal (or high) amounts of rosemary aren't safe during pregnancy. Don't worry, food amounts are fine.
Queal has a much higher calorie content, 700 (except for the Athlete, 767 calories at the recommended serving size) compared to the 400 calories that's in Huel.
Queal has more flavors than Huel.
How are Queal and Huel the Same?
Much like Queal Steady, it's a more balanced macro shake.
If you want a low-carb meal replacement, you would do better going for the Huel Black Edition shake. Queal doesn't seem to have a low-carb option.
Both brands have a subscription service, although it seems only Huel offers a discount for this type of order.
What's Better About Queal?
It's great that there is a bigger variety of flavors and that you can pick a range that's tailored to your dietary needs and preferences.
Another plus is that you can order a sample pack to try different flavors.
There are no synthetic or extracted antioxidants. This is a plus in my book.
What's Better About Huel?
Huel caters to gut health. So many people struggle with digestive issues, and the prebiotics and probiotics may just help with that.
If you're gluten-intolerant or have celiac disease, Huel is a good option. It's also free from soy and animal products of any kind that may trigger allergies. Just keep an eye out for nuts.
If you like to have snacks during the day, Huel is the better choice. Although it's certainly true that you can adjust your servings accordingly for Queal.
There are also more servings per bag (17) as opposed to Queal (3). Per 400 calories, Huel also works out slightly cheaper at $1.51 in contrast to €1.62 ($1.90 at the time of writing).
Who Should Get Queal?
If you prefer whey protein, Queal has an option for you.
Also, if you enjoy a variety of flavors or one of the flavors that Huel doesn't have, choose Queal.
If you like to include soy in your diet, Queal is also the better option for you. The vegan range also caters to anyone with egg, lactose, or milk allergies.
The Athlete and Standard ranges are also free from egg, but all the powders are made in a place that also processes egg.
Who Should Get Huel?
If you struggle with allergies to gluten, soy, lactose, milk, or egg, Huel is the better option for you.
If you have gut issues, Huel may be helpful.
The Pros and Cons of Queal
Pros:
It contains 27 vitamins and minerals
It provides a sustained energy release
There are three different ranges to suit your dietary needs and preferences
There are 12 different flavors to choose from
This shake provides enough calories for three meals in a 2100 calorie day
The servings size is adjustable
Each meal is balanced
The fiber content is decent (but you may need to eat a fruit or two at least to get all you need if you have three shakes a day)
You can try out flavors by ordering a sample pack
There are no synthetic or extracted antioxidants
Most people enjoy the taste
3 servings per bag may be ideal if you are traveling, for example
Cons:
It's sweetened with sucralose
The sugar content is quite high despite the sweetener
There are only three servings per bag
The shakes don't always mix so well
The Pros and Cons of Huel
Pros:
There are 27 vitamins and minerals
Huel contains prebiotics and probiotics
The acerola berry powder and kombucha powder offer a good source of antioxidants
The sugar content is very low at 1g (¼ teaspoon)
The fiber content is decent, compared to other shakes anyway (add fruit to help)
Each meal is balanced
The serving size is adjustable
Suitable for vegans and vegetarians
Suitable for those with gluten and lactose intolerance,
Suitable for those with soy, milk, and egg allergies
17 servings per bag
8 flavors to choose from
Slightly cheaper than Queal
Cons:
It's sweetened with sucralose
It contains synthetic/extracted antioxidants that do more harm than good
Some people find the gritty texture unpleasant
Taste is one of the biggest complaints in addition to the texture
Verdict
This is truly a decision I leave up to you. Queal has a high sugar content. Huel has synthetic/extracted antioxidants.
I suppose it comes down to the types of flavors you enjoy, and I think we can all agree that Queal has some fun names for their flavors. Queal is also the tastier option.
But it's also about your allergies. If you struggle with soy or gluten, those two things are present in all Queal's shakes. Huel would win then.
If you would like to save a bit of money, Huel is also cheaper, and unlike Queal, the subscription actually would save you a bit of cash.
From what I can see, at least at this time, there is no discount for a subscription to Queal.
Another thing that might put Huel in the winning position is if you struggle with gut issues, the added probiotics and prebiotics may be helpful.
So, in summary, just look at your needs and your preferences and go from there.