I was kind of forced into becoming a nutritional lunatic. As a kid I was frequently sick, and suffered from an auto-immune disease called psoriasis. However, in my early 20's through radically switching up my diet to one that was extremely nutritional and clean I managed to cure my body from the inside out.
No steroids, no crappy magic pills the doctors pre-scribe. Just a clean, Nutrient rich diet combined with plenty of alkaline water.
I know the power of nutrition…
I first came across shakeology when doing some research for potential super greens I wanted to add to my diet.
At the time I didn't even know the whole concept of meal replacement shakes even existed.
So I went about doing some research on the shakeology to see if it is really worth the price. Because honestly, for a shake it is expensive.
I also found it is NOT as healthy as it could be.
My advice is to pick one of the fantastic shakes comparable to shakeology below. Alternatively, you can follow my own personal guide to creating your own shake at the bottom of this article.
But first lets increase your education on picking the right shake!
Whats included in Shakeology:
In summary Shakeology aims to include all the nutrients your body needs. The shakeology nutrition label can be broken down into the following:
Anti oxidants
Protein
Probiotics
Super greens
Digestic enzymes
Adaptogens
Protein
Shakeology has a number of different shakes but all include protein sources. These come in the form of Pea, Quinoa, Chia, Flax, Whey, and Sacha Inchi.
As any fitness fanatic will know, protein is the most important component when it comes to building muscle. It is also an important ingredient when it comes to losing weight. Here are some of the benefits of including protein in your diet:
Protein has a thermogenic effect and so is responsible for maintaining muscle you do have but burning extra fat you don't need
Prevents hunger and fills you up. All main diets include a good portion of protein with every meal and for good reason…it satisfies a feisty appetite.
Slows down absorbtion of sugar which can in turn regulate gluclose levels and pan off sudden craving urges.
 Anti-Oxidants
Anti-Oxidants are one of my favourite type of super-foods. I love these sweet lil thangs. Anti-oxidants help reduce blood level, keep skin cells healthy and strong, and also buffer the immune system from disease.
In summary, if you want to be a healthy person…add more anti-oxidants to your diet.
Probiotics
Pro-biotics are definitely something I need to take more of. Pro-biotics are essential in terms of keeping your gut, digestive and immune system healthy. They help fights against dangerous and infectious microorganisms in turn keeping you strong.
They also help keep a stable level of good and bad bacteria in your body.
Super greens/ PHYTONUTRIENTs
Did you know Phyton stands for plant in greek? …Guess you learn something new everyday.
Phyton nutrients are plant based nutrients that have a huge range of health benefits. The super natural or should I say natural power of a plant based diet really can do your health no harm.
Plants are the life blood of the world and contain so much nutritional benefit its literally unreal.  For example Phyton nutrients have many Anti-inflammatory, anti-oxidant effects.
In addition,  Phyton-nutrients can reverse many of our causes of death, help our immune system defend against toxic invaders, increase our energy, promote healthier more radiant skin and hair,  and also lead to increased mental sharpness.
Not bad!…Foods or supplements containing Phyton nutrients are essential part of our diet.
Digestic enzymes
 I remember learning about enzymes in science class as a wee kid. These are the catalysts that cause chemical reactions in the body for example, breaking down the food you eat so that your body can absorb all the nutrients.
For example, amylase breaks down carbs, while lactase helps in the digestion of dairy foods.
All These Ingredients Are Healthy….whats wrong??
 Although all these ingredients have a lot of health benefits there are a couple criticisms:
Whey protein is not organic and grass fed but processed. This means that the nutritional value of the whey protein is automatically lowered.
Sugar is 7g. this doesn't sound like a lot but if taken as a meal replacement every day can add up. I tend to stick to 3g and less of sugar.
Price – Shakeology is not cheap and costs $129.95 for 30 servings.
Tastes has to be acquired. Judging by some reviews on Amazon the taste can be quite horrible to gut. This is especially true of the vanilla whey protein. Probably best you trial before forking out 120 on a flavour you hate.
Real food, real diet in the real world. Living of shakes is not a healthy alternative to real nourishing food no matter what the experts shakeologists tell ya.
What are your Goals? To lose weight or gain muscle?…If its to gain/maintain muscle there are cheaper more natural whey protein alternatives on amazon.
Shakeology does not help you lose weight calorie intake does. Less calories means you will lose weight. For example, you can be eating salad everyday and it will help you lose weight.
Can create a diet for less money and is healthier. For example take my example of Metabolic cooking. Prepare some metabolic meals that will suffice for the week and it will already be a better alternative to shakeology.
People post promoted almost instant pics of their success which raises questions to the authenticity of their testimonials.
Some of the recipes can be criticised for containing unhealthy ingredients.
Criticism of vitamins!!:
Shakeology contains some vitamins that are synthetically produced. What this means is that some vitamins are not taken from their natural sources but are vitamins created in a lab.
Syntheitic vitamins are vitamins taken in their isoloated form. This is unhealthy because these vitamins are stripped from their nutritional value. Many of the co-factors are missing which can result in bad health.
This is not ideal as humans since the beginning of time got the most nutritional value from consuming foods from mother earth.
Owen over at Alt protein did some great research into the vitamins shakeology contains. The below vitamins are synthetic in shakeoloygy!
Synthetic Vitamins in Shakeology
Vitamin A (beta-carotene) Vitamin D (cholecalciferol), Vitamin E (mixed tocopherols), Vitamin K1 (phytonadione), Vitamin B1 (thiamin HCI), Vitamin B2 (riboflavin), Vitamin B3 (niacin), Vitamin B6 (pyridoxine HCI), Folic acid 200 mcg, Vitamin B12 (cyanocobalamin), Biotin Pantothenic acid, Calcium Iron Phosphorus (dicalcium phosphate), Iodine, Magnesium oxide, Zinc oxide, Copper gluconate, Manganese sulfate, Chromium chloride, Molybdenum (as sodium molybdate)
How do I tell if vitamins are synthetic or not?
When picking future products you can look for clues on the nutritional label. Here are some tips below:
Words that contain "ade" or "ate" at end are always synthetics
Words that contain "dl" as a prefix such as "DL-α-tocopherol Acetate" are synthetics.
Check if label says 100% natural
Check the level of vitamin potency. If abnormally high such as 1000%, vitamin will be synthetic
Interesting Fact:
Did you know that any manufacturer can claim a product to be natural if atleast 10% comes from natural food sources!? Thats unbelievable and most people don't even know this. You need to go for 100% natural products with all health choices.
What is the DEAL with all these beach body coaches?
 Have you ever heard of multi level marketing (MLM)? .. This is essentially the structure that beach body follows to help sell shakeology.
MLM is essentially a business strategy that follows a pyramid structure where the more coaches you have under your belt making commission and selling shakeology the more money you make.
It can essentially lead to all these so called "coaches" promoting shakeology all for a healthy commission which in my mind rakes up the cost of shakeology to pay our their affiliates but also themselves.
This is one of the reasons I stick with the meal replacement shakes I found on Amazon as I know I can get a better deal and more bang for my buck!
Shakeology Good or Bad?
Shakeology is not the unhealthiest shake in the world. It does contain vitamins, superfoods, and plant based proteins as core ingredients.
However, it certainly is not the healthiest either. If the shake had lower sugar content, removed its' synthetic vitamins, taste improved, had a lower price and they got rid of their MLM business module, then the shake would be great.
However, until then there are better meal replacements on the market.
The following options are the best shakes comparable to shakeology. These shakes have personally helped me lose weight and can also help you.
Top 7 Shakes Comparable To Shakeology
As stated I don't recommend meal replacement shakes to takeover a natural, clean healthy diet. Its' not sustainable and not healthy. The alternatives below contain as little sugar as possible and are the best healthy options for increasing your nutritional intake by adding them to your diet.
I personally use both Amazing Meal and Vega One on a regular basis. Amazing Meal falls under the super food category. In terms of its nutritional value its up there with the best. It is packed full of greens, Phyton nurtrients, digestive enzymes, pro-biotics and fruits and veggies.
All the good stuff that is in Shakeology is included in Amazing Meal and its cheaper!…
Gluten Free
Vegan
GMO (Genetically Modified Organism) Free
Kosher
Thoughts
Amazing meal is at the top of the pile in terms of nutritional content. Organic, Healthy and packed full of nutrients.  It contains everything Shakeology has and is more healthy for you due to the lower sugar content and plant based protein sources.
The plant protein comes in the form of organic brown rice, hemp, and protein from pumpkin seeds. Consequently you still get the full benefit of a complete protein without the addition of dairy or soy alternatives.
The only very slight criticism of Amazing meal is that it can taste a little bit gritty at times. However, it still provides a smooth texture if mixed well with almond milk. I use Amazing meal is a 5 stars for me.

"Garden of life"….sounds like it could be fictional novel. Fear not though, garden of life is a product sold on Amazon that is a great replacement for shakeology.
My favourite recipe is mixing meal replacements/protein shakes in with blue berries, apples and Almond milk. You can even add it to a shake full of greens to really get a nutrition overload.
Like Vega-one, Garden of life protein is plant based. I always prefer plant based products over anything else normally because my body reacts best to plant based nutrients and they are very healthy.
The shake comes with 20 grams per scoop of non-GMO plant based protein.
Another thing I love is the sugar content is 1 gram which is amazing. This is way less than the 7g of sugar that Shakeology has. They also emphasize the RAWness of their shakes.
What do you mean by RAW you ask?  Well..this means that garden of life has no soy, preservatives, or artificial colourings of any kind. It also means that the ingredients included are in their natural form and have not been heated above  48 degrees centigrade which would cause some nutrients to lose some of their nutritional value.
Thoughts
Garden of life contains everything shakeology has. The only difference is that Garden of Life has more of the good stuff and less sugar and no processed whey protein which Shakeology unfortunately has.
The only criticism I found of this shake is that it the taste is not amazing. However, by adding in some extra ingredients I'm sure the taste could be improved.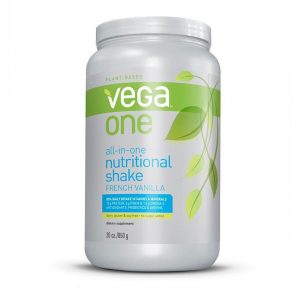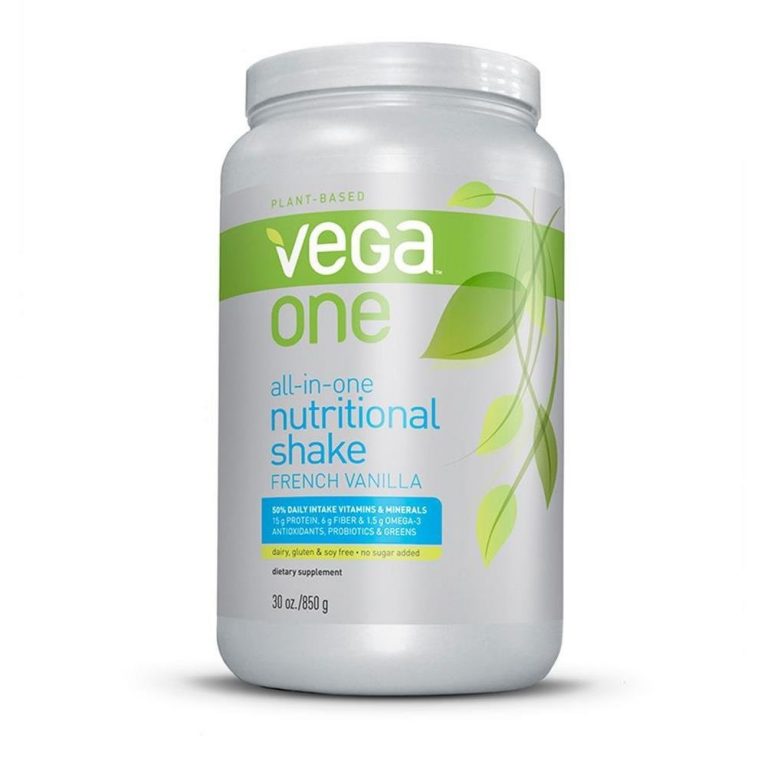 I personally use Vega-one as a meal replacement to fuel my body full of nutrients in the morning for breakfast. It may be up there on the more expensive end of the spectrum but in comparison to Shakeology its half as expensive.
At about $50 last time I checked for 20 servings it works out cheaper per serving than shakeology.
Not only is it cheaper but its packed with all the good stuff that shakeology contains. For example, Vega-One has greens, ome 3's, 20 grams of plant based protein and 25% of fiber which is great for filling you up and providing energy.
The sugar content is also lower than shakeology at 2g. Sugar always a horrible effect on my skin so the minimal sugar content for this product will definitely be of benefit for you. As stated earlier I always try to purchase supplements with a sugar content that is 3g or less and Vega-one has little sugar content.
Thoughts
Considering I personally use Vega one as a shakeology alternative it is a no brainer that I definitely recommend this shake. It tastes better than the majority of shakes out there, its very healthy, and the texture is smooth and creamy if added to lots of almond milk.
At 20g of protein, there is a good proportion of protein to help you lose weight. Considering I do workout this is extra handy when I want to maintain my muscle mass while losing fat.
The story behind Orgain is quite inspirational. The founder is a cancer survivor who wanted to find a drink that was nutritional without the artificial crap found in a majority of standard shakes on the market.
As a severe psoriasis sufferer myself who was able to clear my skin through healthy nutrition, I fully understand where he is coming from and understand that meal replacements are something your going to be drinking on a regular basis so you need to get it right.
You can be sure that Orgain is a healthy shake that will not do damage to your body long term.
40% is made up of organic plant based protein combined with fiber, greens, and veggies.
Once again all these shakes have a lower sugar content than Shakeology which in my opinion doesn't need to be as high a 7 grams!.
Although I have never personally used Orgain the general over view is that this shake is great for curbing hunger due to the amount of fiber it contains. It also taste great!.
For example, you can add it with banana and PB2(Peanut butter powdered or solid) to make it taste like a real milk shake. Another great combo is mixing orgain with stevia and a teaspoon of dark chocolate.
Thoughts
The general overview of this shake is that it tastes great and is at a much better price compared to Shakeology. For me it's a no brainer. Cheaper and healthier…adios shakeology.
Considering the flavor for this shake is creamy chocolate fudge I would definitely recommend blending it with almond milk and mixing it with berries, bananas to give it a great desserty taste. Yum Yumm!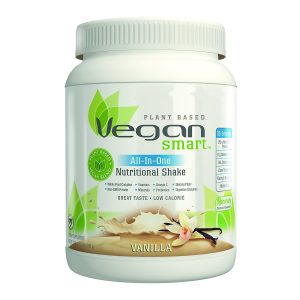 Naturade certainly sounds like it could be gatorade's cousin or long lost relative. Either way Naturade's vegansmart is healthier and much cheaper than shakeology.
This protein shake contains a plant based blend that is all natural.
Organic cane sugar and stevia are the natural sweeteners which bumps the sugar level to 5g. This is still less than Shakology at 7g.
Digestive enzymes, Fiber, prebiotics and vitamins and minerals are also included in Naturade. I have personally tried Vegan Smart and it tasted similar if not slightly better than Vega One. The creamier texture feels better and the taste slightly more smoother.
I also felt I had a surge in energy after taking this supplement. This was particularly noticeable compared to the other supplements I had tried.
Its up to you how you prepare your shakes, however for Naturade I recommend adding the shake to ice cold water or almond milk and blending it all together to mix well.
Thoughts
Naturade's VeganSmart is a great meal shake to have first thing in the morning for breakfast. Its healthy, high in protein and tastes great. Along with Vega one its up there with the best tasting shakes that I have tried.
If you want a protein meal replacement shake that is extra high in protein then I definitely recommend Vega sport. 1 scoop contains 30g which is a great amount! I personally use Vega One instead, however, this shake is still equally a great shake to have post workout.
This shake does not come with Vitamins that the other shakes have. However, the protein is all natural derived from plant based sources and it does include healthy pro-biotics and performance ingredients such as turmeric and tart cherry.
What makes this supplement different from the other on the list is that it does come with BCAA's. These stand for Branch Chain amino acids. If you're on a weight loss diet then BCAA's will help you maintain your lean muscle.
I don't recommend taking BCAA's unless your working out. So if you're a fitness junkie and hit the weights that this supplement is perfect for maintaining muscle mass while on a calorie deficit diet.
Thoughts
Vega sport is extra high in protein but does lack vitamins that the other shakes on my list have. However, this can be made up for by combining the shake with vitamins from leafy greens or combining the shake with supergreens.
Vega sport is the perfect shake if your into working out and lifting weights and need a high protein source to maintain your muscle.
All my shakeology alternatives have to be full of nutrition with no bad stuff.Once again this protein shake ticks all boxes.
It has a decent amount of protein with 15 Grams per serving. The protein sources are described as "Tri plex", meaning they comes from Hemp, pea and rice protein.
Vitamins, greens, and pro-biotics are also all included in this shake meaning you get a good dose of vitality and energy.
You have to make sure you blend this shake well to prevent a gritty texture. The great surprise about this meal replacement shake is that it comes with a shaker cup and Free Ebook!…
As stated earlier, I only recommend a meal replacement for no more than two meals a day. I personally have my meal replacements in the morning for breakfast or as a post workout lunch. Remember if your goal is to lose weight don't add fattening foods like peanut butter, full milk to this shake.
Replace instead with PB2 Peanut butter, almond milk and flaxeed oil…way less calories and still filling.
Judging by the customer reviews this shake tastes great and when blended comes out in a thick and creamy texture. It can occasionally have that chalkiness that most plant based protein mixes have if not mixed well, however, combined with some fruit and almond milk it's a delight. Mmmm
With Any kind of vanilla or strawberry blend I normally enjoy adding bannanas and berries as it taste even better. It will sorta remind you of a strawberry/yogurt ice cream flavor.
This shake is more on the pricier end but its still higher quality than shakeology and cheaper. To see the price check out 310 shake here.
Thoughts 
Like Vega Sport this shake is great as a meal replacement and post workout meal. It contains less protein than the others at 15g per serving. However the protein source is a great combination of three proteins pea, hemp, and rice protein. It contains all the healthy nutrients you would expect of a high quality shake such as probiotics, greens and fibers.
In addition 310 have a great social community full of success stories, tips and pointers for motivation and success. Definitely a shake worth trying.
Quick Tips – How to Effectively These Meal Replacement Shakes For Weight loss:
With the shakes above I recommend following some the tips below to make meal replacement shakes more effective.
Remember if your goal is to lose weight make sure you get a balance of calories. You definitely don't want to starve yourself but you also want to operate at a calorie deficit.
Have fresh almond milk, add some berries and fruits to lighten up the taste and watch the sugar content. Simple, Effective that's all you need.
Keeping your blood sugar level stable is a great tip for weight loss. This is especially important when taking meal replacement shakes as it will prevent you from having sudden cravings and lower your hunger pans.
To keep blood sugar levels stable, have protein with as many meals as you can. Also combine simple snacks like peanut butter and whole wheet bread, cashew nut and almonds, oatmeal and berries or sliced advocados/ edamame to keep you going throughout the day.
What is the difference between meal replacement shakes and Protein Shake?
 Protein shakes have more protein than meal replacement shakes and tend to have less of the vitamins and other nutrients that a meal replacement has.
Depending on the type of shake meal replacement shakes also contain more calories to fill you up and adequately act as meal replacement.
Remember that a meal replacement shake is essentially that…a meal replacement. It does not matter if your using a shake labelled specifically as a "meal replacement" or a a "protein shake". If you get all the right nutrients they are all meal replacements.
If you decide to take a protein shake that is less in vitamins or doesn't have any at all be sure to combine the shake with leafy greens and berries. This way you can get as much nutritional value from the shake as possible.
Oats
Edamame
Fruits (blueberries, Banana, Apples, Mango)
Water
Leafy Greens (spinach, Kale, Celery, Cucumber)
Almond Milk
Flaxseeds
Advocado
Organic Natural Peanut butter
PB2
Frozen Banana
Mix and match the above if you strictly choosing a protein shake as a meal replacement.
Can supergreens be used as meal replacement Shakes for example Amazing Grass?
 Absolutely. Once again you can mix super-greens in with the above ingredients adding Peanut butter for a protein source.
Homemade meal replacement
If all these shakes don't tickle your fancy than I highly recommend just creating your own meal replacement shake using some of my favorite recipes below.
There will be more components to add to make up for the greens, and vitamins that meal replacement shakes have but it still can be done relatively quickly.
Key ingredients (must have)
Liquids (milk, water, juice, coconut water, dairy free milk
Fresh fruits and Leafy greens
Natural sweetener (dried fruit, Raisins, Stevia, Dates)
Protein sources (Almond Butter, white beans, etc..)
Extras (Nut oils, etc..)
Liquids
All meal replacement shakes must be made with liquids. I personally like to use almond milk with my shakes as it gives my bones calcium but also gives a creamy texture.
However, don't be afraid to play around with coconut water or fresh juices as they can add that extra bit of sweetnes too your shake. Always be conscious to never put juices that contain un natural sugars. We don't want a sugar shake!
Almond milk
water
juice
coconut water
dairy free milk
Leafy Greens
All meal replacement shakes need the nutrients from Fresh leafy greens. Kale, Spinach, and celery are my favourite type of greens to add to my shake. However, its really down to personal preference.
Broccoli
Watercress
Collards
Dried fruits
Use Dried fruit sparingly! – I was temped not to include dried fruit as an ingredient to your Homemade meal replacement shake. However, I decided to go with it in the end as it can provide a nice sweet taste to your shake.
Just be careful not to add too much dried fruit as it is high in sugar. Always check the labels for no added sugar. If you suffer from bad skin or psoriasis I recommend avoiding dried fruit all together.
Example dried fruits:
Raisins
Dried Plums
Figs
Apples
Dates
Prumes
Protein Source
Where is a good shake without the protein? There are a number of ways you can add protein to your shake. As this is a home made shake you can add whey or a plant based protein such as pea or hemp protein to your shake.
If you like whole food sources of protein almond butter, peanut butter, white beans, and Chia seeds.
Whey Protein
Almond butter
Chia seeds
White beans,
Natural Peanut Butter
Sunflower seeds
Optional
So far we have the crucial ingredients we need for a healthy shake but we can also add abit of seasoning if you will or extra ingredients that tickle your fancy.
I know some of these you probably never thought could be included in a shake like sweet potato but they can still be added to provide those extra carbs if you like.
You can add absolutely anything you want to a shake as long as it can be blended. These are some of the optional trimmings I occasionally use along with my shakes.
Stevia
Sweet potato
Oates
Advocado
Quinoa
Coconut milk
Tofu
Flax seeds
Pumpkin Seeds
FAQ's
Why have you included a protein shakes as a viable alternative to a meal replacement shake?
Protein shakes can still be used as a meal replacement shake. It all comes down to what you add to your shake. Leafy greens and some healthy fruit added makeup a great meal replacement
Are Meal replacement Shakes good for you?
It depends what type of shake you are going for and how much of it you take. As with anything moderation is key. I recommend taking no more than 2 meal replacement shakes a day. The meal replacement needs to be a high quality shake.
Do I need to workout and take meal replacement shakes?
Working out is entirely optional. The golden rule is calories in and calories out. If you are eating a high protein low carb diet and combining that with meal replacements shakes you will lose weight if you are operating at calorie deficit regardless if you workout or not.
Out of all these Shakes which are your favourite?
I personally use Vega one and Amazing Meal on a regular basis and would say that these two are my favourite meal replacement shakes. Vega one tastes super and has all the nutritional value I would expect of a premium supplement.  However all the shakes listed are great high quality shakes that are healthy and cheaper than shakeology.
 Hope the above has given you a great arsenal of meal replacement shakes you can use instead of shakeology.
I personally take my meal replacement in the morning for breakfast when the body is well rested and hasn't eaten all night to really infuse my body with all the goodness of a shake.
I do not recommend taking meal replacement shakes more than twice a day. Yes you can lose weight doing just taking shakes for Breakfast, Lunch and Dinner. It's the simple calories in and calories out logic that has been in the weight loss industry since the beginning of time.
However is it healthy? …No…and is it sustainable?…No.
At the end of the day nothing beats fresh organic, healthy food.
Amazing Meal and Vega-One are my favourites, however, all the alternatives are equally as beneficial.