If you've been trying to lose weight and get healthier, chances are that you've come across a number of diets. Be it advice from friends, or articles on the internet, there are many diet plans available – from Keto, Paleo, to Atkins and more. One such diet that's been much talked about by professional athletes and celebrities is the chicken and broccoli diet. But what exactly is it, is it safe to follow this diet, and does it give results? I decided to investigate it in depth. To find out all about the Chicken and Broccoli diet, read on!
What is the chicken and broccoli diet?
Let's start with the basics. The chicken and broccoli diet, as the name suggests, is a diet plan where you mostly consume chicken and broccoli as your main source of nutrition. This is a short-term diet, and is typically followed for about 10 – 14 days, and no longer. It is claimed that following this diet kickstarts weight loss while helping you build muscle, with minimal exercise.
Chicken, being a rich source of protein, is said to help in building muscle while being low in carbohydrates and fat. Broccoli, on the other hand, is low in calories, while being rich in minerals and vitamins that are crucial for your overall health. Together, it seems like they cover most of the essential food groups you need for a healthy, functioning body. Let's take a closer look at the nutrition that these two foods provide:
Chicken Breast (100 gms): 
Calories (165 kcal) Protein (32 gms) Fat (3.5 gms) Carbohydrates (0 gms)

Notable vitamins – Vitamin B 6 (30% of daily value)
Broccoli (1 cup/ 90 gms): 
Calories (31 kcal) Water (89%) Protein (2.5 gms) Fat (0.4 gms) Carbohydrates (6 gms)

Notable vitamins and minerals: Vitamin C (90%) Vitamin A (19%) Vitamin K (77%) Folate (14%). Magnesium, Phosphorous, Potassium, Iron (4-6%) 
As you can see, this diet mainly supplies you with protein, vitamins and certain minerals. However,  you will end up consuming low fiber, and little to no carbohydrates. To combat this, the diet gives you the option to add a small portion of carbohydrate-rich food to your meal. This could be a small portion of brown rice or noodles. 
Does the chicken and broccoli diet help in weight loss?
Following a diet where you mainly eat chicken and broccoli will provide you with a high amount of protein, a moderate amount of carbohydrates, vitamins, minerals, and very low fat.
Chicken is lean meat, while broccoli is rich in vitamins, minerals and is very low in calories. Studies show that a diet rich in protein supports weight loss. Keeping the nutritional value of the two food items in mind, it is possible to lose weight when following this diet.
However, keep in mind that eating only chicken and broccoli for long periods of time is not advisable, as it leaves out other essential nutrients and fibre from your daily intake.
If you intend to follow this diet, it is a good idea to do so for a short period of time, and then slowly incorporate a wider variety of foods to ensure balanced nutrition. 
Sample Chicken and Broccoli Diet Recipes
Eating the same food every day can get quite repetitive, so how does one break the monotony? The trick lies in the many ways in which Chicken and Broccoli can be prepared. 
Chicken can be prepared in many ways – Boiled, Fried, pan-seared, shredded in a soup – the list goes on! As for broccoli, steaming or stir-frying is a better way to preserve its nutrients. 
Here are some easy to prepare and delicious recipes that will keep your tastebuds happy while on this diet:
Chicken Breast and Broccoli Stir Fry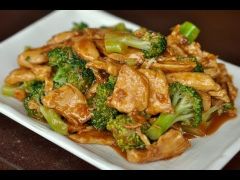 Ingredients
450 gms boneless skinless chicken breast, cut into bite-sized pieces
1 tbsp olive oil 
1 tbsp ginger
1/2 minced medium onion
2 large cloves garlic, minced
1 tbsp soy sauce
1 tsp sesame seed oil
2 tsp rice vinegar 
2 tsp hot sauce 
100 gms broccoli – cut into small florets
How to prepare
Add oil in an already heated pan. Then, add in the onions and garlic, and cook till the onions turn translucent. Add the minced ginger and chicken. Cook till the chicken turns slightly brownish. 
Next, add the sesame oil, soy sauce, hot sauce and rice wine vinegar. You can decide how much of these sauces to put, depending on how dry or wet you'd like the preparation to be. Keep cooking until the chicken is fully cooked. 
Add in the broccoli florets, along with a few teaspoons of water for the broccoli to steam. Cover the pan and allow the broccoli to steam for a few minutes, till it turns tender.
Healthy Broccoli & Chicken Soup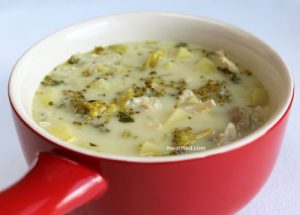 Ingredients
1 large, finely chopped onion 
2 finely chopped carrots
2 finely chopped celery ribs 
4 crushed garlic cloves 
1 bay leaf
1 tbsp dry mixed herbs
5 cups broccoli and finely chopped, without stems
6 cups chicken stock/broth 
½ cup milk 
2 tbsp cornflour mixed with 2 tbsp water
2 cups shredded chicken 
salt and pepper to taste
lemon juice to taste
Instructions
Sauté the celery, carrots, onion and broccoli in a splash of oil for about 10 minutes, until they soften and start to slightly brown. Add the bay leaf, herbs and garlic – sauté for a minute or so before adding the chicken stock, cornflour mix and milk. Bring to a simmer then finally add the broccoli florets and shredded chicken. Cook for another 15 minutes and finally season with salt, pepper and lemon juice. You can serve it with a small portion of multigrain bread.
The Chicken and Broccoli Diet Plan
At this point if you're wondering 'How long is the chicken and broccoli diet for?', or 'What meals should I be eating, and when?', you're in luck. We have drawn up a rough guide to what the day-to-day plan looks like for this diet. While this plan will give you an idea of what the chicken and broccoli diet plan looks like, it is always a good idea to consult a nutritionist before starting any diet:
Day 1-2

Breakfast: 1 cup of black tea (unsweetened), 50 gms whole wheat bread, along with 200 gms of cooked broccoli 

Lunch: 250 ml of chicken soup, 100 gms cooked broccoli, and 150 gms of chicken (Can be cooked however you want – avoid deep frying, though!)

Dinner: One cup unsweetened black tea, and 250 grams of broccoli gently steamed, with some salt, and preferably no other added sauces.

Day 3-4

Breakfast: 200 gms cooked broccoli, can be sauteed with garlic, olive oil and bell peppers. 

Lunch: 50 gms cooked chicken breast in olive oil, with onion and tomato, along with 150 gms of cooked broccoli. 

Dinner: Another batch of 200 gms cooked broccoli, sauteed with garlic, olive oil and bell peppers. 
Day 5-6

Breakfast: You can have 100 grams of cooked chicken breast and 100 grams of steamed broccoli salad, with two teaspoons of low fat soured milk

Lunch: 100 gms of gently steamed broccoli, with one slice of whole wheat bread

Dinner: 150 gms cooked chicken breast, along with one cup of low-fat soured milk
Day 7-8

Breakfast: Start off with 1 cup of unsweetened black tea, 100 gms of cooked broccoli, and two boiled eggs

Lunch: 250 mls of chicken soup, 150 gm cooked chicken, and 100 gms cooked broccoli. 

Dinner: 1 cup of unsweetened black tea, and 250 gms cooked broccoli
Day 9-10

Breakfast: Start the day with 2 boiled carrots, and 100 gms broccoli

Lunch: 100 gms cooked chicken, 100 gms cooked broccoli, along with one slice of whole-wheat bread

Dinner: 1 cooked potato and 100 gms of cooked broccoli
What are the advantages and disadvantages?
With all this information about the diet, it is important to ask whether it works for you or not. Let's look at what the pros and cons of the chicken and broccoli diet are:
Pros 
Chicken, being one of the two main food sources in the diet, is rich in protein, with virtually zero carbohydrates. Studies show that consuming high levels of protein can support weight loss.

Being a diet low in carbohydrates, it may help shed any water weight or bloating that you've been experiencing.

Broccoli supplies certain essential vitamins and minerals to the body while on the diet.

The diet has no allowance for junk food or desserts, cutting out any empty calories that don't provide any nutrition.

Having protein-rich food, such as chicken in this case, keeps you feeling satiated for longer, and less likely to snack in between meals or binge.
Cons
One of the biggest drawbacks of this diet is the monotony. It can get very boring to eat only chicken and broccoli every day, despite the varied ways of preparing the dishes.

In a restrictive diet that allows only two-three food sources, there is a high risk of feeling psychologically deprived and binge eating.

Both broccoli and chicken are very low in fibre, and the diet doesn't supply the daily value required to have a well functioning digestive system and well-regulated blood sugar levels. 

Commercially bred chicken has been reported to be injected with high levels of antibiotics and synthetic hormones. Consuming a high amount of chicken could cause one to develop antibiotic resistance in such cases. 
My Results On the Chicken and Broccoli Diet 
In my quest for weight loss, I gave the chicken and broccoli diet a fair shot. While it may work well for some, I realized that I am not cut out for it.
Here are my results…
My weight essentially stayed about the same over a 7 day period. However, I know if I had gone for a month, I probably would have lost a little bit of weight. It certainly can get you shredded as brocolli and chicken are perfect for building muscle.
However, after only a few days of following the diet, I found it repetitive and couldn't keep up with the monotony of it all.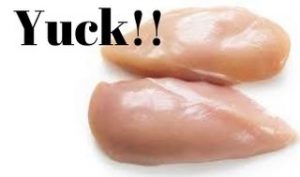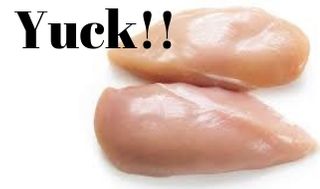 While it may be one of the ways to kickstart a more disciplined approach to eating, incorporating a wider variety of foods not only ensures more balanced nutrition, but also a more physically and mentally sustainable way of eating. 
I can't tell you how tired I got of seeing chicken. Don't get me wrong but I chickened out of having any more chicken after day 7.
Are there any good alternatives? 
Metabolic cooking is a recently developed approach to eating, and it's something I've been exploring lately. This eating program works by incorporating foods into your diet that boost your natural metabolism and burn fat.
It allows for a far more variety and claims to work with your body's natural processes, rather than against it. The recipes are simple to make, and the diet can be adopted by people of varying lifestyles and weight loss goals.
 You can check out Karen Losier's recipes from her book on Metabolic cooking to find out more. 
Final Verdict
The chicken and broccoli diet is a short-term approach, where one consumes broccoli and chicken as the two main sources of nutrition for a span of 10-14 days. Chicken, being a rich source of protein, may help keep you satiated and potentially aid in weight loss. Broccoli is a low-calorie vegetable that's rich in vitamins and minerals, along with moderate levels of carbohydrates.
While following this diet for a short term might encourage weight loss at first, it may not supply you with enough nutrients needed for a balanced diet. Also, the monotony of only consuming broccoli and chicken for long periods of time may put you at risk of binge eating.
If you follow this diet in the short run, it is a good idea to incorporate a wider variety of vegetables, grains and meats in the long run, for a more sustainable and balanced weight loss journey.
It is always a good idea to consult a qualified nutritionist and discuss your personal weight and fitness goals before embarking on any new diet. 
References:
https://www.healthline.com/nutrition/foods/broccoli
https://www.livestrong.com/article/436537-will-i-gain-weight-from-eating-chicken-broccoli/https://simply-delicious-food.com/easy-healthy-chicken-broccoli-soup/
https://tools.myfooddata.com/nutrition-comparison.php?foods=5062-5091-5100-11090&serv=100g-100g-100g-100g&qty=1-1-1-1
https://fdc.nal.usda.gov/fdc-app.html#/?query=ndbNumber:5064
https://ndb.nal.usda.gov/ndb/foods/show/11090
https://pandagossips.com/posts/2628