Bulking up is hard work. It's not just hours in the gym and making sure you get enough sleep while dealing with sore muscles. It's also about eating a lot more calories and getting your macros right.
If your daily life has become about calories and food in general, it's totally understandable that you want to take the load off and sip something tasty that provides some of what you need.
Enter a weight gain, mass gain, or bulking supplement.
If you've been considering the Vital Strength Hardgainer Mass Bulking Protein Powder a.k.a Vital Strength extreme rapid weight gainer and have been feeling unsure, you're in the right place.
I'll be going into all the nitty-gritty details like calories, the macro split, micronutrients, and whether the ingredients are healthy or not.
After all, as much as you want to bulk, you also want to be healthy. Everything you need to know to make an informed choice.
Also, been wondering whether this new updated version is really an improved version? Well, let's go.
How I Went About Researching for this Review
First things first, I had a look at the nutritional profile and the ingredients.
I looked up any ingredients that I was unsure about or that I found controversial and made sure that the good ingredients had the research to back it up.
I looked at what claims Vital Strength made with regard to their product and their overall value system.
Then I looked up reviews, what people who've used it had to say about whether they got results if they enjoyed the taste, and how it made them feel.
Now that we've got that down, we can get into the review.
What is Vital Strength Hardgainer Mass Bulking Protein Powder?
As you may have guessed by the intro, the Hargainer Mass Rapid Bulking Protein Powder is a calorie-rich shake meant for those who want to achieve some serious gains in the gym.
If you prepare shake (120g serving) with 400ml of water, you're looking at a boost of 419 calories.
With the same amount of milk (I would think they mean cow's milk since plant milks are generally lower in calories), you get 704 calories.
With milk and 30ml of flaxseed oil, you get around 1000 calories.
This shake also gives you the recommended macro ratio for bulking and vitamins and minerals too.
A Look at the Company- Vital Strength
Vital Strength has been around for over 20 years now and is an Australian company. Vital Strength falls under Freedom Foods Group Limited which also owns 10 other food brands.
The managing director of Vital Strength is responsible for starting the whole thing.
He came across the idea for great-tasting bulking shakes in a limited market, precisely because he was struggling with the eating part of the bulking process.
And here we are today, able to review the Vital Strength extreme rapid weight gainer.
According to the website, all their products are tested by independent labs for safety and quality.
These reports aren't displayed on the site, but they do have their contact details listed and may be willing to send you the results.
They also use Good Manufacturing Practice (GMP), and/or Hazard Analysis and Critical Control Point (HACCP) procedures.
Their products also meet the requirements set by the Food Standards Australia and New Zealand (FSANZ) code.
Vital Strength Hardgainer Protein Powder Review- The Short Version
A shake or two will serve you well, depending on how many calories you need to gain muscle. Drink them as post-workout drinks or a snack.
Unlike some other bulking powders, Hardgainer contains only whey protein.
However, soy lecithin is used to instantize the whey proteins according to Vital Strength. But the amount of soy is less than 1%. So if you are allergic, skip this shake.
For those of you who are lactose intolerant, you may need to forego this shake. While whey powder contains hardly any lactose, skim milk powder is a part of the protein blend.
The maltodextrin is wheat-based, so if you are gluten-intolerant, this shake isn't for you.
We've already gone over the calorie content. The fat content is quite low at one serving of powder with water giving you 1.4g of fat.
There's also 1200mg of creatine and glutamine respectively.
Another perk, there are 21 vitamins and minerals. Not enough to use as a meal replacement but still beneficial.
If you do want to use this shake as a meal replacement, be sure to add some fruit and/or veggies.
Some other things to watch out for is the sugar content, which is 35g even just prepared with water. Sucralose, an artificial sweetener is also present in the powder.
There are only two flavors, chocolate blast and vanilla ice cream.
Vital Strength Hardgainer Mass Rapid Bulking Protein Powder Review- The Long Version
Let's take a deeper look into this shake.
The Ingredients
Here's what you need to know:
The Protein Blend
The Vital Strength protein blend is made up of instantized whey protein concentrate, isolate, cross-filtered whey protein isolate, and skim milk powder.
Instantizing just means that they've added lecithin, in this case soy lecithin, to make the protein powder mix better.
Cross-filtering removes the bigger particles that are harder to digest and removes the fat.
This explains why the fat content is so low despite having whey protein concentrate, the less processed version of whey protein, in the mix.
Creatine and Glutamine
Both these ingredients are naturally present in the muscles and in other parts of the body like the brain and kidneys.
Glutamine is actually an amino acid (a component of protein). It's often added to sports supplements since it boosts the immune system of athletes.
Glutamine may also help muscle recovery, particularly during exercise, and reduce muscle soreness afterward.
Although similar to amino acids, creatine is not an amino acid. It helps to produce energy in the muscles in form of ATP (Adenosine Triphosphate), which is helpful during anaerobic exercise.
Studies show that creatine may also boost muscle recovery after exercise, reduce muscle damage, promote healing from injury faster, and help to prevent atrophy (losing muscle).
These effects are mainly seen in men. This may be due to the fact that we women naturally have more creatine in our muscles. As for glutamine, the reason why is yet to be determined.
Vitamins and Minerals
As mentioned, there are 21 vitamins and minerals. They equate to less than half the RDA (recommended daily allowance), however.
So be sure to take it with a meal, use it as a snack, pre or post-workout drink, or add fruit and veggies to make a smoothie.
Both the flavors should go well with most fruit and the vanilla might even taste good with certain veggies. You can see the evidence and even get creative with a few recipes here.
The Sugar Content
The sugar content is quite high at 35g for a serving with water. One teaspoon of sugar weighs around 4g. That means you're consuming just over 8 teaspoons of sugar per shake.
This is despite using sucralose as a sweetener as well. Bear in mind that sucralose may have a negative impact on the gut.
Sugar-wise, the American Heart Association recommends that men have no more than 9 teaspoons of added sugar and women no more than 6 teaspoons of added sugar.
Fructose is one of the main contributors here.
When extracted, as opposed to eating whole fruit and vegetables, which naturally contain some fructose, regular consumption can actually be harmful to your health.
Regular fructose consumption has been implicated in non-alcoholic fatty liver disease. This may be because the only part of the body that can use fructose and metabolize it, is the liver.
Excessive amounts, like other types of food, get converted to fat and that fat can only be stored in the liver. Yikes!
Fructose has also been linked to type 2 diabetes and pushes up your triglyceride levels (blood fat levels).
On the other hand, despite all the bad things that sugar does to us, it provides quick energy. If you need a quick energy boost for a workout or to replenish your stores after a workout, the sugar helps.
Maltodextrin and Dextrose Monohydrate
These two substances sound dodgy, and although they do spike your blood sugar levels in high quantities, they may actually provide some benefits.
Maltodextrin, in combination with protein, may help to grow the muscles and aid muscle recovery.
Dextrose monohydrate is a source of calories and has a protein-sparing effect. It's often given intravenously to patients with eating disorders or who have been starved due to illness or disaster.
How much of these two substances are in the shake, I can't say. But if you are diabetic, it's best to steer clear, especially considering the overall sugar content along with these two ingredients.
Pros:
The calorie content is high, a minimum of 419 calories per serving
The macro split is at a decent 35:65 between protein and carbohydrates
You get 38g of protein per serving
It's vegetarian-friendly
It contains no soy protein
There are 21 vitamins and minerals
You get creatine and glutamine too
Will help to grow and maintain muscles in conjunction with resistance exercise
May aid in muscle recovery and muscle soreness
Most people enjoy the taste
Cons:
The sugar content is very high at 35g per serving
It contains sucralose
Some people feel the flavors are a little chemical-like and artificial
Not suitable for diabetics
Not suitable for people with severe soy allergies
Not suitable for lactose-intolerant people
Not suitable for gluten-intolerant people
Key Features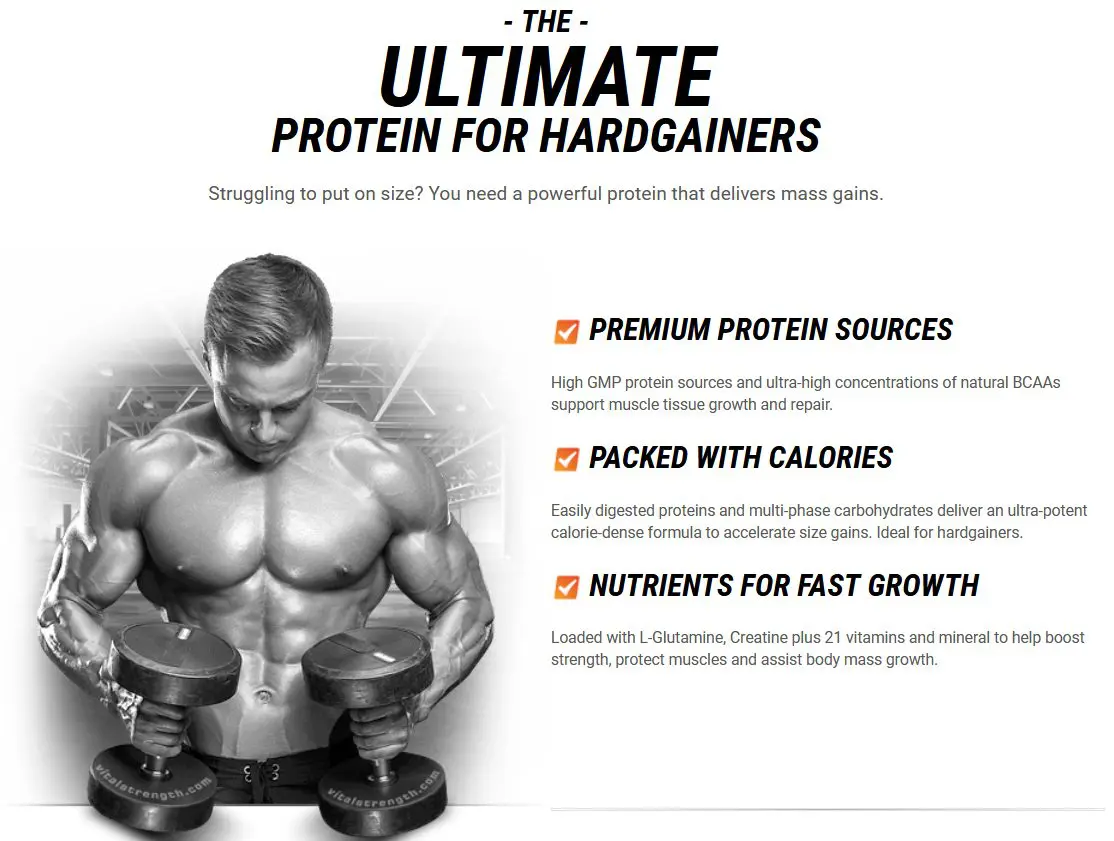 Whey Protein and Skim Milk Protein Blend
Per serving, you get 38g of quality whey protein and skim milk protein.
Because whey protein is a complete protein, meaning it contains all the essential amino acids and then some, you also get branched-chain amino acids (BCAAs).
These amino acids help to grow muscles, may be beneficial for gut health and improve immunity.
High in Calories
As mentioned, you get a minimum of 419 calories per 120g serving. You can push up the calorie content by using milk instead of water, adding some flax oil, and even adding fruit or veg.
With just 400ml of milk and 30ml of flax seed oil, you get 1000 calories per serving.
Good Nutritional Value

The macro ratios are geared towards bulking. You also get 21 vitamins and minerals along with creatine and glutamine to gain muscle in a healthy way.
My Ratings
Ease of Use-
5 out of 5
This rating is specifically for this class of products. By that I mean powders. The only thing that would be easier is ready-to-drink shakes.
Features-
4 out of 5
I gave it a 4 because this product will definitely do what it says. But some of the ingredients aren't that healthy. The sugar content and inclusion of sucralose in particular.
Customer Service-
5 out 5
I didn't find complaints about customer service, so I give it 5 out of 5 until proven otherwise. I also saw customers say that their order arrived quickly.
Vital Strength makes it easy to contact them by providing a phone number and an email address.
Value for Money-
3 out of 5
You're looking at approximately $3.75 ($2.79 US at time of writing) Australian dollars per serving for the 2kg container and $2.80 ($2.09 US at time of writing) Aussie dollars for a 4.5 kg container.
I gave it a 3 because there are more expensive weight gainers out there, and cheaper mass gainers out there that have less sugar and more protein.
The Verdict
I'm leaning towards looking out elsewhere. I say this purely based on the high sugar content.
Yes, you're getting a good macro ratio, you're getting a lot of calories and protein, and you're getting creatine, glutamine, and vitamins.
But an excessive sugar intake isn't good for health. You may be exercising intensely and often enough to use it all. But your body still has to process that sugar.
Over time, a high added sugar intake can lead to bad heart health, diabetes, and I don't know about you, but I really appreciate having good teeth. Sugar and dental health is a no-no.
There are more advantages than disadvantages, so if you still would like to give this product a go, then, by all means, try it. See how you feel.
You will see results, and most people find it tasty. But keep an eye on your health and how you feel. Sugar makes us feel good in the moment, but it usually comes back and bites us in the butt.
That said, if you need quick energy, sugar is a good way to get it. There are slower energy-releasing carbs too, so using this shake pre-workout, will help you eke out those extra reps.
It just depends on what you need.