What are some great protein powders that don't contain lectin?
Being a self-conscious health nut, I thought I would do some research into finding the best lectin-free protein powders. 
In my opinion, I managed to find the best 
Lectin free whey protein 

Plant-based lectin-free shakes

Hemp Protein powders 
My criteria are based on protein content, nutrition, healthiness, and affordability. 
Protein: Hemp and whey protein are the safe options on Dr Gundry's list of foods you can have.  I have also decided to include pea protein as a lectin-free option. Despite Pea's having lectins, pea protein powder can still be made without lectins. 
If pea protein is isolated during the manufacturing process, the lectins in the pea protein will be removed. This is how you get "pea protein isolate."
In addition, there are some amazing protein powders that have a mix of plant-based proteins. We will come onto these later.
Nutrition: Vitamins, BCAA's. Fiber, probiotics, Omega 3's, MCT's should not be overlooked.  My chosen shakes also contain some bonus ingredients that can help you achieve optimum fitness and health. 
Cleanliness: No lectin also means very little to no sugar in my shakes. That means no sweeteners, preservatives, GMO's, and any other crap you might find.
Affordability: Affordable shakes, no need to spend a fortune. 
Let's dive in. 
What Is Lectin? 
Lectin is not to be confused with lecithin. 
Lectins are defined as carb-binding proteins found in plants. They help bind interactions between cells on a molecular and cellular level between carbohydrate structures.  
Although unclear, they are thought to act as a repellent against insects. 
The foods that contain the highest amount of lectins include: 
Lentils, peas, beans, soybeans, and peanuts. 
Typical nightshade vegetables contain lectins too. For example, 
Peppers, tomatoes, paprika, and white potatoes all contain lectin. 
Grains are also high in lectins. These include bread, crackers, and brown rice. 
Why You Should Choose Lectin-Free Protein Shakes?
Lectins might be unhealthy…
Made popular by Dr. Gundry, lectins are said to be bad for the following reasons:
Some describe lectins as being an anti-nutrient. Antinutrients are nutrients that stop the absorption of other nutrients into the bloodstream. For example, iron, zinc, and calcium may all be hard to digest with the presence of lectin.
Lectins are used to defend plants in nature. By their very composition, they are hard to digest and break down. Consequently, they remain in the gut.
This is why some people can experience bloating, gut pain, vomiting, and nausea.
Doctor Gundry has also listed the possible health complications that can come about through taking lectins. These include:
Autoimmune disease, chronic fatigue syndrome, diabetes, and migraines and others to name a few. 
The benefit of A Lectin Free Protein Powder
Looking at the ingredient profile of a modern-day protein shake there are tons of ingredients we may not have heard of.  
That's why it's important to go for the most healthy ingredients. Considering most people take their shakes daily its important you choose the healthiest shake. 
I used to think I could right unhealthy food choices by simple combining bad foods with good. However, a bad shake a day will inevitably do more damage to your health, the longer you take it. 
Easier Digestion…
The most common issue people have with shakes is around digestion. 
So choosing a protein shake without lectin should help prevent/ limit any issues to do with digestion. 
More Likely To Be Healthier
Lectin free shakes also tend to be more healthy. The fact the producers have consciously decided to remove lectin also means they are aware of other bad ingredients. 
Some shakes contain too much sugar. Others may have unhealthy preservatives or added colorings. With a Lectin free shake, you can be sure extra care has gone into removing any impurities. 
Anything lectin-free also tends to be an "isolate" protein. This means only the protein source is isolated and kept. 
Grass-fed whey, hemp, and pea isolate are the cleanest ways in creating protein powder. Thus, we can get the highest quality protein while removing anything excess. 
Lectin-Free Plant Protein Powder
Nuzest Clean Lean Protein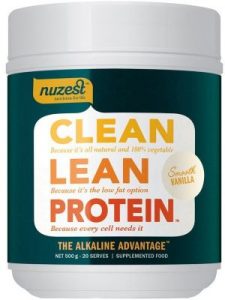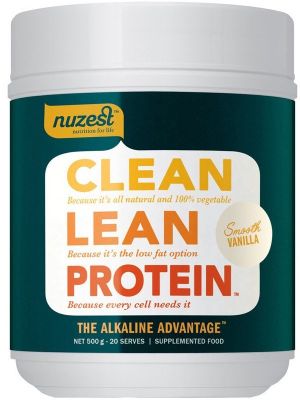 See Price On Amazon
Overview: 
Taste: 9/10

Protein: 21.1 g 

Sugar: 0 per serving

Sodium: 0.92 g

Calories: 90.1 (per serving) 

4g of Glutamic Acid (Glutamine) and 4g of BCAAs per serving including 2g of Leucine.
Pros
Amazingly clean: 

Free from lectin, gluten, soy, dairy, egg

No additives or preservatives

Zero animal products

Artificial colourings, preservatives free

No lactose or artificial sweeteners 

High-quality Pea Protein. 

An alkaline PH of 7.8

Easily digestible 
Cons  
Would love more quantity. Only 20 servings for 500g. 
Insight 
Nuzest is as clean as they come. 
It's free from literally anything you can think of being harmful. It also includes a great plant-based protein source in pea protein. Normally you would think peas are plants that contain lectins. 
However, Nuzest contains pea protein without lectins. The pea protein is specifically pea protein isolate.
This means the pea protein has been completely isolated. 
The starch and fiber that naturally are in peas have been extracted. This only leaves the clean protein found in peas. 
Nuzest claims to have a 98% digestible score. This makes it really stomach-friendly. I doubt you would feel too much sudden cramps and gas. 
The taste itself is above average for a shake. If it's your first time trying a shake don't expect it to taste like a five guys milk or Ben and Jerry's smoothie. 
However, judging by most reviewers the taste is quite pleasant. Some plant-based protein powders are known for being foul-tasting. Hence why some people choose whey over plant protein. 
Nuzest is sweet but not a sickening sweet. 
The sweet ingredient is the natural vanilla flavour. Natural vanilla flavour is sourced directly from vanilla beans. So its nothing genetically modified and created entirely from a lab. 
Hemp protein powder. 
Hemp protein is one of the cleanest and healthiest protein sources you can have in a shake. The protein in hemp is derived from hemp seeds.
 It's a great vegan source of protein and has a wide number of benefits. 
The benefits of hemp protein include: 
Less processed than whey 

Vegan

Easy on gut

Contains antioxidants and minerals 

Earthy and natural taste 

Has fiber. 
Hemp protein is great for vegans and also those who are lactose intolerant. It's rich in amino acids and is easily digestible. It is also a complete protein. This means it contains all 9 essential amino acids found in a protein. 
DR Gundry approved protein powder? 
Dr Gundry is a huge lectin-free advocator, who also endorses hemp protein powder. For example, in his shopping list for a lectin-free diet, hemp is on the safe list. 
A post on his own twitter account also endorsed hemp.
Hemp proteins are fine! I just like the one I designed because the hemp+flax+spirulina combo is incredible for you. But, it's true. I'm primarily concerned with people getting the right nutrients + supplements, whether it's my own brand or Costco's.

— Steven Gundry MD (@DrGundry) April 20, 2018
He even has his own product called Proplant. 
Pro plant combines hemp, spirulina and flaxseed. All great ingredients that provide a great source of protein. 
Check out my recommended hemp protein powder below.
Nutiva Organic, Cold Processed Hemp Seed Protein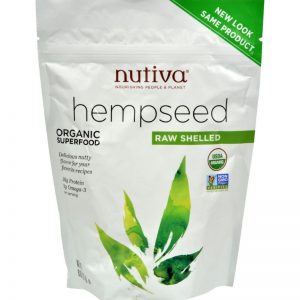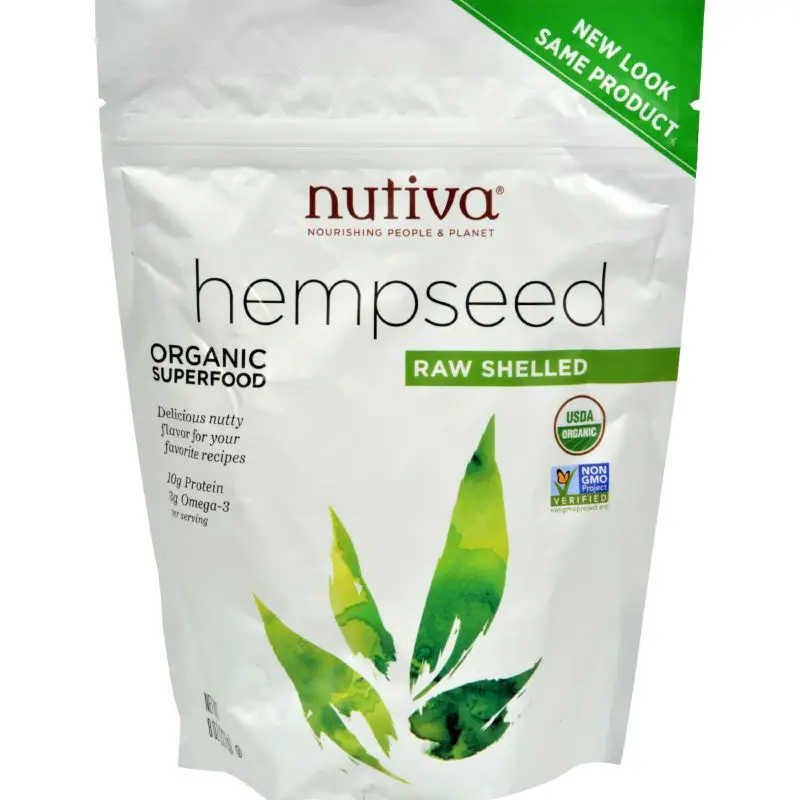 See Price On Amazon
Overview per serving: 
Taste: 7/10

Protein: 11 g 

Sugar: 1 per serving

Sodium: 0 mg 

Calories: 90.1

4g of Glutamic Acid (Glutamine) and 4g of BCAAs per serving including 2g of Leucine.
Pros 
Pure hemp protein. 

Contains 48% of daily value of fibre per serving 

12g of fibre. 

Very easily digestible 

1% of sales go to sustainable agriculture

Free from Dairy, soy, sweetener, and lactose 

Non-GMO and no-hexane used in processing 
Cons 
11 g of protein per serving. Would be nice to have higher amounts of protein 
Insight 
I really like Nutiva, it's simple, healthy and free from all the bad stuff. What stands out is the higher than average fiber content. 
On the label they state: the hemp protein content is made up of 66% edestin. Edestin is described as an easily digestible protein. It is also biologically active meaning it will get used by the body to create antibodies and enzymes. 
Also, this protein contains a good amount of fiber at 12 grams per serving. Fiber is good for digestive health and keeps the colon healthy. It is also great for moving food along the digestive tract, in turn keeping bowel movements smooth and regular. 
Be careful though and don't have too much fibre. Too much fibre can cause some bloating and bowel movements, even diarrhea. 
Remember those times you were constipated and your mum told you to have lots of fiber? For me it was Weetabix, simply because it made me poo all the easier. 
 Nonetheless, considering it is hemp it should be easily digested and still clean.  
Lectin-Free Whey Protein Powder
Dr. Gundry says to avoid whey protein. 
Whey is derived from milk and milk contains lectins. 
However, despite Gundry's claims, whey protein is fine to consume as it normally has lectins removed.  
For example, Gundry is going on the hypothesis that whey protein has lectins. This would be from grain and corn-fed cows and not grass-fed. 
Grass-fed whey protein organically has zero lectins. For example, with whey protein isolate, the carbs and fats are removed to only give you pure whey. Consequently, anything excess like lectins have been removed. 
Whey protein is rich in the following ingredients too: 
Leucine
Glutathione
Omega 3 fatty acid. 
Likewise, high-quality whey should NOT contain GMOs, pesticides, and antibiotics. The whey protein that I have chosen is pure clean whey that is free from any harmful radicals.
Who is this shake ideal for?
Whey is great for people who do not have any digestive issues. Remember whey does contain lactose. 
Although lactose in whey protein is low enough for people who have digestive issues to not have problems, it still may be an issue for some.  
The cleanest form of whey is from isolate and not concentrate. Isolate protein separates any fat and carbs from processing, leaving a higher protein content per serving. 
Amazon Brand- Amfit Nutrition Performance Whey Protein Powder from 100% Whey Isolate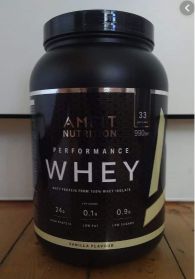 See Price On Amazon
Overview per serving: 
Taste: 7/10

Protein: 24 g 

Sugar: 0.7 per serving

Sodium: 0.19 mg 

Calories:

107 

Addition of Bcaa's (Branch chain amino acids) – 6g

Glutamine – 4g

Glutamic acid 4g
Right produced out of amazon. Considering they have so much consumer data to work with you know it's going to be a top-quality shake. 
Some of the core traits that stand out for me are: 
BCAAS

Higher protein content whey isolate

Glutamine and

Glutamic acid
Its 100% whey isolate, so you're getting a protein shake rich in quality whey protein. 
BCAA's are great post and pre-workout because they provide the added benefit of increasing muscle growth and increased energy levels. 
Pros 
Good protein

Bcaas. 

Affordable 

High-quality whey protein isolate. 
Cons 
Some say taste a bit too sweet
Not all lectin is bad!  Eat protein powders low in lectin
Dr. Gundry lists whey and hemp protein on his safe lists. 
Brown rice protein, goji protein, and pea protein are not on the safe lists..
However, as shown above, the protein sources of pea can still be lectin-free. I also believe there are a few scare tactics on behalf of Dr. Gundry that goes unnoticed.
My personal view on whether lectins are good or not. 
Foods that contain lectins are not all bad…and consuming lectins in your protein shakes is not going to be the end of the world. 
Studies in favor of lectins show that the risk of heart disease, diabetes or stroke is reduced when eating nuts and legumes. 
Also, bear in mind Dr. Gundry will cherry-pick his studies to support his claim that lectins are unhealthy.  
I personally don't think they are as bad as Gundry's research suggests. After all, many people who take lectins are very healthy.  
Nonetheless, since research is still very muddled I've grouped some of the healthiest and cleanest protein shakes that do contain lectin but I could not ignore.  
Sun Warrior Protein Powder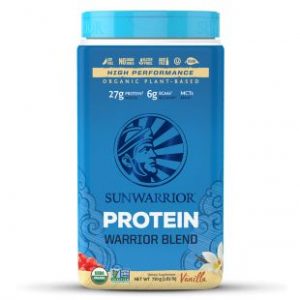 See Price On Amazon
Overview: 
Taste: 7/10

Protein: 25 g 

Sugar: 0 per serving

Sodium: 348 mg (0.34 g)

Calories: 100v(per serving) 

6g Bcaa's and MCTs
My Opinion on Sunwarrior
Just like its title sun warrior is a warrior of a shake. It delivers high protein content and is great for performance athletes. 6g of Bcaa's and MCT's will power you through workouts and keep you alert and energized. 
Likewise at virtually 0 sugar content with a higher amount of protein then Nuzest, its' perfect to consume daily.  
I like how it combines different proteins of hemp seed, goji berries and pea protein to make up a combo of proteins. It also ticks many boxes considering sun warrior is: 
Gluten-free
GMO-free
No added sugar
Vegan
Dairy-free
One of the things to mention about hemp is it can be a bit gritty at times. So make sure you either use a blender or shake very well.
The protein content does contain some proteins on dr Gundry's bad list, for example, pea and Gogi berries.
Nonetheless, if you are the type of person to reduce lectins and not completely eradicate all of them, then this shake is perfect. Its also my no 1 pick for fitness and performance athletes. 
Pure Food Plant Protein.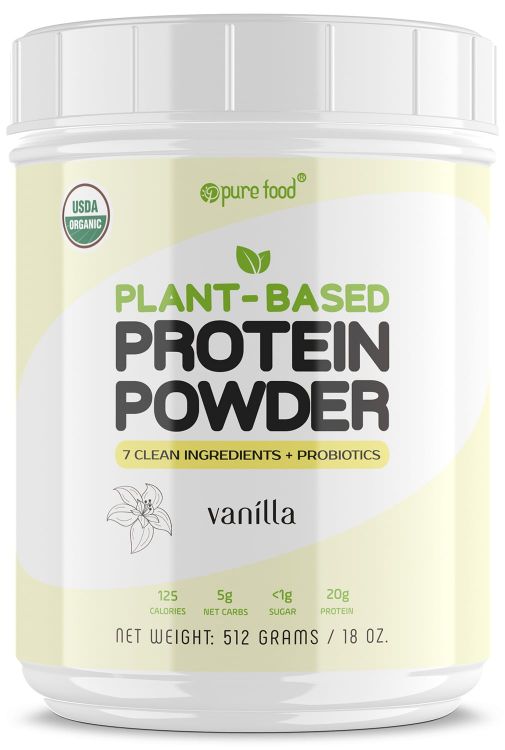 See Price On Amazon
The great trait about pure food is that it contains probiotics. 
Probiotics are great for gut health and maintaining a healthy immune system.
Many commercial probiotics need be refrigerated, don't last long or get killed off by stomach acid. 
Pure food describes their probiotics as "shelf-stable". Pure food probiotics can survive stomach acid 10x more effectively than yogurt cultures. 
It also comes with the addition of BCAA's. 4 grams of branched-chain amino acids are included in Pure food plant protein. Bcaa's are normally taken to enhance muscle recovery and reduce exercise fatigue.
Pure food also ticks all the boxes below: 
No added sugar preservatives 

100 organic

 zero gums or fillers 

Probiotics that are FDA approved. 
But is it lectin free?…
Be aware, the protein content is from Pea, hemp, and brown rice protein.. Brown rice and pea protein do contain lectins.  
Nonetheless, I could not leave this amazing shake off my list due to the amazing probiotic content it has.
 It is unclear whether the pea protein is from isolate. However, the fact it's organic is a huge plus.  
Quick Breakdown 
 Best Plant-based Lectin-Free Protein Powder: 

Nutiva, Nuzest, 
 Top Alternatives: 

Pure Food 
My No.1 Picks!
All the hemp and whey protein powders above are quality protein powders that contain zero lectin. If you are not allergic to dairy I would go for the plant-based options. 
Nuzest and Nutiva plant proteins are my favourite. 
For purely hemp-based protein, Nutiva is your go-to. 
However, not everyone loves plant-based proteins. The cleanest whey protein option is Amazons' very Amfit, which is 25 grams of solid whey protein isolate. 
Alternatively, If you like combinations of plant proteins then Pure food and Sunwarrior are your choices. 
Bare in mind Pure food and Sun warrior might contain some lectins. Nonetheless, I still included them considering they are some of my favorite brands. 
Be sure to read customer reviews to see what others are saying here…a A good quality shake is only round the corner!
Read More Reviews On Amazon
Similar pages: 
Top Protein Powders For Sensitive Stomachs
Best Low Sodium Protein Powders.