My Protein Whole Fuel and Huel are two similar meal replacement shakes. However, there can only be one winner!
Lets look at their nutritional profiles, ingredients and background of each product to come to a decision which meal replacement is best.
If your in a rush, I believe Huel wins hands down over Whole Fuel. There are some crucial reasons which I explain below.
Who are My Protein and Huel?
Ethics and Standards
MyProtein 
Based out of Manchester, UK, MyProtein is a sports nutrition brand offering a large variety of different products such as snacks, clothing, and protein powder. 
What I like about My Protein is that they devote a substantial amount of effort to sustainability practices, with recycled and biodegradable materials used in production, "no-plastic-bottles" and "reusable-only coffee cup" policies among staff, and a wide range of products that contain zero animal ingredients.
High-quality in-house production facilities are the key to the quality behind MyProtein's products, which have been graded AA for food safety by the British Retail Consortium. MyProtein also partners with ALS and Labdoor for nutrition quality assessment.
In summary, My Protein look to be a company that values high quality nutrition and has the necessary scrutiny of third party companies to meet high standards.
Huel 
I simply love Huel and what they have accomplished in regards to their meal replacement shakes. With over 30 million meals sold to customers in more than 80 countries, Huel certainly has the name recognition to compete with name-brand sports nutrition products.
Despite their global reach and sheer quantity of units sold, Huel (short for "human fuel") has a humble mission – to provide affordable, convenient, nutritionally-complete food that has as little effect on the environment and animals as possible.
Huel products have been developed in line with the manufacturing processes during the agricultural revolution that occurred about 10,000 years ago – when the ability to mill food into powder for improved shelf-life, more efficient meals, and easier transportation was discovered.
In our current society, providing food in such a way has similar benefits – dedicating less time in your day to buying, preparing, and obsessing over food. Huel has a shelf-life of 1 year, and it is backed by nutritionists and dietitians in several countries.
The Huel manufacturing facility has earned all safety requirements bestowed by the UK and EU, including HACCP (Hazard Analysis and Critical Control Point), ISO 9001:2008 certification, and SALSA (Safe and Local Supplier Approval) certification.
All Huel products are vegan, ethical, and sustainably-sourced.
My Protein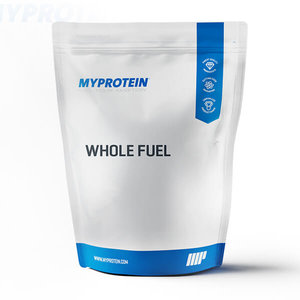 Check Lowest Price On Amazon
Protein source
MyProtein Whole Fuel Blend contains a blend of brown rice protein and pea protein isolate. Their in-house testing standards promise 100% purity of ingredients, and only trusted, accredited suppliers are used in order to obey standards of both the EU and countries worldwide. Near-infrared testing, x-ray, and advanced filtration systems are used to maintain quality standards.
Vitamins and nutrients
One serving (3 scoops – 100 g) of Whole Fuel Blend is considered a complete meal replacement shake, providing all essential macronutrients and additional micronutrients (vitamins and minerals). MyProtein Whole Fuel Blend contributes 423 kcal energy, with 39% from carbohydrates (40 g), 32% from fat (15 g), and 29% from protein (30 g).
Whole Fuel Blend also contains 3.9 g sugar and 11 g dietary fibre. Vitamin and mineral composition vary slightly across different flavours, but MyProtein Whole Fuel Blend provides approximately 30 to 40 percent of the reference intake for an average adult (based on a 2000 kcal diet) for most vitamins and minerals.
Cost effectiveness
At this time, only 2.5 kg bags of the Natural Chocolate flavor are available, priced at £29.99. As this package contains enough powder for 25 servings, it works out to just £1.20 per serving.
Ingredients
In addition to vegan protein sources (brown rice and pea protein), all ingredients found in MyProtein Whole Fuel Blend are both vegan and vegetarian.
Ingredients vary slightly across different flavours, but the vanilla flavour contains oat flour, pea protein isolate, vegan vegetable creamer (sunflower oil, acacia gum, sunflower lecithin), brown rice syrup, natural flavourings, silicon dioxide, alpha-tocopherol, brown rice protein, natural vanilla flavouring, sucralose, flaxseed powder, potassium phosphate, calcium, xanthan gum, a multivitamin mix, inulin powder, magnesium, and guar gum. Potential allergens noted on the label include gluten (via oats), soy, and egg.
At just 3.9 g sugar per serving, MyProtein Whole Fuel Blend provides a reasonable amount of sugar for a meal replacement providing 423 kcal. Sweeteners found in the powder include brown rice syrup and sucralose.
Whether or not you find sucralose to be a natural or unnatural sweetener is completely up to you. There is clinical research both supporting and criticising the consumption of sucralose. For example, Clinical research conducted by nutrition journal found that artificial sweeteners such as sucralose do not pose any danger to human health when consumed in reasonable amounts.
However sucralose may not be as healthy as one would think if consumed in greater amounts. For example, it could kill beneficial gut bacteria and cause liver damage among others. This would be one of my concerns consuming over a long period of time.  
I believe the amount in my protein is safe but I still would avoid sucralose if I had the option. I like 100 percent safe ingredients and the research is too small to be concrete that sucralose is safe to eat.
However, if you personally do not care for sucralose or similar sweeteners, this product may be a good fit for you.
Ease of use
MyProtein Whole Fuel Blend is quite easy to use. Similar to other meal replacement shakes, simply mix with liquid and blend, either using a shaker bottle or blender.
Flavours
MyProtein Whole Fuel Blend is available in chocolate, vanilla, and vanilla raspberry flavours – but as noted previously, it appears that only chocolate is available online at this time.
Other opinions
Reviews appear to be a bit mixed when it comes to MyProtein Whole Fuel Blend. A few common themes among customer reviews include:
The Good:
      

The price is reasonable, and reduced-price sales are frequent, overall good value

      

A serving of the meal replacement keeps people full for as long as 4 to 5 hours

      

Does not cause digestive problems

      

Taste is generally good, helps satisfy a sweet tooth

      

Mixes well, especially if using a blender

      

Great macronutrient ratio and vitamins and minerals
The Bad:
      

5 kg bags are the best value but usually sell out very quickly

      

Tends to be too sweet (especially vanilla flavour)

      

An unflavoured and unsweetened version would be useful for people who do not want the sugar or sweetener

      

The bags are difficult to open

      

Shake is a bit thick and unappealing to some customers

      

Not enough flavours
Quick review
Pros
      

Vegan and vegetarian

      

Great macronutrient profile and vitamin/mineral content without excessive fortification

      

Nothing sketchy in the ingredients

      

Easy to prepare and generally enjoyable taste

      

Does what it promises to – replaces a meal, keeps you full, and provides quality nutrients

      

Reasonable price 
Cons
 

Availability seems to be hit or miss, especially with bulk packages

 

Flavours are limited

 

No unflavoured or unsweetened variety

 Sugar content is from brown rice syrup and sucralose. Although sucralose in moderation might be safe, its not the healthiest of ingredients based on certain case studies
Not clear what ingredients are in "natural flavourings" 
Huel

Protein source
Similar to MyProtein, the protein in Huel Powder is sourced from pea and brown rice protein. By combining these two vegan proteins, Huel has an optimal 1.0 PDCAAS (Protein Digestibility-Corrected Amino Acid Scoring) score, which is right on par with animal-based proteins in terms of protein quality and bioavailability.
Huel is produced in the UK in an ISO 9001:2008 certified facility that follows all applicable food production regulations.
Vitamins and nutrients
1 scoop of Huel powder provides 152 kcal (some flavours may contain up to 155 kcal), with a relatively low glycemic index of 27. A full Huel "meal" contains 500 kcal and 37 g protein with a perfect amino acid profile and at least 100 percent of the EU Daily Recommended Amounts for all 26 essential vitamins and minerals.
Huel is GMO-free, low-salt, and soya-free, and contains branched-chain amino acids (BCAAs) and zero animal products. The macronutrient breakdown of Huel powder is 37% carbohydrates, 30% protein, 30% fat, and 3% fibre, and Huel contains just 1.02 g sugar per 500-kcal meal.
Cost effectiveness
Huel requires a 2-bag minimum for online purchases, and 2 bags will cost you £45.00 (About $59 dollars). At 14 meals per bag, this breaks down to £1.61 per meal. A subscription option is also available, with delivery options ranging from weekly to every 10 weeks, at £40.50 (10% off) per 2 bags – £1.45 per meal. 
This is very affordable for a high end meal replacement shake. Likewise, if you decide to use Huel as a post workout meal and add 2 scoops instead of 3 (Full Meal) then it acts as a quick source of protein.
Ingredients
Similar to MyProtein, Huel prides itself on including only vegan ingredients in their powder. Ingredients found in flavoured versions include: oats, pea protein, flaxseeds, brown rice protein, natural flavouring, MCT powder from coconut, sunflower oil powder, micronutrient blend (containing a variety of vitamins and minerals as well as coconut flour), xanthan gum, guar gum, and sucralose. The unflavoured and unsweetened version contains a similar ingredient profile with the exclusion of flavourings and sucralose.
At just 1.02 g sugar per 500-kcal meal, the unflavoured unsweetened version is extremely reasonable for sugar content. Flavoured versions run from 1.1 to 1.3 g sugar per meal, which is also appropriate for a meal replacement.
As with MyProtein, Huel contains sucralose for sweetening purposes, and it is a personal decision whether or not you choose to consume artificial sweeteners or not.
Ease of use
Just like any other meal replacement powder, the only prep work needed to create a Huel meal is mixing liquid with the powder, either with a shaker cup or a blender.
Flavours
A decent variety of flavours are available in most countries – including vanilla, berry, coffee, original, and unflavoured/unsweetened. If you are in the US, unflavoured/unsweetened and vanilla are the only options available at this shipping facility.
For customers that prefer a bit more variety, Huel also offers relatively inexpensive "flavour boosts" that can be added to any Huel powder. Currently, flavour boosts include banana, strawberry, matcha, toffee, cacao, chocolate, mocha, caramel, mint chocolate, pineapple coconut, and rhubarb custard. You can also purchase a sampler pack (for £3.00) with 1 serving of 10 different flavours before investing in a larger package.
The unflavoured/unsweetened flavour tends to have a bit of an "earthy" taste (described as a bit like pistachio by one customer), and Huel recommends that adding sweetener or flavouring may be useful if you would like to spice things up a bit. 
Other opinions
As with MyProtein, reviews are mixed:
The Good:
      

Easy to prepare and less time wasted on everything associated with food

      

Great for a meal on the go

      

Easy weight loss while maintaining energy levels

      

Anecdotal evidence that it can help maintain blood glucose levels in diabetics

      

Impressive protein content (30%)

      

Ability to create a variety of flavours with flavour packs or spices, fruits, etc.
The Bad:
     

2-package minimum can get a bit pricey

     

Can be difficult to mix due to the thickness of the shake

     

Some customers dislike the taste of the unflavoured/unsweetened version

     

Some reviews mentioned minor digestive side effects such as bloating or gas

     

"Powdery" texture

    Sweetened version does contain sucralose as a sugar like Whole Fuel.
Quick review
Pros
      

Vegan and vegetarian

      

Great variety of flavours and availability of flavour boosts

      

Discounted subscription option available (10% off)

      

Launching a ready-to-drink version in addition to traditional powder

      

Gluten-free line available

      

Easy to prepare and generally palatable 
Cons
      

2-bag minimum can be a large investment if your budget is fixed

      

Potential for digestive side effects 
Final Verdict
The Winner: Huel.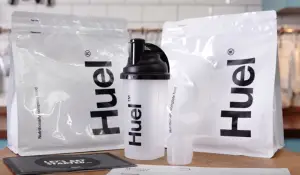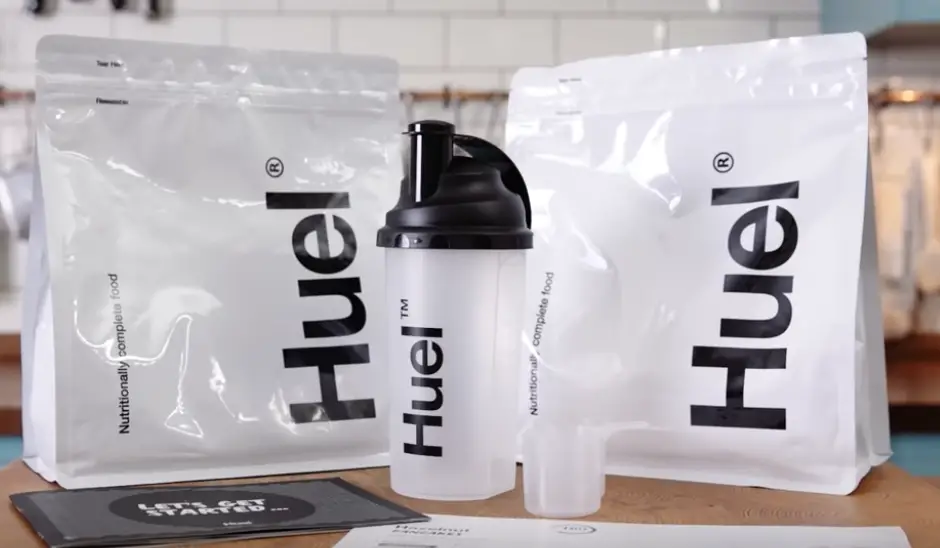 View Lowest Price On Amazon
Both meal replacements are worthy adversaries – if you're in the market for a high-quality, vegan, nutritious meal replacement that requires minimal preparation, both Huel Powder and MyProtein Whole Fuel Blend can be a great option for you.
In the end, Huel edged out MyProtein Whole Fuel Blend due to a few factors:
      

Unflavoured and unsweetened version

      

Better variety of flavours, including the flavour boosts

      

Inclusion of a gluten-free version for those who need or want it

      

Discounted subscription option with flexible delivery windows

      

Considerably lower sugar content (0.002-0.003 g/kcal) compared to MyProtein (0.009 g/kcal)

      

Limited availability of MyProtein products
Of course, this is just one person's opinion, and it is certainly not the end-all-be-all of meal replacement reviews. We encourage you to consider the information provided here and make your own informed decision about which might be the best option for you.
Related Articles: