We're getting to that time when you either want to finish the year with a bang or start strong in the new year.
If you're like me, you want to do it in a healthy way, but still be able to enjoy food. Maybe you'd like an exercise plan too.
But also, you want to learn about how to keep the weight off or maintain that toned body you've worked for.
In a world full of fad diets that are often restrictive and hard to follow, there are a few gems among the crap.
If you've looked at these two programs, you may feel like these are the gems you're looking for. So let's see if they're worth it and which is better.
Ladies, I present to you, Metabolic Factor vs Metabolic Renewal
What is Metabolic Factor?
Metabolic Factor is a 22-day program that is primarily a low carb eating plan, that includes an exercise guide, detox guide, and stress relief guide.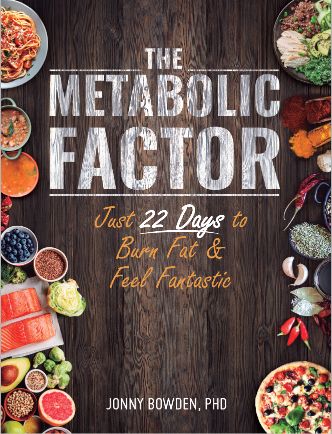 Check Metabolic Factor Discounts
The primary purpose is to get your body to burn fat instead of sugar (carbohydrates). This is done with the aim to not only reach a healthy weight, but also balance your hormones.
There is a carb feast that you can look forward to after the 10-day mark. You will have a carb feast again on day 14, day 18, and day 22.
Unlike the ketogenic diet which has the same purpose, you are to eat as many carbs as you want during the carb feast.
The whole reason you don't do this on the keto diet is that it will kick you out of ketosis.
With Metabolic Factor, you will be doing what is called carb cycling.
So the majority of the time you are eating low carb, but every 10 days, you will be replenishing your glycogen stores (the form of glucose stored in the muscles and liver).
You will also be getting to treat yourself too and you won't gain weight on your higher carb day.
Along with detoxing, the hormone that is emphasized in this program is IGF-1 (insuling-like growth factor).
This hormone works hand with growth hormone to build and maintain muscle mass as well as helping you to lose weight and maintain a healthy weight.
This is done by following the meal plan, helping your body to detox, and to keep your stress levels down.
What you do depends on whether you do the basic plan or advanced plan.
What You Get:
The Metabolic Factor Quick Start Guide
Metabolic Factor Blueprint
The Metabolic Factor 10-Minute Meals
A guide to the 7 Most Powerful IGF-1 Booster Supplements
The 5 Worst Exercise Mistakes guide
The Top 50 IGF-1 Trigger Foods Guide
Motivational emails
4 Support Calls (prerecorded messages)
Access to the private Facebook group
An audio book that can be purchased separately
The Meals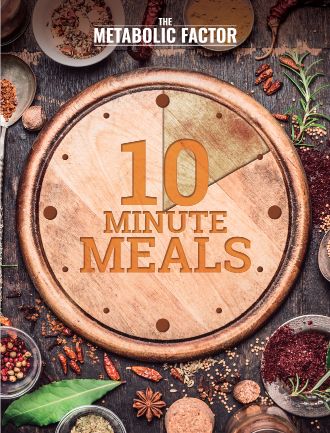 Along with the meal plans and recipes, you get a shopping list for each week.
There are shakes and a range of breakfast, lunch and dinner meals. They do all look delicious.
Aside from the smoothies, vegans won't be able to follow this plan. Even vegetarians will struggle.
Most of the recipes include meat, poultry, or fish. You will be able to enjoy a range of veggies though.
The meals are designed to be low carb, so there aren't recipes that will include grains and potatoes or pasta.
You are encouraged to use delicious herbs and spices to flavor your meals.
There are carb feast recipes that are recommended but you are free to eat what you want on the basic plan. Stick to the recipes when you're on the advanced plan.
The recipes for the carb feast desserts have my mouth watering.
Again, they aren't vegan-friendly, but I will live vicariously through everyone else.
The Workouts
More movement is encouraged. This program asks you to tap into the power of NEAT (non-exercise activity thermogenesis).
You won't be exercising very intensely over the 22 days of this program, particularly if you are on the basic plan.
The advanced plan still incorporates walking but you need to use it as a way of doing HIIT (high intensity interval training).
The Detox
On the basic plan, this involves hot Epsom salt baths three times a week.
On the advanced plan this involves the detox baths, buying organic produce, and sticking only to the recommended meat and fish.
This is because some types of fish are very high in mercury. Some types of meat also contain higher levels of heavy metals than the safe limit.
You will get a list of ingredients and products to avoid to minimize the presence of harmful toxins entering your body.
Stress Relief
In the basic plan you will do a 4-minute breathing exercise.
In the advanced plan you will do the breathing exercise as well as make time for the hobbies that relax you.
About Dr. Jonny Bowden
Dr. Jonny Bowden is a certified personal trainer and nutritionist. He has a PhD and CNS qaulification (certified nutrition specialist) in holistic nutrition.
He has written for and been interviewed by many publications and people within the health and wellness industry.
What is Metabolic Renewal?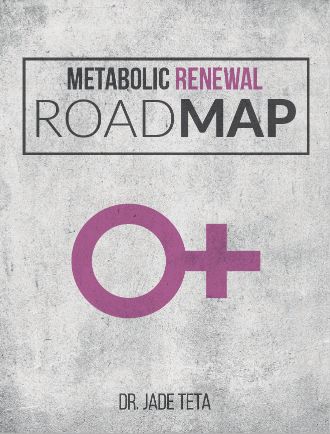 Check Metabolic Renewal Discounts
Metabolic Renewal is a 12 week diet, exercise, and stress relief plan. It's aimed at women and despite being a guy, Dr. Jade certainly has delved into how our bodies work.
I can appreciate that about a man. Much like Metabolic Factor, there is a lot of emphasis on getting your hormones balanced so that your body, and metabolism, works optimally.
The point is to cash in on the benefits that are specific to women when it comes to health.
The plan is highly individualistic. The plan can be altered according to your individual needs.
Two of the biggest things tackled in this program is stress relief and getting your body to produce human growth hormone (HGH).
It's the hormone that causes children to grow, but in adults it keeps the metabolism running efficiently and maintains muscle mass.
It's released during sleep, exercise, and when glucose levels are low.
Women produce more HGH than men after intense exercise. Think of it as our super power.
What You Get
There are a bunch of resources that help you:
The Metabolic Renewal Guide
Hormone Type Quiz
Hormone Guide
The 5-Step Female Flat Belly Formula
Transformation Tracker Spreadsheet
Female Transformation Tracker
12 workouts plus 4 burnout sessions
Access to the private Facebook group
The Metabolic Renewal Quick Start Guide
What the Plan Involves
There are four phases that you will go through:
Harmonize: This is about getting your hormones into balance. This is done through strategic exercises that give you a 15 minute high intensity workout. It's true that long when you work out for too long or too much you raise your cortisol levels excessively which can make your other hormones (estrogen, progesteron, thyroid hormones, etc) go out of wack.
Inspire: Once your hormones are rebalanced, the focus turns to getting your body to burn fat for fuel, not just carbohydrates. The intention is to keep your metabolism going as you eat less and still have you feeling energetic. Essentially, the mitochondria a.k.a your cells' powerhouses will be working as they should to receive messages and give you energy.
Enhance: Your hormones should, according to the program, be in balance and your body will be able to handle healthy amounts of stress. The phase 3 exercises will raise catecholamines (stress hormones) which will enable even more fat burning.
Symphony: This is the culmination of the program where it all gets put together. Thanks to your hormones working together as they should, the targeted exercises and diet, you will continue to burn fat. Your body will also be better at producing growth hormone.The
Meals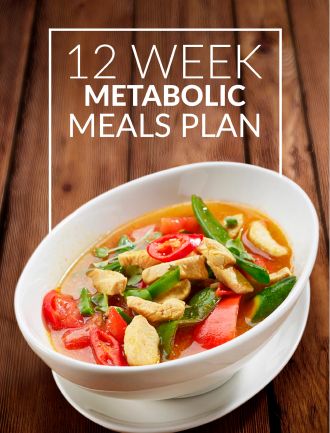 There is a meal plan that contains recipes that you can make at home.
The plan differs depending on whether you're still getting your periods, pregnant, breast-feeding, pre-menopausal, going through menopause, or post-menopausal.
There are smoothie recipes that make great breakfasts. You also get a list of meat, fish, poultry, legumes, veggies, fruit, fats and oils, and starches that you can use to make your own meals from.
There are recipes and a suggested meal plan to help keep you on track and inspire you.
You can even make the meals vegan or vegetarian. This made me very happy!
For the first while, you will be reducing your carb intake. Not to the point of being on a very low carb diet unless you are already eating fewer carbs than normal.
But this won't be the case forever. Carbs are not demonized in this program. Rather, they are just adjusted so as to affect your hormones in a beneficial way as needed.
The Workouts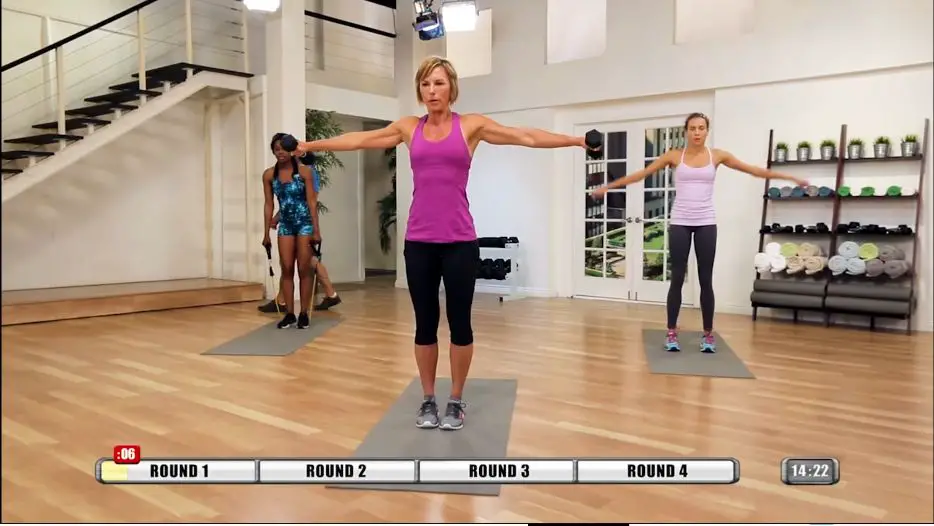 There are exercise routines that are adjusted according to the four phases. It's not really HIIT or high intensity interval training.
Rather, the exercise bouts are very intense, but you can rest for as long as you need to really go for it. This will still raise HGH but keep your cortisol levels in check.
The workouts are 15 minutes on average. I enjoyed them and was definitely breathing hard and sweating like a pig. But hey, this is how we end up looking foxy.
If you aren't into functional movements and hate HIIT type workouts this exercise program may not be for you. But he does recommend an hour of walking every day.
During the follicular phase of the menstrual cycle and any time you have more energy he recommends that you do activities that you like in between the recommended workouts.
Stress-Relief Techniques
Meditation and breathing exercises are recommended. You will also see modifications in the workouts to lower exercise stress too.
You're also encouraged to do things like see your friends, spend time with your family, go for manicures and/or pedicures, go for massages, nap, sleep, cuddling, sex, and relaxing hot baths.
This is provided they don't stress you out of course.
About Dr. Jade Teta
Dr Jade Teta has been a personal trainer for 30 years and physician for 15 years. He specialises in body change and weight loss.
75% of his clients are women. He has researched and learned about the various phases in a woman's life and women specific conditions.
He has published in many well-known publications and been interviewed by many experts in the health and wellness industry.
How Are These Programs Similar
Metabolic Factor is more carb controlled, but Metabolic Renewal does still call for a reduction in carbs, at least for the first while.
Both programs aim to balance your hormones which will get your body to burn fat, but also benefit you in many other ways if you find that PMS or other hormonal woes are your reality.
Both require you to work on stress reduction.
You will learn a lot about your hormones and the way your body works from both these products, especially Metabolic Renewal.
How Do These Programs Differ
Despite carb feast days, I still feel like Metabolic Factor looks down on carbs. This isn't the case with Metabolic Renewal that sees the nutritional benefits of healthy carbs.
The exercise program in Metabolic Renewal is much more intense than Metabolic Factor where at most you will do walking in the form of HIIT.
Metabolic Factor includes a detox program.
Who Should Get Metabolic Factor?
If you find that low carb diets work best for you and at least for 22 days, feel you'll benefit from a more sedate training regimen, Metabolic Factor is for you.
Note that after the initial 22 days, you can purchase more advanced programs designed by Dr. Johnny Bowden to further your progress with guidance.
On the Metabolic Factor site, the price is listed as up to $416 although you can get it for a fraction of the cost if you share your success story and get it at the opening discount.
You can also purchase it a bit at a time on Amazon or check out Natural Health Sherpa.
Who Should Get Metabolic Renewal?
If you don't mind some short but tough workouts and you are willing to stick to a program as best you can for 3 months, Metabolic Renewal is for you.
You will also find it easier to follow the recommended diet on this program if you are vegan or vegetarian.
This program also makes allowances for women of all ages and even those with specific conditions like PCOS (polycystic ovary syndrome), thyroid issues, and adrenal fatigue.
You can also do this program while pregnant or breastfeeding.
Metabolic Renewal costs up to $97 depending on where you get it. I feel that the higher price is worth it given that you receive so much.
Look out for discounts on the Metabolic Renewal site, purchase the program a little at a time or just parts of it on Amazon, or check out Natural Health Sherpa.
| | | |
| --- | --- | --- |
| | Metabolic Factor | Metabolic Review |
| Diet Plan | Yes, including Shopping List | Yes, includes instructions on making your own meals |
| Diet Type | Mostly low carb with carb refeed days | Some carb reduction in the beginning |
| Exercise Plan | Only on the advanced program | Yes, all 12 weeks are covered |
| Stress Relief Plan | Yes | Yes |
| Detox Plan | Yes | No |
| Suitable for Special Conditions/Diets | No mention | Yes, but check with your doctor to be sure |
| Price | More expensive depending on where you purchase it (up to $416) | Can be pricey depending on where you purchase it (Up to $97) |
| Access to Facebook Group | Yes | Yes |
| Support Video or Calls | Yes, both | Facebook group |
Check Metabolic Factor Discounts
Check Metabolic Renewal Discounts
You may also like:
Whats your metabolic renewal hormone type?
Metabolic Renewal Review
Metabolic Factor Review